The Top 6 Spots for Viewing Tokyo's Skyline
Japan
Jul 12, 2019
56 views

Photo by vichie81/Shuttershock
The Land of the Rising Sun's megacapital, Tokyo is home to not only a single skyline but a plethora of skyscrapers that decorates every corner of the city. With an array of endless neon lights and state-of-the-art architecture, Tokyo's cityscape is charming from any possible angle, but especially electrifying to be viewed from up above. Our top picks span from the classic favorites to the lesser-known and spots visitors can revel in without spending a single yen.
[x] close
The Top 6 Spots for Viewing Tokyo's Skyline:table of contents
Tokyo Skytree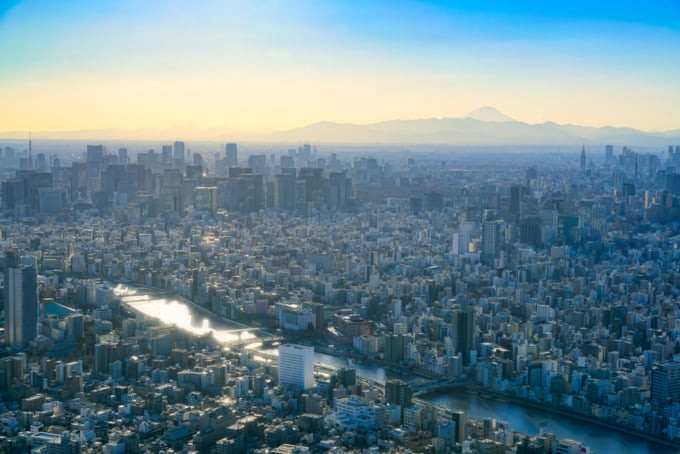 First up on the list is none other than the city's renowned landmark, Tokyo Skytree. Completed in 2012, the iconic skyscraper still firmly holds the title as the tallest tower in the world and is a status of pride in Japan. At 634 meters above the ground, their observation decks guarantee unobstructed 360 panoramic views that shows diverse breathtaking angles from the whole of Tokyo to the west, Saitama prefecture to the north, and Chiba prefecture to the east. And if it happens to be your lucky day. the million-dollar sighting of Mount Fuji might make an appearance.
Address: 1 Chome-1-2 Oshiage, Sumida City, Tokyo 131-0045
URL: http://www.tokyo-skytree.jp/en/
Tokyo City View Roppongi Hills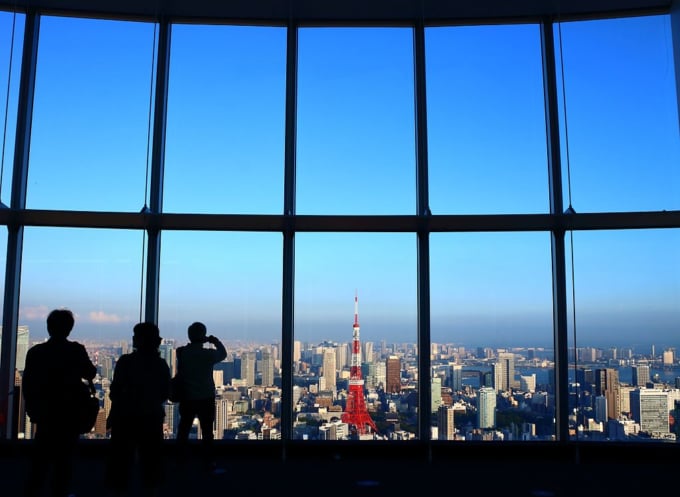 Located in one of Tokyo's most upscale neighborhoods, the Tokyo City View in Mori Tower Roppongi Hills features an indoor observation deck 250 meters above sea level as well as a Sky Deck outdoor observation deck, one of the largest open-air sky-high venue in the city. Just beneath the observation deck, visitors also have the option to discover world-class art exhibitions in the Mori Art Museum - if viewing the 'art that is the city' isn't quite enough.
Address: 6 Chome-10-1 Roppongi, Minato City, Tokyo 106-0032
URL: https://tcv.roppongihills.com/en/enjoy/intro/index.html
Park Hyatt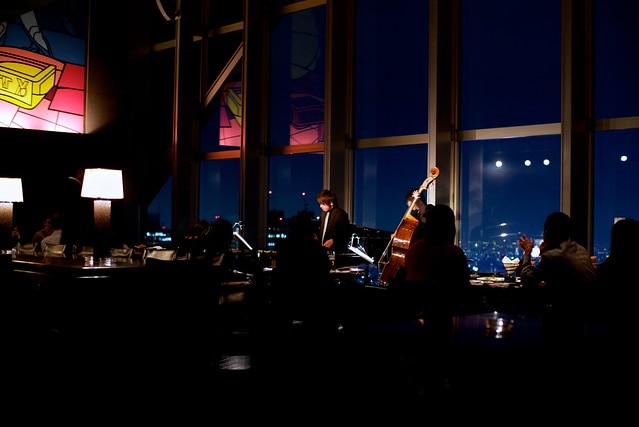 Unprecedented growth in the capital has prompted tremendous growth of sky-high leisure facilities, but Park Hyatt Shinjuku still manages to secure a soft spot in both tourists' and locals' hearts. The venue rose to incredible stardom after it was featured in the cult hit movie 'Lost in Translation'. Their New York Grill Bar is definitely on the list as one of the must-visit bars in Tokyo providing one of the most stunning skyline views for you while you sip on a classic martini.
Address: 3-7-1-2, Nishishinjuku, Tokyo 163-1055
URL: https://www.hyatt.com/en-US/hotel/japan/park-hyatt-tokyo/tyoph
Yebisu Garden Place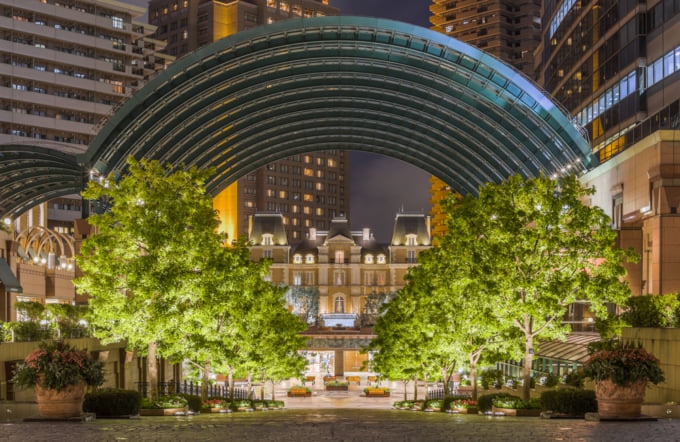 Photo by DymFilms/Shuttershock
If you're looking to stroll around 'Little Europe' just in the heart of Tokyo, the Yebisu Garden Place complex is the perfect brief escapade from futuristic skyscrapers and bright city lights. This one-stop destination offers everything from shopping, cinema, casual and fine dining, photography and beer museums, along with a fantastic observation deck. Visitors can easily access the 38th floor of Yebisu Garden Place Tower marked as the 'Top of Yebisu' for a stunning view of the city from the fabulous Ebisu neighborhood. And the best part? It's completely free of charge.
Address: 150-6018 Tokyo, Shibuya City, Ebisu, 4 Chome−20
URL: https://gardenplace.jp.e.adx.hp.transer.com/
Sky Circus Sunshine 60 Observatory
For the adrenaline-junkies among us, the Sky Circus Sunshine 60 Observatory in Ikebukuro is beyond just a skyline viewing site, it offers an all-immersive interactive experience in the sky. There are a total of seven activities for guests to choose from including Tenku 251, Kaleido Scape, Sky Bridge and the Sky Circus Tent. Fully installed with the latest technologies such as an aerial VR experience and some stunning projection mapping.
Address: 3 Chome-1-1 Higashiikebukuro, Toshima City, Tokyo 170-0013
URL: https://sunshinecity.jp/en/observatory/
Tokyo Metropolitan Government Building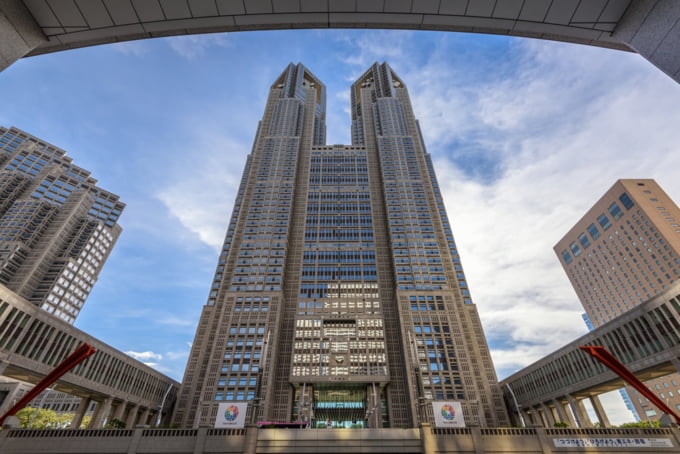 Tokyo Metropolitan Government Building is a public facility that generously lets their visitors access to two panoramic observatory decks for free! Designed by the famed architect Kenzo Tange, this building is one of the city's unique architectural treasure - evoking the look of a Gothic cathedral. Though it has not garnered similar levels of worldwide recognition as Tokyo Tower or Tokyo Skytree, this building is a worth visit if you want to enjoy Tokyo's cityscape without breaking the bank.
Address: 2 Chome-8-1 Nishishinjuku, Shinjuku City, Tokyo 163-8001
URL: hhttp://www.metro.tokyo.jp/english/offices/observat.html
Conclusion
A panoramic perspective from one of the city's viewpoints can provide you with breathtaking landscapes beyond the city, including Mount Fuji, the Izu Peninsula and iconic landmarks such as Tokyo Tower, Meiji Shrine and the Tokyo Dome. From just one vantage point, you can see breathtaking venues that are among the best Tokyo can offer.