Photo by Roman Babakin/Shutterstock
The 7 Most Spectacular Christmas Markets in Europe
'Tis (almost) the season to be jolly! If you're looking to really get into the holiday spirit this Christmas with soothing mulled wine, lip-smacking treats, melodic tunes of Christmas carols, glittering festive trees and a holiday spirit that never dies then Europe is the answer. Here are some of our favorite Christmas markets in Europe that are sure to put you in a festive mood.
table of contents
[x] close
The 7 Most Spectacular Christmas Markets in Europe
Dresden Striezelmarkt, Germany
Photo by Ugis Riba/Shutterstock
When it comes to Christmas markets, it doesn't get much more authentic than Dresden's Striezelmarkt. What started in 1434 as a one day market has now evolved into a mix of eleven markets that stretch all across the Altmarkt Square complete with dazzling Christmas lights, carved Nutcracker soldiers, handmade goods, Lusatian fabrics, Moravian stars, glühwein and of course their unique buttery fruit cake, stollen. The star of this market however is the impressive 45-feet tall candle pyramid that is certainly a sight for sore eyes. This year marks its 585th anniversary, making it one of the oldest Christmas markets not just in Germany but in the world.
When: 27th November to 24th December 2019
Strasbourg, France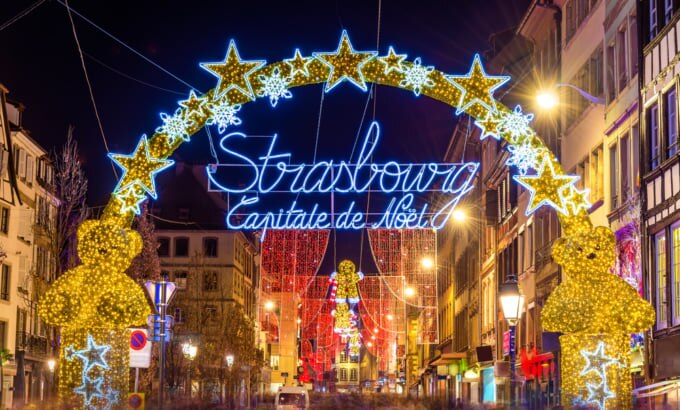 Photo by Leonid Andronov/Shutterstock
Strasbourg is beautiful anytime of the year but there's something even more special about it during the holiday season. The half-timbered houses with red and white hearts, the narrow cobbled streets adorned with twinkling lights, angels, and stars and the ornate decorations all around add to the magic of Christmas in Strasbourg. Head to Place Kleber to gasp at the Great Christmas Tree with seven kilometers of lights and hundreds of baubles. Enjoy the pretzels, bredele, tarte flambée, choucroute, and wash it all down with a glass or two of delicious Alsatian wine. Strasbourg's vintage charm will make your holiday season one to remember.
When: 22nd November to 24th December 2019
Cologne, Germany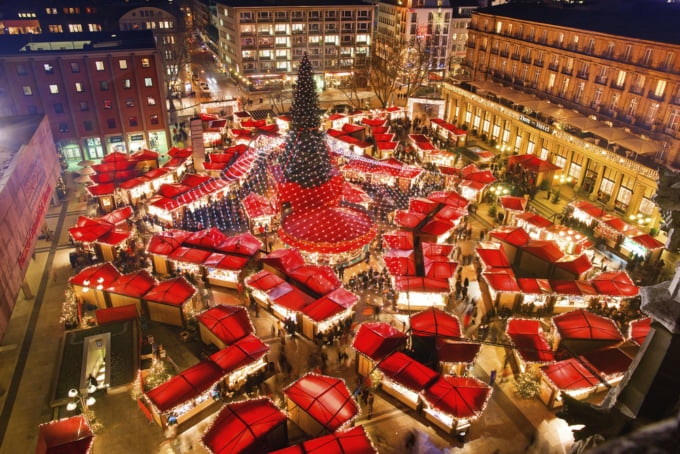 Photo by picturetom/Shutterstock
When it comes to Christmas markets, no one does it quite like the Germans. With not one but seven Christmas markets to choose from, each with its own unique theme and feel, Cologne is where all the festive action is at. The market set against the iconic Gothic cathedral is of course the biggest in all of Cologne. Enjoy the Christmas concerts and performances, take pictures of the glorious Nativity scene, eat to your heart's fill (we especially love the Cathedral shaped waffles and cinnamon biscuits), warm up with some glühwein and burn off those bratwurst sausages on the ice rink. Christmas cheer, food, activities, and shopping… You'll find it all here in Cologne.
When: 25th Nov to 23rd Dec 2019
Vienna, Austria
Vienna ranks right up there on the 'Christmas magic' quotient. With more than 25 markets that pop up all over the place including against the impressive backgrounds of the Belvedere and Schönbrunn palaces, this city really goes all out when it comes to the holiday spirit. If you're a first timer, the choices can be overwhelming but you can't go wrong with the Christkindlmarkt in front of the Ratahausplatz (City Hall).

Enjoy the delicious mulled wine, Austrian sausages, roasted chestnuts, the huge skating rink, reindeer rides, carol singing and the beautiful nativity scene. If you're looking for something a little different, try the Art Advent on Karlsplatz which is all about organic food, handmade crafts and theatrical entertainment. There's a little something for everyone in beautiful Vienna.
When: 16th November to 24th December 2019
Brussels, Belgium
Photo by MKavalenkau/Shutterstock
True to its name, "Winter Wonders" in Brussels is a Christmas wonderland that will blow your mind. Stretching from the Grand Palace to the Bourse, La Monnaie, Place Sainte-Catherine, and Marché aux Poissons, Winter Wonders features over 200 chalets that serve up plenty of mulled wine, beers, hot chocolate, tartiflette, oysters, and delicious Belgian waffles. You can also enjoy the Ferris wheel, a steampunk inspired carousel, a covered ice rink, and of course, a majestic Christmas tree. The star of this Christmas market however is the light and sound show projected on the Grand Palace.
When: 29th November to 5th January 2020
Note due to COVID-19, the Christmas market in Brussels has been cancelled this year.
Prague, Czech Republic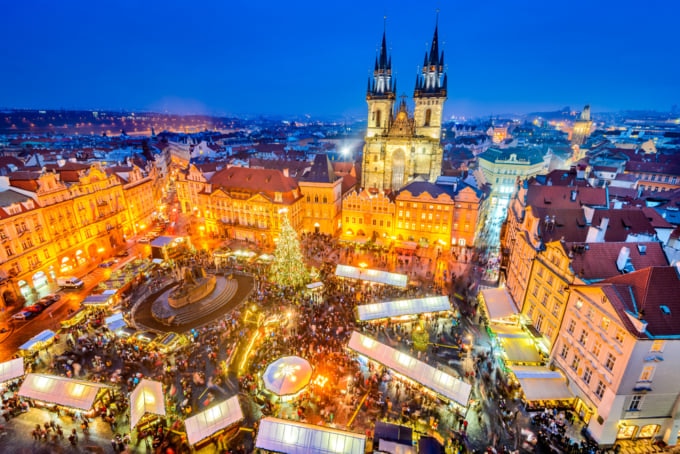 Prague is always a good idea but especially so during the Christmas season with the twinkling lights and enchanting atmosphere. Head to the Old Town Square where all the action is at. Gawk at the magnificent Christmas tree, load up on delicious klobása (barbecued sausages) and trdelník (sugar coated dough), and stay warm with a cup of hot chocolate or medovina (hot honey wine) whilst you enjoy live shows and singing performances. Little kids will love the small petting zoo that features some adorable animals. Explore the wooden chalets that display wooden toys, embroidered lace, and traditional Czech decorations. Close to it is the Wenceslas market which is also worth a visit for its handmade wooden and steel creations.
When: 23rd November to 6th January 2020
Tallinn, Estonia
Photo by dimbar76/Shutterstock
An unusual but worthy addition to this list is Tallinn's Christmas market which may be smaller than others but is full of character and charm. According to the Russian Orthodox Church, January 7th is considered to be Christmas Day which means the market continues right into the New Year. Legend has it that Tallinn was the first place to publicly display a Christmas tree in the Town Hall Square back in 1441, so an annual contest is held to choose the most beautiful Christmas tree to make as the crown jewel of the market. For some local Christmas food, try black pudding, sauerkraut and delicious gingerbread. Indulge in some shopping of local handicrafts and beautiful baubles and keep an eye out for Santa who will arrive on a reindeer pulled sleigh. If you're looking for an affordable yet spectacular Christmas market in Europe, Tallinn is perfect.
When: 15th November to 7th January 2020
Conclusion
Christmas markets such as those in Strasbourg, Brussels and Prague have always been the most famous and dazzling to visit in December. However with most of Western Europe still struggling to contain the coronavirus pandemic, most have either been canceled or advised not to visit.


Europe is the perfect place to experience the magic of Christmas and take home a truckload of memories! So pack your warm clothes and cameras and get ready for the experience of a lifetime.