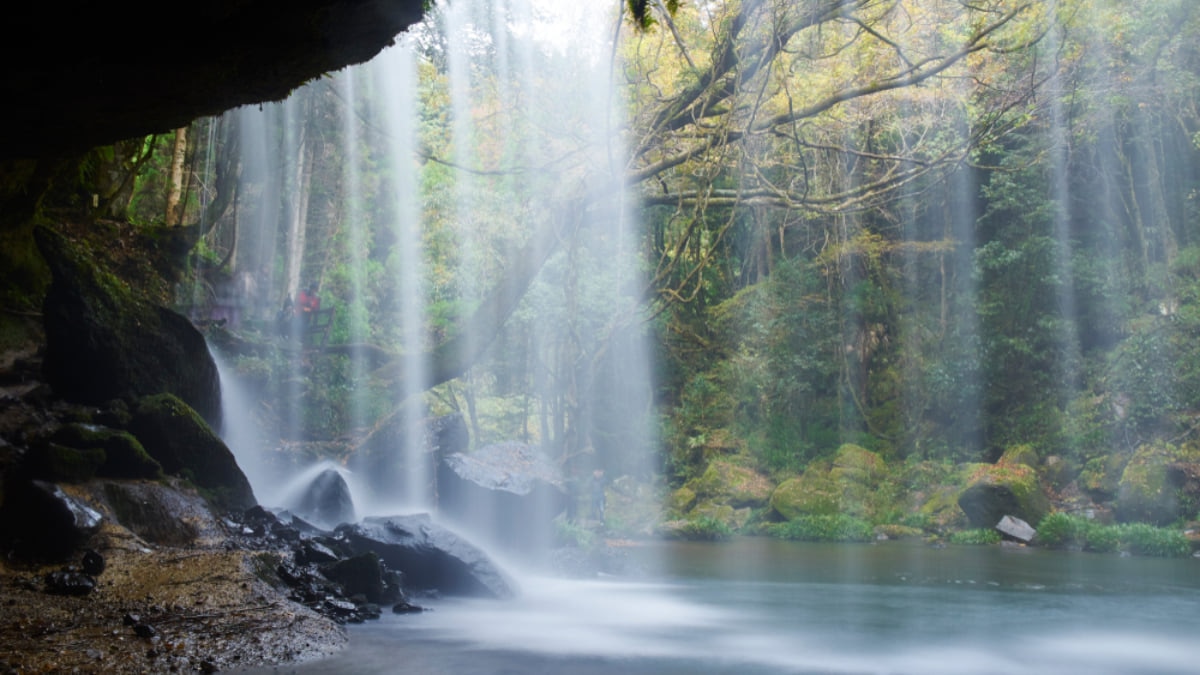 Photo by Mokokomo/Shutterstock
A Hiker's Guide to Japan's Most Stunning Waterfall Treks
Japan's most scenic waterfall hikes are suitable for all types of travelers, from avid photographers to seasoned hikers. Many of these picture-perfect, postcard-worthy sights are easily accessible by public transport and are included as stops on longer hiking trail routes. Surrounded by breathtaking mountain ranges or dramatic forest valleys, these gorgeous waterfall hikes are something you really have to see for yourself to experience.
table of contents
[x] close
A Hiker's Guide to Japan's Most Stunning Waterfall Treks
Shiraito Falls, Shizuoka Prefecture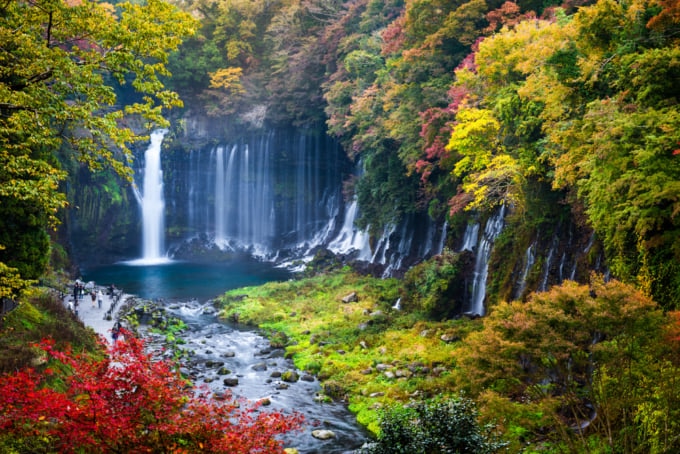 Photo by Smokedsalmon/Shutterstock
The trip to Shiraito Falls and the Fuji Five Lakes area is a full day trip from central Tokyo. The falls are on the Tokai Nature Trail, a route that goes through eleven prefectures from Tokyo to Osaka for a length of 1,647 kilometers, which would work out to about a month of travel time from start to finish. Alternatively, take the bus from Shinjuku or Tokyo Station to Kawaguchiko, where direct buses head straight to the falls. With the falls as a starting point, the surrounding area is full of scenic trails to explore with the impressive Mount Fuji looming in the background.
Nachi Falls, Wakayama Prefecture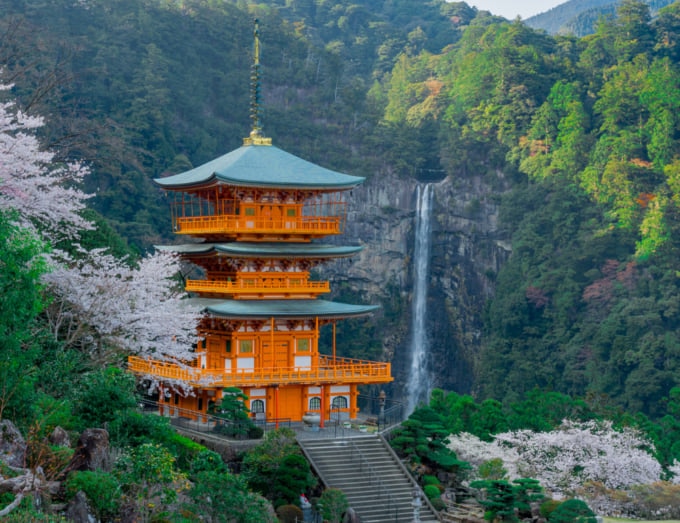 Photo by Nut Aroon/Shutterstock
Nachi Falls are part of the Kumano Kodo Pilgrimage Route, one of the oldest pilgrim trails in the world and a UNESCO World Heritage Site. The falls are the tallest in Japan, falling 133 meters to the basin. The image of the bright red pagoda, part of the nearby Seiganto-ji Buddhist temple, against the backdrop of Nachi Falls, has become one of the most iconic symbols of Japan's beautiful countryside. You can still visit the falls without tackling the entire Kumano Kodo by taking the short 600-meter hike up through the woods from Daimon-zaka bus stop.
Oirase Stream, Aomori Prefecture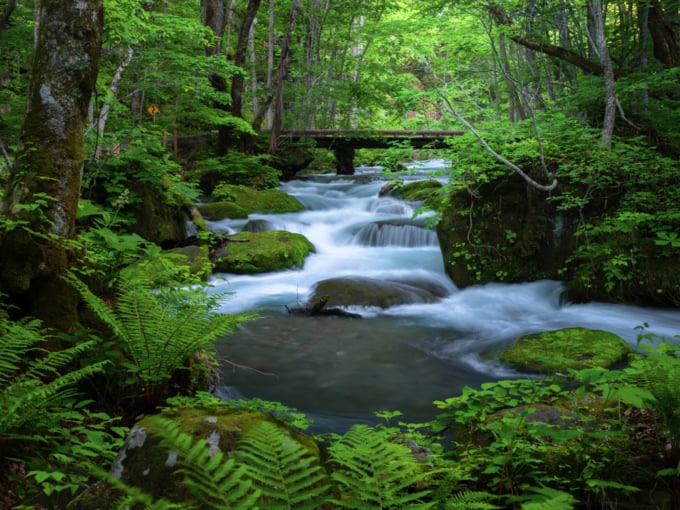 Fed by Lake Towada, one of the largest lakes in Japan, the Oirase Stream is a clear, freshwater stream carving its way through the woods of Oirase Gorge. Numerous picturesque waterfalls are created by the stream tumbling over the natural landscape. Start at the Ishigedo trailhead, making your way down to Nenokuchi and Lake Towada. This trail is ideal for beginners as its well traveled and runs adjacent to a busy road serviced with multiple bus stops, but do be advised that these buses don't run from November to April.
Kegon Falls, Tochigi Prefecture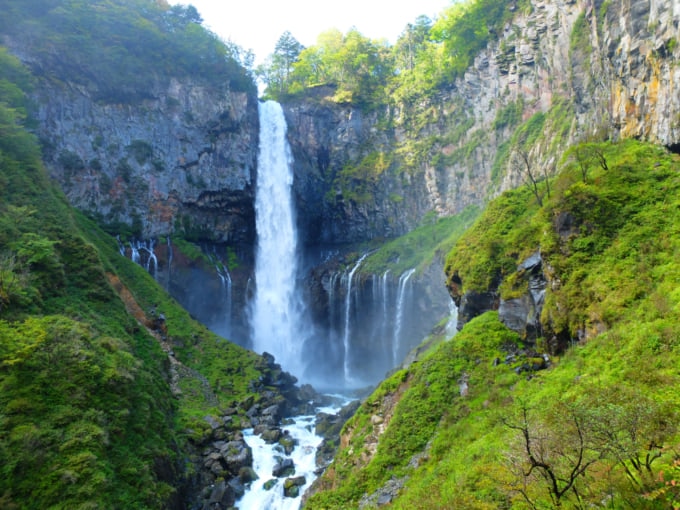 Located in Tochigi Prefecture near the famous Shrines and Temples of Nikko, a UNESCO World Heritage Site, Kegon Falls are considered one of Japan's most beautiful waterfalls. The long hiking trail around Lake Chuzenji where the falls are located winds its way up nearby Mount Nantai and Mount Hangetsuyama, which is a great option for the seasoned hiker.
Kamba Falls, Okayama Prefecture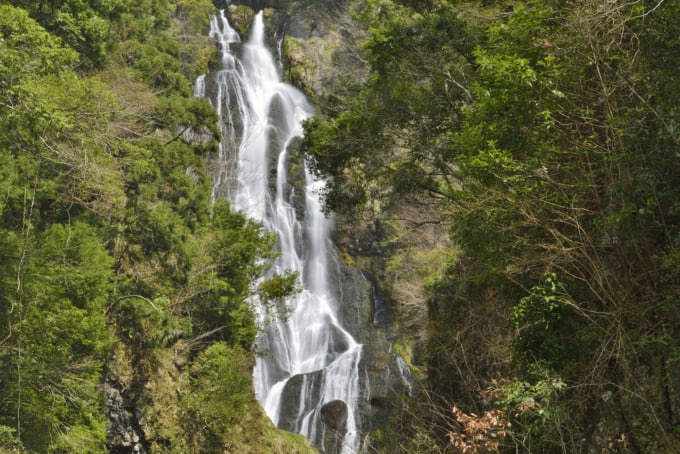 There's a small 300-yen fee to access the Kamba Falls Nature Park, but everyone who's been there can agree - it's worth it. The short but challenging uphill walk along the river widens at the falls, where onlookers are stunned at its size and beauty. The area is inhabited by wild monkeys, so visitors might be treated to a sighting on a day with good weather, though this also means it's not a good idea to bring any food or loose items with you. If you've got the time and the stamina, the path up to the Demon Cave (Oni-no-Ana) will get your heart pumping.
Minoo Falls, Osaka Prefecture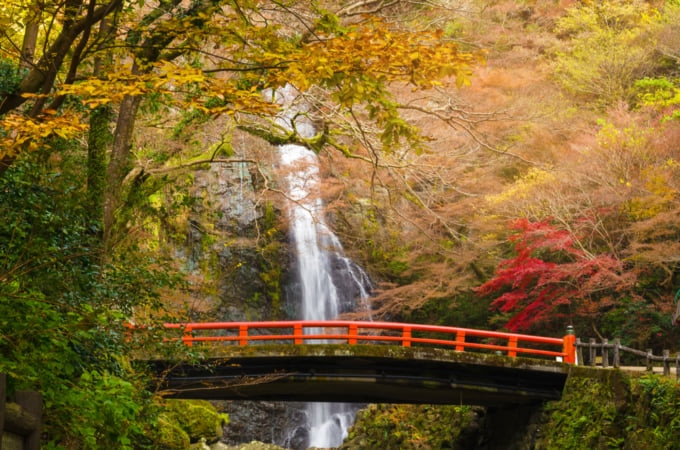 Photo by Giggsy25/Shutterstock
These falls are found in Minoo Park, a forested area just north of Osaka City. The area's main hiking trail is about a three-kilometer trek starting at Hankyu-Minoo Station, and runs alongside the river through the valley to the falls. It's not a challenging hike and can be completed in less than hour, making this a great option for beginners or casual hikers.
Yoro Falls, Gifu Prefecture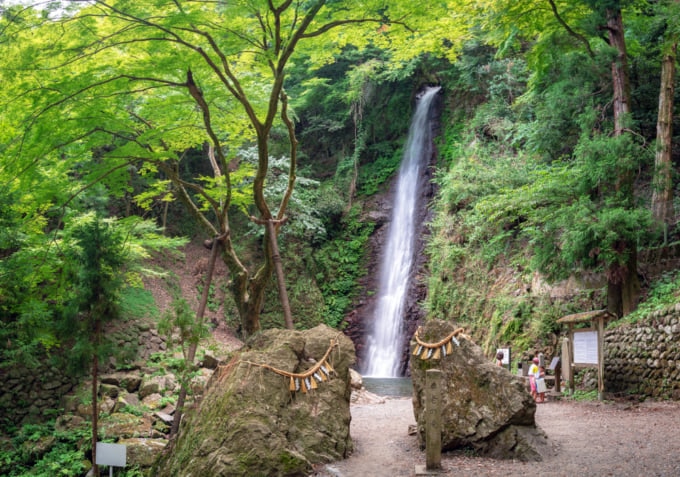 With over 3,000 cherry trees and thick groves of maple on every corner, Yoro Park is a great place to hike in any season. From Yoro Station, the walk through the park to the legendary Yoro Falls takes just over an hour, but there are buses that shuttle passengers closer to the falls. The trains on the Yoro Line which provide access to the park run only once an hour, so it's best to check the schedule before heading out. After taking in the falls, visitors can choose to tackle the nearby Mount Yoro or relax at the Takimotokan Yuki no Sato onsen ryokan, which offers day trip options for use of the facilities if you book ahead.
Nabegataki Falls, Kumamoto Prefecture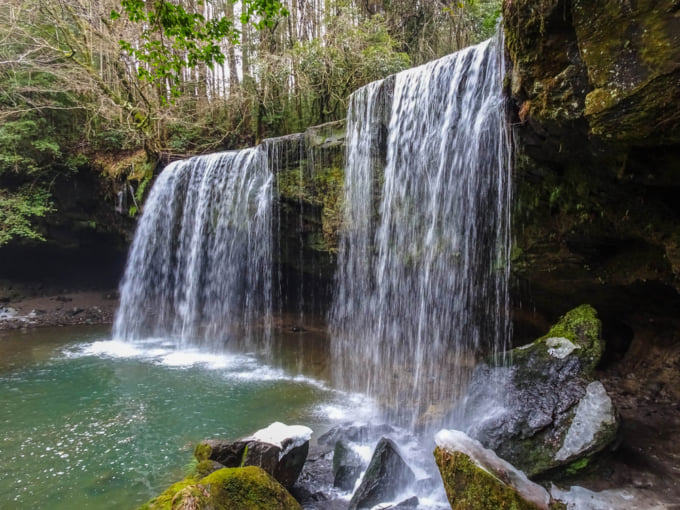 Photo by glory_yabe/Shutterstock
Wide rather than tall, Nabegataki Falls tumbles over jutting cliffs, allowing visitors to walk behind a curtain of water. While the short walk from the Nabegataki Falls Park entrance is paved in concrete and man made, the waterfall cave however is not, and visitors are welcome to step inside and explore. The only way to get to the falls is by car or taxi, and there is a spacious parking lot to accommodate traffic.
In Conclusion
There is no shortage of spectacular natural scenery in the Japanese countryside, but these awe-inspiring waterfalls provide some of the best. Casual and experienced hikers alike can enjoy the scenic beauty of these places, and many can be made into a day trip from destination cities like Osaka and Tokyo.