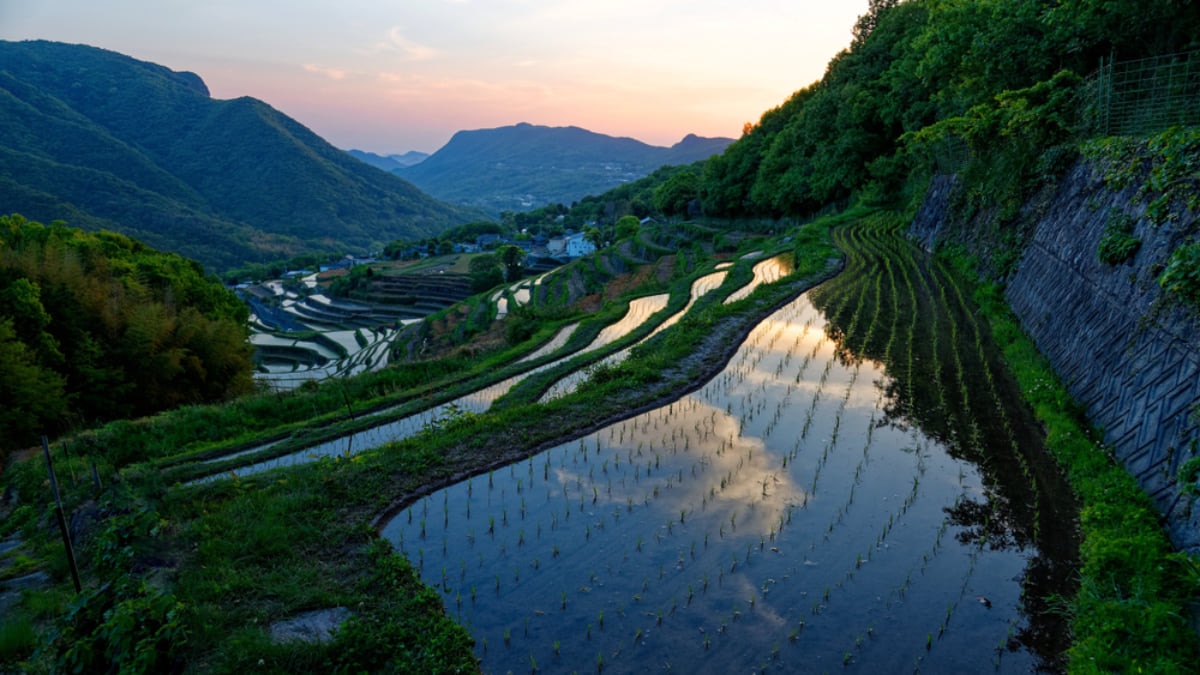 Photo by CHEN MIN CHUN/Shutterstock
Amazing Things to Do in Kagawa Prefecture
Japan's smallest prefecture hardly ever features on the itinerary of overseas tourists when visiting Japan, which is a shame. For such a small area, there's plenty to do in Kagawa but these top things to do make a great place to start.
table of contents
[x] close
Amazing Things to Do in Kagawa Prefecture
Shodoshima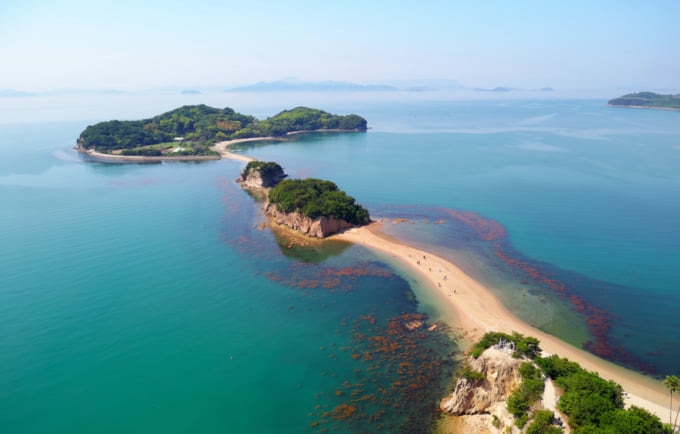 Photo by CHEN MIN CHUN/Shutterstock
This island takes about an hour by ferry from Takamatsu and is full of incredible landscape and cultural spots. It's home to the 'Angel Road' a picturesque path of beach that only appears when the tide is out. Head inland and you'll get to the Senmaida rice terraces, historic terraced slopes which grace the mountainous landscape of the island. Shodoshima Olive Park is also highly recommended, only one of two places in Japan where olives are produced and also the spot which provided inspiration for Hayao Miyazaki's hit animation film 'Kiki's Delivery Service'.
Ritsurin Park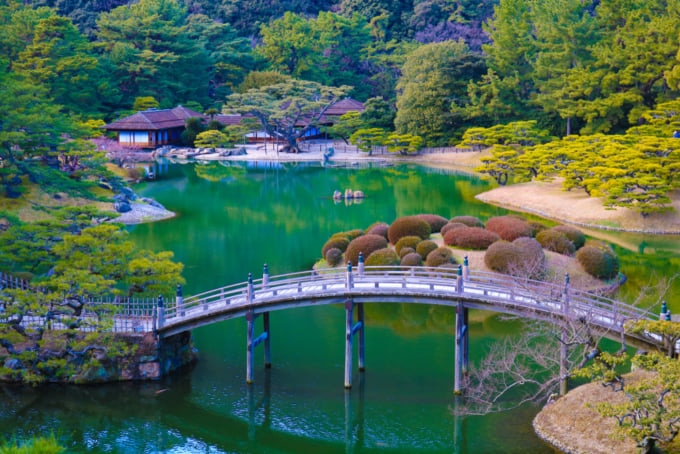 Photo by Fujinari/Shutterstock
One of the most beautiful Japanese gardens in the country, Ritsurin is located in the major city of Takamatsu, decorated with Japanese plants, cherry trees, water features and bridges. The garden itself is quite large, with a number of small hills that give picturesque views over the scenery, and usually takes over an hour to explore. Some of the buildings there date back to the 17th century when a feudal lord began constructed the garden.
Yakuriji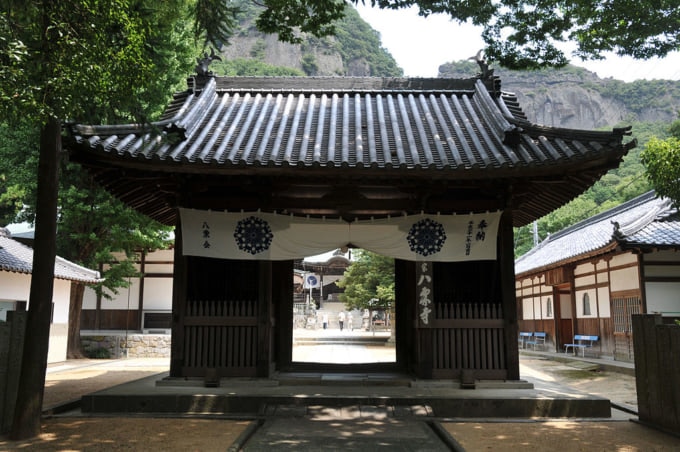 Nestled on a mountain just outside of Takamatsu city, Yakuriji Temple is the 85th of 88 temples on pilgrimage that twists around the island of Shikoku. The surrounding scenery is beautiful and the journey there is best made by the retro cable car, made in the 1960s that takes passengers up to the top. For temple lovers, Kagawa is also home to 22 of the 88 temples along the pilgrimage route.
Takamatsu Castle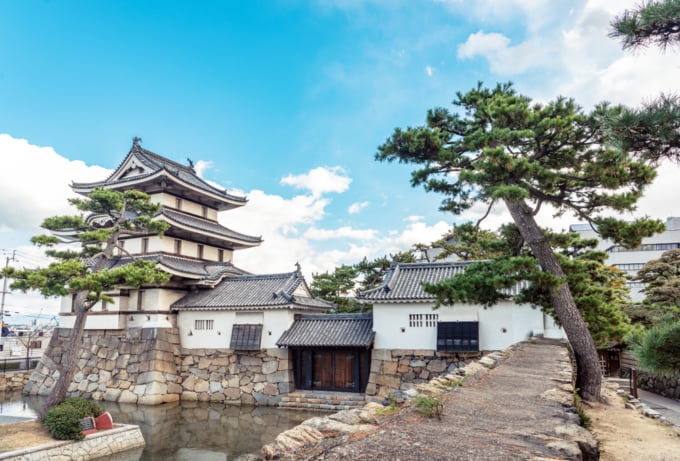 Compared to other castles around Japan, Takamatsu's might be a little small with only a few buildings still standing there. However it makes up for it in beauty, decorated with trees along with a moat that surrounds the grounds. It's also one of the few castle sites that stand next to the sea, with the water for the moat coming from the Seto Inland Sea.
Naoshima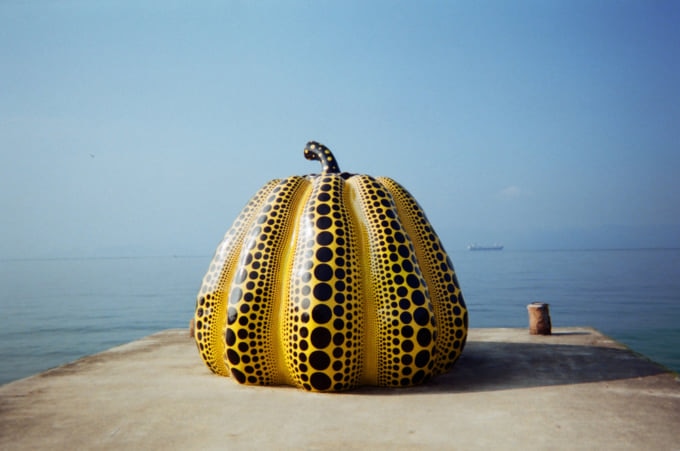 Photo by joan__ne/Shutterstock
An island dedicated to art, Naoshima is one of the few places in Kagawa that has seen international recognition. Most famous for its displays of modern art such as the huge yellow pumpkin which has since become a symbol of the island, Naoshima is full of museums and public art displays such as those by Yayoi Kusama. For true art lovers, there's plenty of accommodation on the island to let you explore at your own pace.
Feast on Udon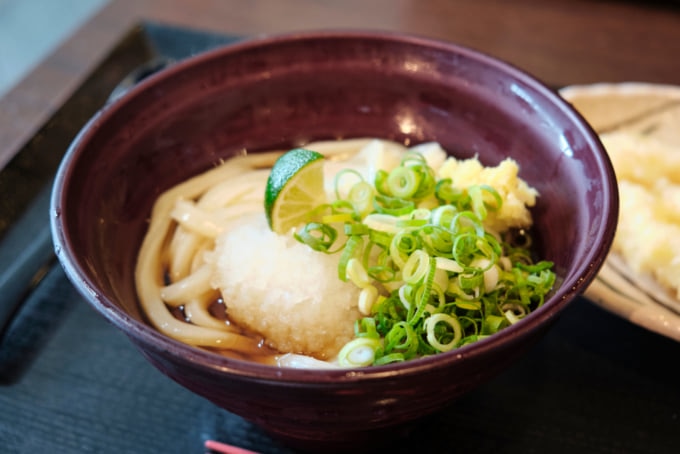 Kagawa is famous for its udon, streets all over the prefecture are full of udon shops and eating these noodles are almost as common as a bowl of rice. Often called Sanuki udon, the old name for Kagawa, noodles here are usually handmade freshly and served in a strong sardine-flavored broth. However you'll find numerous variations along with toppings across the prefecture. There are even special 'udon taxis' available that will take your around some of the most famous shops in the area, the drivers are all armed with oodles of knowledge about Kagawa's favorite dish for those with an interest.
Conclusion
Kagawa might not be on the beaten track, but it's worth diverting from major cities like Osaka and Hiroshima to check this underrated region out. Shikoku is much easier to access than most people think and is well worth it to see a side of Japan that most tourists don't usually see.