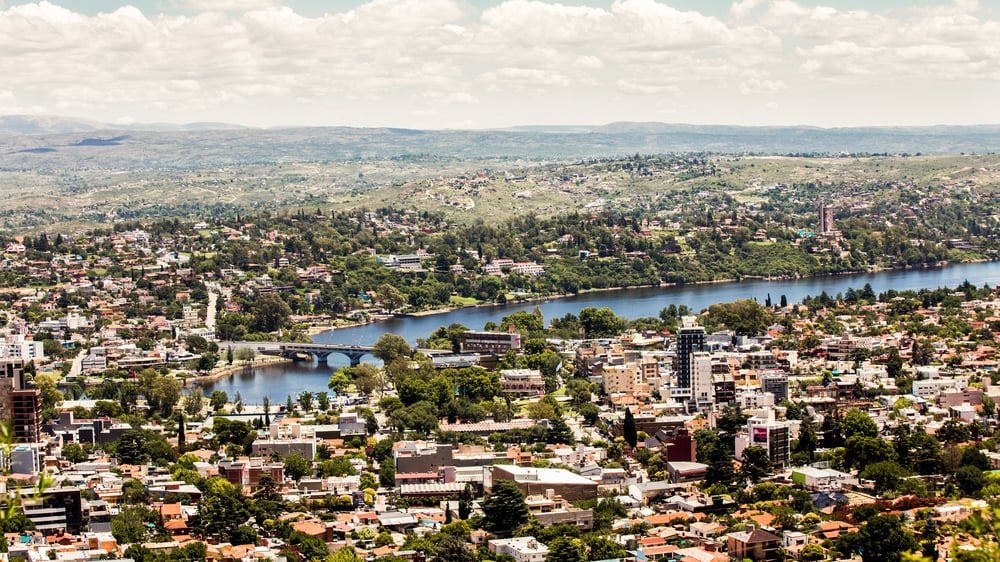 Photo by Daniela Rencelj/shutterstock.com
Cordoba:The City Where Culture Stands Out
The city of Cordoba located in Argentina is the capital of Cordoba province. It can be found almost in the center of Argentina and is the second most populated city in the whole country. The city is most known for it's historical places and culture which can be experienced throughout the whole vacation. Tourists learn about history and the culture of the people without even noticing or making an effort. You might even pick up their language while you stay among the people of Cordoba. Here are some historical and cultural places you can visit in the wonderful city of Cordoba.
table of contents
[x] close
1. Plaza San Martin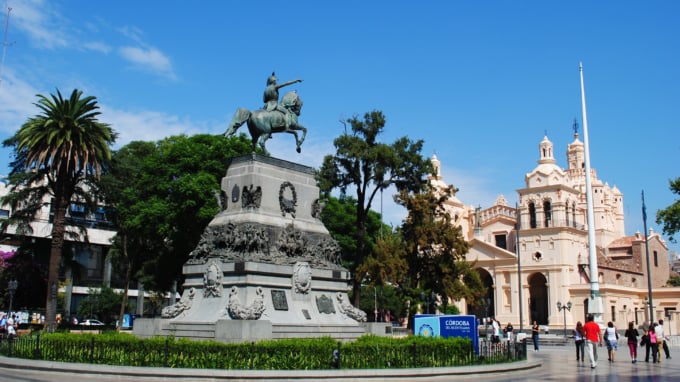 Plaza San Martin is a great place to start out any journey in the city of Cordóba. The square is the central square of the city and has many interesting tourist attractions to offer. In the center of the square tourists can admire a statue of the well known General Jose de San Martin who was the liberator of Argentina and Chile. Visitors or people who pass by can almost everyday find vendors, watch some fun street performance or a show. In the attractive Plaza San Martin tourist can enjoy a cup of coffee or have fun while feeding the local pigeons.
Name:Plaza San Martin
Address:X5022, Cordoba, Argentina
Related Site:http://www.embark.org/argentina/cordoba/culture/plaza-san-martin
2. Cordoba Museum of Memory
Everyone visiting Argentina should get familiar with the Argentinian history while they stay. Even just a museum visit is a great way to learn about Argentina's history. The Cordoba Museum of Memory is a memorial museum where visitors can get an insight of the so called Argentina's "Dirty War". Pictures can be seen of the victims who disappeared on the hands of the government during this time of a political turmoil. Visitors get the chance to learn about the military dictatorship and all those dreaded things that went down in secret. The location of the Cordoba Museum of Memory was used as a secret location and the informations and pictures were donated by families from where someone has disappeared.
Name:Cordoba Museum of Memory
Address:X5000ADA, Pje. Sta Catalina 1, X5000ADA Cordoba, Argentina
Official website URL:http://www.apm.gov.ar/node
3. Parque Sarmiento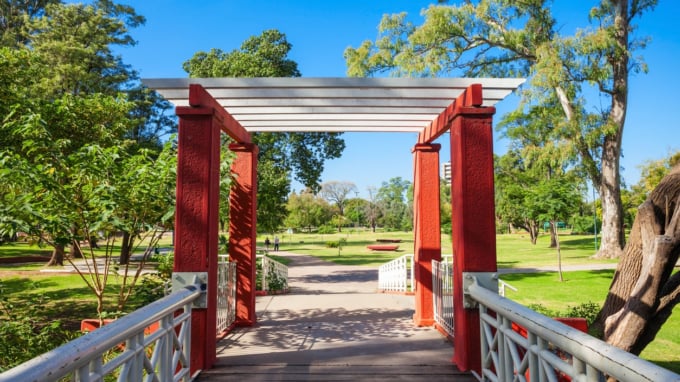 After all the sightseeing in the beautiful city of Cordoba a relaxing time in the park is very much needed. Parque Sarmiento is the largest public park area that can be found in Cordoba. The park is home to a lake and a rose garden where everyone can have a calm and relaxing time. The park is a great place for families, children can safely play, people who would like a little exercise can jog or run or even use the exercise equipment. Families can feed the ducks and have an ice cream when the ice cream truck arrives. Paddle boating is also an interesting activity here in the Sarmiento Park. You can view shows that are occasionally held in the park or go into the zoo.
Name:Parque Sarmiento
Address:Sarmiento s/n, 5000 Cordoba, Argentina
4. Paseo de las artes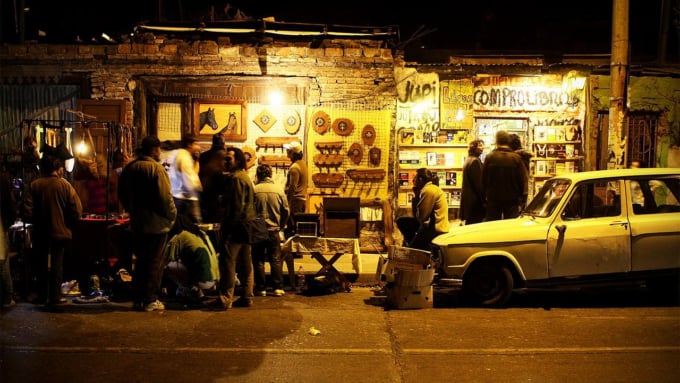 Photo by commons.wikimedia.org
In mood for a shopping spree? This weekend local market is an interesting place to visit if you are interested in some original handicrafts, souvenirs, vintage clothings and accessories. Paseo de las Artes street market is spread out over several blocks. This market is a great shopping place or even if you are only window shopping, it is a good experience to visit a local street market. There can also be food for sale and several street performers along the way. The Paseo de las Artes market is surrounded by good restaurants, bars and cafes to ease the hungry stomach after a long hour of walking among these vendors.
Name:Paseo de las Artes
Address:Zona entre calles Belgrano y Canada, Cordoba, Argentina
5. Teatro del Libertador General San Martín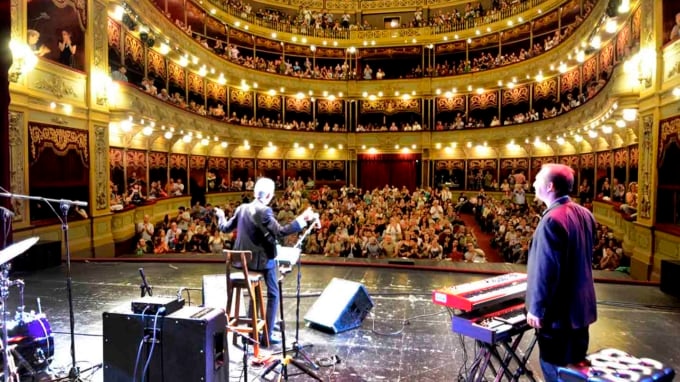 Photo by commons.wikimedia.org
Cordoba's most historic theater, the Teatro del Libertador General San Martin is worth at least one visit while anybody's stay in Cordoba. If you don't make it to the show then seeing the interior of the theater is an extraordinary memory. Visitors find the theater's grandeur quite amazing. The theater holds a variety of performances beginning from rock to classical music, even ballet performances are popular. The theater has an extraordinary acoustic so it is very advised for tourists to book a time and watch a performance. At night the outside of the Teatro del Libertador General San Martin is lit up with bright lights which makes the theater look amazing at night time as well.
Name:Teatro del Libertador General San Martín
Address:Vélez Sársfield 365, X5000JJD Córdoba, Argentina
6. The Jesuit Block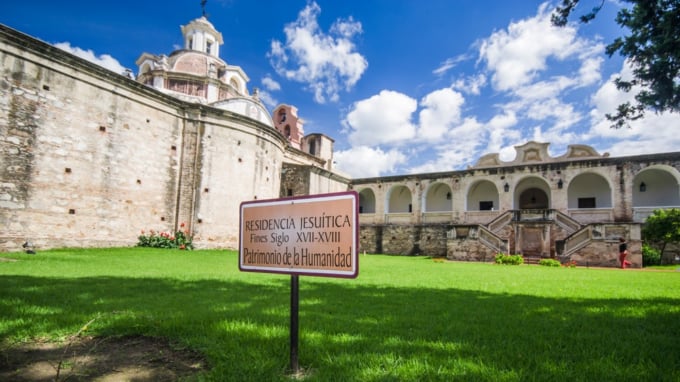 Photo by LongJon/.shutterstock.com
One of the many reasons that tourists visit Cordoba, Argentina is the Jesuit Block. Also known as the Mannzana Jesuítica in Córdoba, the block includes the oldest university in Argentina. The Jesuit Block is also home to the Iglesia de la Compañía de Jesús, a secondary school and residence buildings. The Jesuit Block is part of the UNESCO World Heritage. At the Museo Histórico de la Universidad Nacional de Córdoba visitors can be a part of a guided tour where they can get to learn about the history and many more. People interested in old books can also check out the 17th century Jesuit's Grand Library.
Name:The Jesuit Block
Address:Nieto 2-90, Alta Gracia, Cordoba, Argentina
Related Site:http://whc.unesco.org/en/list/995
7. Güemes Neighborhood
The neighborhood of Güemes is a cool place where visitors spend at least an afternoon. Filled with fancy local bars, trendy cafes, and restaurants, this neighborhood will keep you busy. Güemes is a bohemian style, probably the hippiest and coolest place in Cordoba. Muy Güemes offers many boutiques to see, delicious food joints to try and shopping areas to check out. Strolling down the streets or sitting in a restaurant in Güemes is a refreshing activity in this very alive neighborhood.
Name:Güemes
Address:Güemes, Cordoba Argentina
8. Cripta Jesuítica
Originally built as a novitiate, the Cripta Jesuítica today is an underground museum. This underground building is small and runs right underneath some of Cordoba's main streets. Despite the size of the Cripta Jesuítica it is worth to pay a visit to the museum and look at the contemporary cultural exhibitions as well. This historical sight became abandoned and buried under the town. However it became rediscovered and has been restored. Now days performances are held, artworks are being exhibited and tours are available for visitors.
Name:Cripta Jesuítica
Address:Av. Colon 100, X5000EPN Cordoba
Related Site:https://cultura.cordoba.gob.ar/espacio/51/cripta-jesuitica/
9. New Cordoba
Home for the Buen Pastor Cultural Center Nueva Cordoba is an upbeat neighborhood. Due to the mass of student population visiting Nueva Cordoba will be a time to remember. You will find yourself strolling by big mansions, hotels, embassies, boutiques, apartment houses and other restaurants. The students here in New Cordoba keep the whole area alive therefore you can find bars and cafes for short drinks. Restaurants serve delicious food, probably even the best in the whole Cordoba city.
Name:New Cordoba
Address:Nueva Cordoba, Cordoba, Argentina
10. Cathedral of Cordoba
Iglesia Catedral Cordoba is located right on Plaza San Martin. Once you visit Cordoba and check out the Plaza de San Martin the visit wouldn't be complete without going to see the Iglesia Catedral Cordoba. Visitors can see the progress of architectural changes throughout the years while the Iglesia was being built. The silver altar which was crafted in Peru is an attraction that cannot be missed out. Tourists will be able to learn about the long history that the Iglesia Catedral Cordoba has in store.
Name:Cathedral of Cordoba
Address:Independencia 80, 76, 72, 64, Centro, X5000IUB Córdoba
Related Site:http://catedraldecordoba.org.ar/
◎ Closing
Cordoba is a very cultural place. Everyone who visits will get to know the culture of Argentina and will have a better view on the world. Cordoba has delicious and authentic food which makes the stay more amazing and delicious. The places you visit will teach anyone about the history, culture and value of the people living in Cordoba. All in all Cordoba is a perfect place for cultural experience but who is in need of a little night life, that can be found in Cordoba as well.