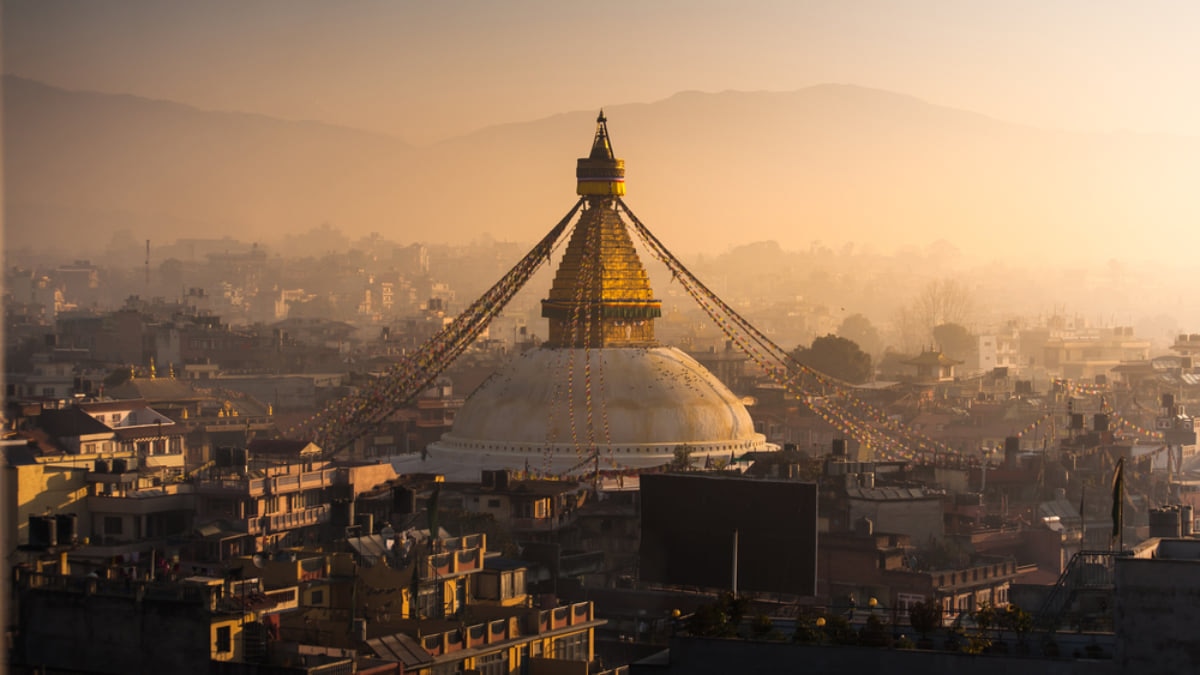 Photo by Nitipol Temprim/Shutterstock
Restaurants to Check Out in Kathmandu, Nepal
Nepal is a melting pot of South Asian cuisine, influenced by its many ethnic groups dotted around this mountainous country. Apart from differences in their cuisine between each ethnic group you'll find influences from India, China, Thailand and Tibet. Here are some of the best places to get an insight into Nepal's vibrant cuisine in Kathmandu.
table of contents
[x] close
Restaurants to Check Out in Kathmandu, Nepal
Bhojan Griha
The perfect first stop for someone wanting to dive into the food and culture of Nepal, Bhojan Griha is located in a beautiful 150-year-old mansion offering traditional ethnic Newari cuisine and cultural performances. Prices are a little higher than other restaurants around town, but you're getting a lot for your money here, with the atmosphere and folk dances every evening accompanying delicious food.
Oriental Kitchen
While Oriental Kitchen might have a range of delicious dishes from all over Asia on offer, their momos (traditional Tibetan dumplings) are claimed to be some of the best in Kathmandu, high praise for a city that's full of these delightful pockets of joy.

Momos are almost everywhere in Kathmandu, you'll find them at almost every local restaurant and are a quintessential part of Nepali home cooking. While Tibetan in origin, momos have since become a staple food and snack in Nepal. You'll be hard-pressed to find somewhere in Kathmandu offering poorly made momos, but to try some of the best, be sure to head to Oriental Kitchen.
Thakali Kitchen
Often seen as the national dish of Nepal, dal bhat is a must try while visiting the capital. Literally meaning 'lentils and rice', a plate of dal bhat is usually accompanied by seasonal vegetables and pickles along with one or more lentil stews.

While you'll find a number of places with 'Thakali Kitchen' in the name, the one around Thamel is one of the best. Well off the beaten tourist path, this restaurant is mostly frequented by locals, providing a more authentic, no frills insight into the cuisine.
Honacha
This age-old traditional eatery might not be much to look at, but serves up some delicious Newari-style food, the crowds of people who head here for lunch are a testimony of its popularity. Classic eats like choila and bara are some of the best, but be warned some can be a little spicy.
Utse Restaurant
Owned by a Tibetan family, Utse Restaurant serves up some delicious Tibetan and Nepali concoctions that are well worth a try. While there are plenty of Tibetan restaurants in the city, Utse is said to be the oldest, operating for over 50 years and has always been a local institute. The momos are great here along with the Tibetan hotpot that comes highly recommended. It's also part of the Utse Hotel, which offers budget friendly rooms in the popular area of Thamel.
Conclusion
Steer well away from the tourist-centered eateries that offer 'authentic Nepali' cuisine that's usually a far cry from actual home-cooked food in Nepal. These restaurants offer some of the best dishes in Kathmandu and are a must for anyone with an interest for the nation's food.