Gwalior:Reminiscence and Slice of Royal and Majestic Bygones
India
Jun 26, 2018
496 views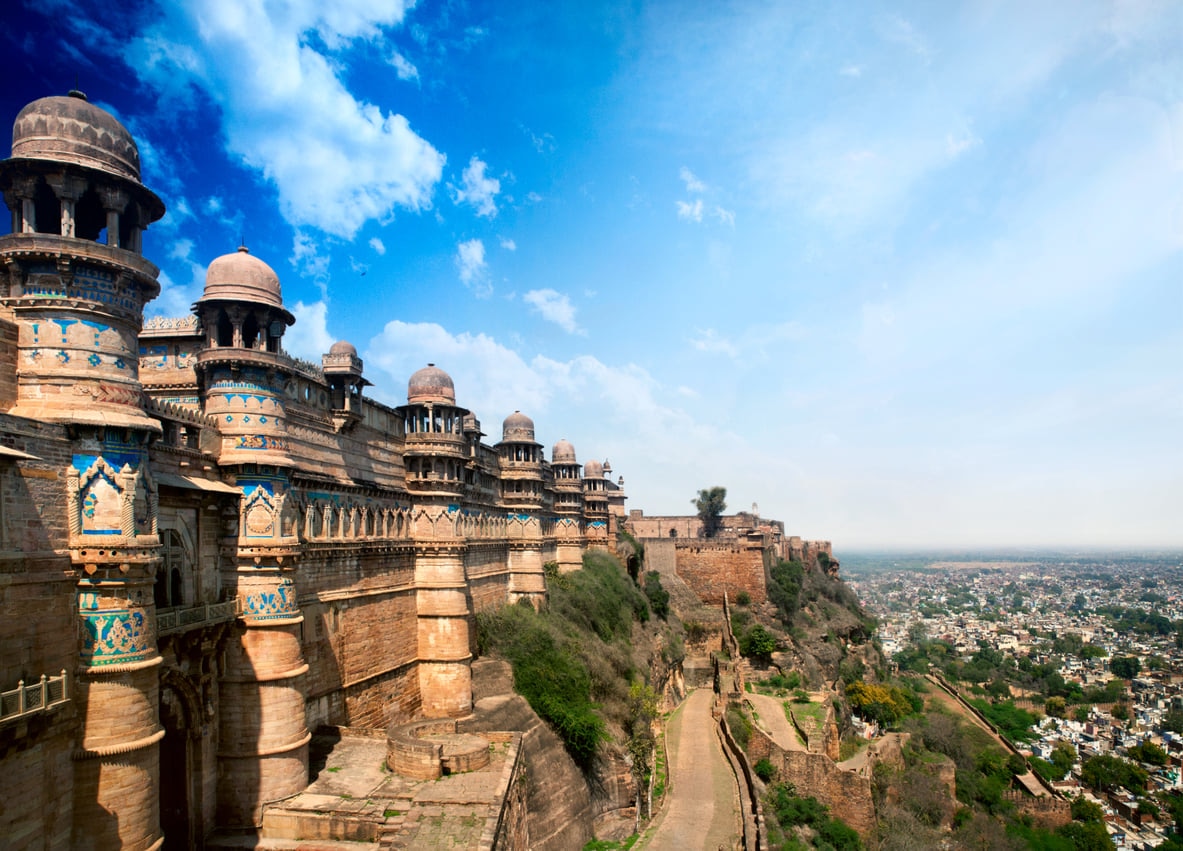 The historic city of Gwalior has a lot to offer for culture and heritage lovers. Surrounded by beautiful hills, the city is a land of temples. There is rich history of royalty with the Gwalior Fort standing witness to kingdom. The historical strength of the city and the prevalence of the bygone days still remain through the marvelous architecture. Read on to know more about the top 10 places worth paying a visit when in Gwalior.
[x] close
Gwalior:Reminiscence and Slice of Royal and Majestic Bygones:table of contents
1. Gwalior Fort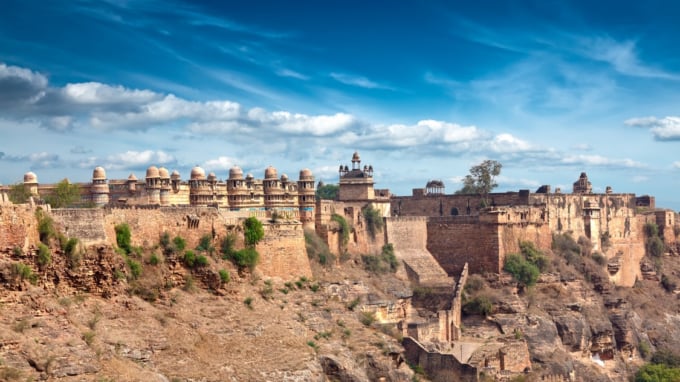 The Gwalior Fort is a depiction of excellent royalty and is one of the most significant historical places in India. It was built by Man Singh Tomar and has two main palaces – the Gurjari Mahal and Man Mandir. The fort is perched on a rocky mountain that touches the Gwalior skyline. The impeccable and exquisite architecture depicts the excellence of craftsmanship prevalent during those times. The first phase of its construction started in the 8th century and later in the 15th century, the two palaces were built.
Name:Gwalior Fort
Address:Gwalior Fort, Gwalior, Madhya Pradesh, India
Related Site:http://www.mptourism.com/tourist-places/places-to-visit-in-gwalior.html
2. Jai Vilas Palace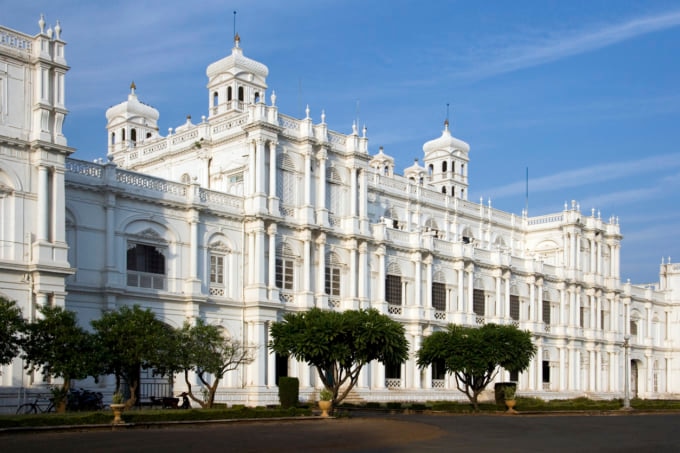 The grand and majestic Jai Vilas Palace is one of the best sightseeing places that boasts of its European style contemporary architecture. The palace is adorned with gorgeous chandeliers and has 25 rooms. The palace was designed by Lt. Col Sir Michael Filose in Tuscan and Corinthian style. Jal Vilas Mahal was constructed in the year 1874 by Maharaja Jivaji Rao Scinidia and still houses the family with exquisite display of their heritage belongings. Some parts of it is occupied by Scindia Family and the rest is used as museum.
Name:Jai Vilas Palace
Address:Lashkar, Gwalior, Madhya Pradesh, India
Related Site:http://jaivilasmuseum.org/Jaivilas-Palace.html
3. Man Mandir Palace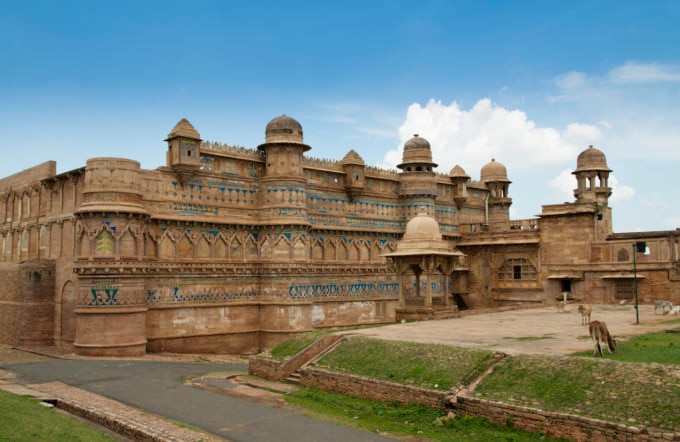 The Man Mandir Palace is located towards the North – East end of the Gwalior fort and was built by Man Singh Tomar. It was built in between years 1486 and 1516 and displays gorgeous designs and art from the era. It is also a part of the Gwalior Fort that leaves your speechless with precisely done carvings. The Man Mandir Palace has two open courts, one underground prison and is the same prison where Aurangazeb kept his brother as prisoner and poisoned him to slow death.
Name:Man Mandir Palace
Address:Gwalior Fort, Gwalior, Madhya Pradesh, India
Related Site:http://www.mptourism.com/tourist-places/places-to-visit-in-gwalior.html
4. Gujari Mahal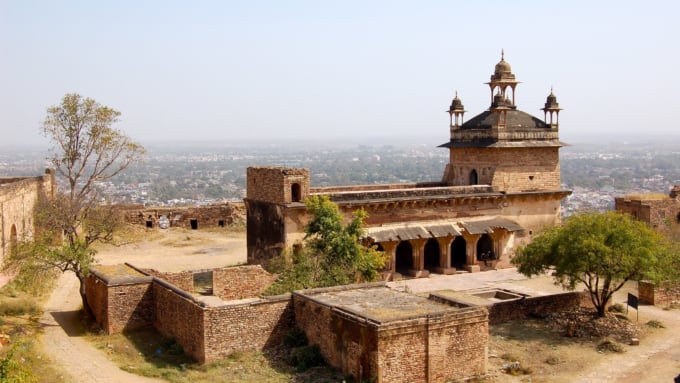 The archaeological site or museum is inside the fort complex and is an interesting place to visit for history lovers. It was built in 15th - century and currently is somewhat in its ruins but gives a picture of the rich cultural heritage. It is one of the best places for knowing the cultural history of the city. There are sculptures dating to 1st and 2nd century BC along with discovery of many Terracotta items, statues etc. There is a huge collection of Bagh Cave paintings along with multiple photographs from different areas.
Name:Gujari Mahal
Address:Lohamandi, Gwalior, Madhya Pradesh India
Related Site:http://www.mptourism.com/
5. Teli Ka Mandir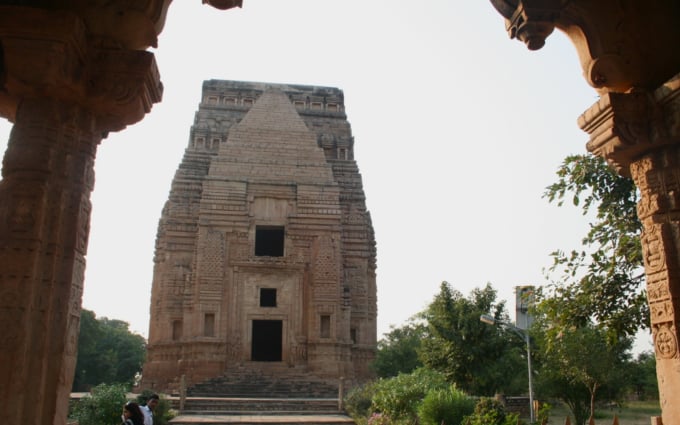 The phenomenal architecture of the temple leaves tourists spellbound. The Teli Ka Mandir is designed with detailed carvings and work making it an epitome of elegance. There is a mix of Northern and Southern style of temple architecture with as tall as 100 ft. The temple is dedicated to Lord Vishnu and is beautifully decorated with number of sculptures. Most of them are of amorous God and Goddess, coiled serpents, vehicle of Lord Vishnu and others.
Name:Teli Ka Mandir
Address:Fort Campus, Near Schiendhi School, Gwalior Fort, Gwalior, Madhya Pradesh, India
Related Site:http://www.madhya-pradesh-tourism.com/pilgrim/temples/teli-ka-mandir.html
6. Gwalior Zoo
If you have a fancy for wildlife and want to witness gigantic wild animals prowling around, Gwalior Zoo is a place one must go. It is perfect for visiting with friends and families. There are ferocious cats and a number of other animals like black bucks, serpents, hyenas, bison, deer, sambhar, etc. It is an ideal destination if you are travelling to Gwalior with your kids. Enjoy the wildlife amidst the city and help your kids to know more of wild animals.
Name:Gwalior Zoo
Address:Italian Garden Rd, Lashkar, Gwalior, Madhya Pradesh, India
Related Site:http://gwaliormunicipalcorporation.org/default.aspx?pg=8004cd9d-f9c3-4fcc-b029-75146953db80
7. Moti Mahal Palace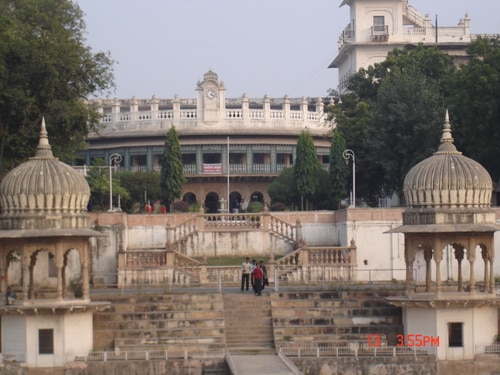 Photo by commons.wikimedia.org
Gwalior is a city of royals and palaces are abundant around the city. Another such gem of royalty is the Moti Mahal Palace. It was built in the 19th century and once also housed the Secretariat of Madhya Bharat Government. The garden within the campus of Moti Mahal Palace flaunts of assortment of flowers with gorgeous fountains. The palace is not very well maintained but still open for tourism. The walls of the palace are tempera colored with paintings depicting processions and darbars.
Name: Moti Mahal Palace
Address:Moti Mahal Rd, Lashkar, Gwalior, Madhya Pradesh, India
Related Site:http://www.commissionergwalior.nic.in/
8. Amma Maharaj Ki Chathri
Amma Maharaj Ki Chathri is very close to the famous Jai Vilas Palace and is a popular cenotaph of Late Madhavrao Scindia. The cenotaph is surrounded by beautiful and lush green environment with acres of planted trees and flowers. It is a serene place if you want to spend time in solitude and great place to even explore. The funeral of the late Maharaja was conducted at Amma Maharaj ki Chhatri which was attended by huge number of people along with Ms. Sonia Gandhi and Mr. Atal Behari Vajpayee.
Name:Amma Maharaj Ki Chathri
Address:Lalitpur Colony, Gwalior, Madhya Pradesh, India
9. Sun Temple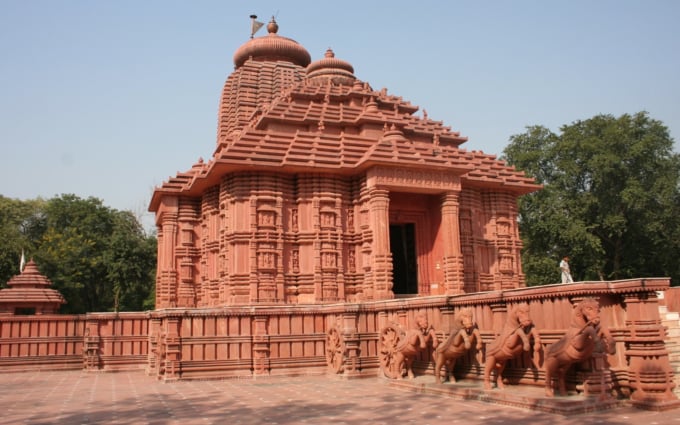 It is a significant temple of pilgrimage interest making it one of the most visited sightseeing places in Gwalior. It is located near the Residency at Morar and has many shrines of religious sanctimony. It was built in the year 1988 and is similar in style to the Sun Temple in Konark. The temple looks gorgeous with its construction from red sandstone adding to the charm. The sunrise and sunset from the temple looks absolutely divine. The art inside the temple is marvelous with stunning interiors.
Name:Sun Temple
Address:Pinto Park Road, Near BIMR Hospital, Morar, Gwalior, Madhya Pradesh, India
10. Tomb of Mohammad Ghaus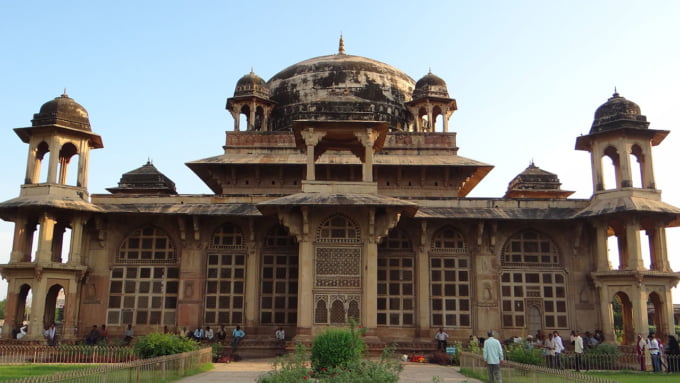 Photo by commons.wikimedia.org
The tomb was built in the 16th century for Sufi saint - Mohammad Ghaus. It is a mesmerizing place to explore and experience the impeccable life of Sufi saint. He was the adviser to King Babar and music teacher of the acclaimed musician Tansen. The tomb is absolutely gorgeous with reflection of the Mughal contemporary architecture. The tomb features hexagonal pavilions and exquisite carvings from stone making it an eye catching tourist spot. The rustic appearance of the tomb is the most glamorous part of its existence.
Name:Tomb of Mohammad Ghaus
Address:27 B, Tansen Rd, Tansen Nagar, Gwalior, Madhya Pradesh, India
Related Site:http://asibhopal.nic.in/monument/gwalior_ghauspura_tombofmo.html
◎ Closing
Gwalior is a gorgeous princely city with rich and royal history of culture and heritage. The palaces and tombs around Gwalior are evident to how gorgeous the place was during royal times. The glimpses of the royalty ooze out from every architecture that are marvelous and timeless creation.