Jaipur: Things to See in India's Beautiful Pink City
India
Sep 24, 2019
389 views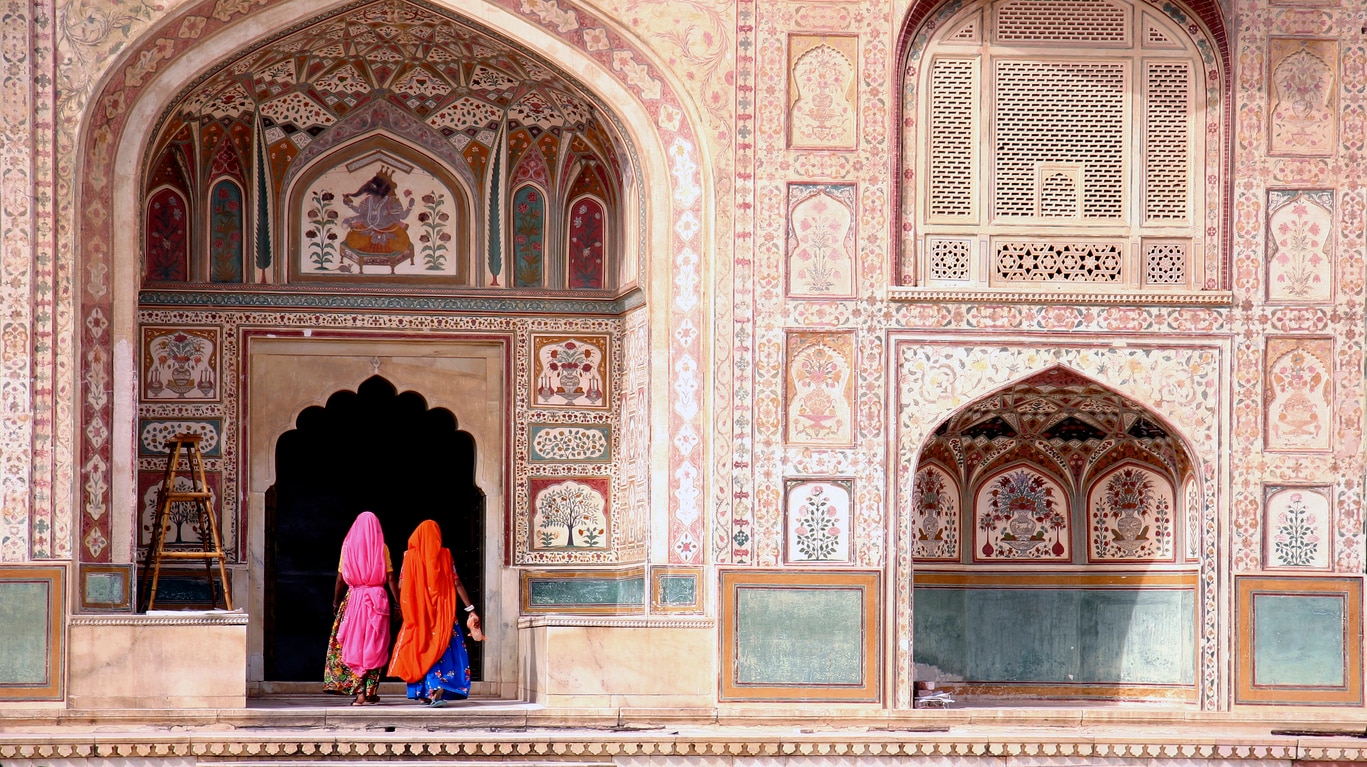 The first planned city of India, the ever vibrant Pink City, offers a unique combination of its glorious royal past with the current modern vibes. It was named Pink City after the Prince of Wales visited the city on a tour and in his honor, the King of Rajasthan Maharaja Ram Singh in 1876 ordered the city to be painted pink. The hospitality of the city and its residents still resonates with travelers who visit Jaipur.

It's also the capital city of Rajasthan that houses many beautiful monuments, forts, and lakes providing a myriad of experiences to its visitors. The ancient Indian architectural style of Vastu Shastra can be seen throughout the city and helps give the place its unique charm. Delicacies from Rajasthan are world renowned, from its vibrant cuisine to palaces like the City Palace and Hawa Mahal, it is a visual treat for all those who visit this city.
[x] close
Jaipur: Things to See in India's Beautiful Pink City:table of contents
1. City Palace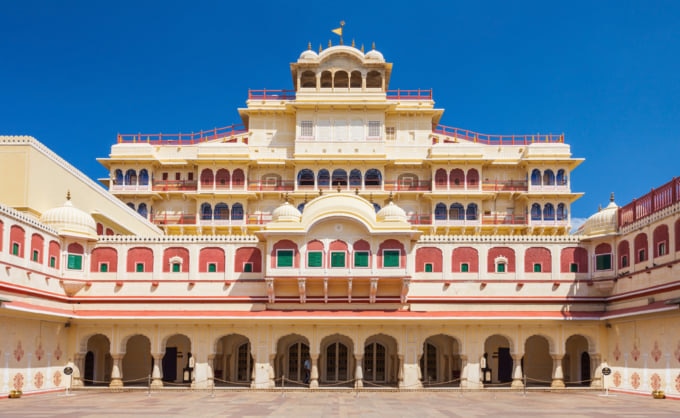 Photo by saiko3p/shutterstock.com
King Sawai Jai Singh II conceived the idea of this incredible palace, where till this date the royal family still resides. Most parts of the City Palace Complex are open to tourists except the private section reserved only for the royal family. There is a guided tour for 45 minutes which allows you to visit certain areas in this section. Inside the complex you will find Mubarak Mahal or the Palace of Reception along with the Queen's Palace. There is a museum showcasing royal costumes and Rajput armory along with various paintings dating back to the 15th century on the display. A unique blend of Rajasthani along with Mughal architecture can be seen around the City Palace.
Name: City Palace
Address: Jaleb Chowk, Near Jantar Mantar, Tripolia Bazar, Jaipur, Rajasthan
Related Site: https://royaljaipur.in/
2. Hawa Mahal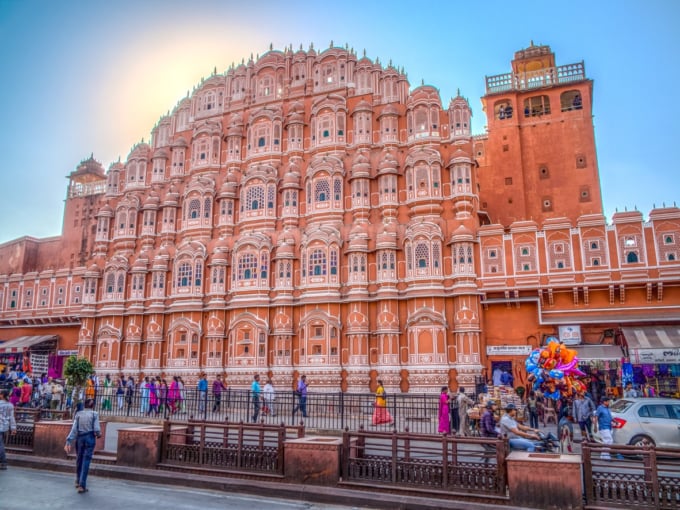 Built in 1799 by King Sawai Pratap Singh as a family retreat, Hawa Mahal or the Palace of Wind is a unique monument that blends both Islamic and Hindu architecture. The royal ladies once observed city life sitting in the palace, now most tourists visit this monument to get breathtaking view of Jantar Mantar and the City Palace along with Sireh Deori Bazaar. Due to the planned architecture based on Vastu Shastra, the honeycombed structure of the windows serves as ventilators blowing cool air throughout the palace. You can also visit the archaeological museum built by the Indian government in the courtyard of the palace.
Name: Hawa Mahal
Address: Hawa Mahal Rd, Badi Choupad, J.D.A. Market, Kanwar Nagar, Jaipur, Rajasthan
Related Site: http://www.hawa-mahal.com

3. Jantar Mantar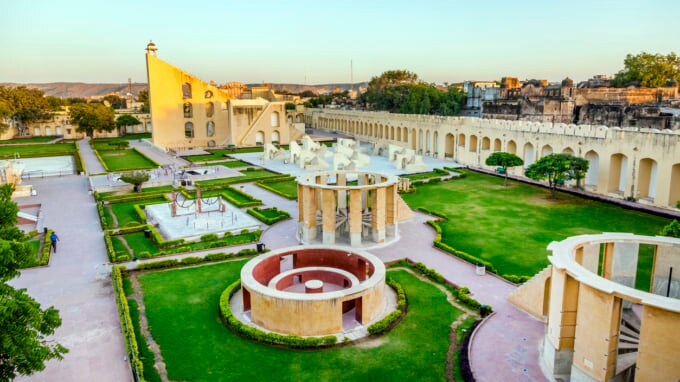 Next to the City Palace is the UNESCO World Heritage Site of Jantar Mantar, an astronomical observatory constructed by King Jai Singh II in 1728. King Jai Singh built five observatories across India out of which Jaipur's Jantar Mantar is the best preserved. The builders of the observatory were sent abroad to learn about astronomical instruments and the resulting work found at Jantar Mantar is spectacular. You can hire your own guide to explain how these instruments work. Visitors can also go to the interpretation center housed in the Jantar Mantar to learn about the history and functioning of the observatory.
Name: Jantar Mantar
Address: Gangori Bazaar, J.D.A. Market, Kanwar Nagar, Jaipur, Rajasthan
Related SIte: http://www.jantarmantar.org
4. Nahargarh Fort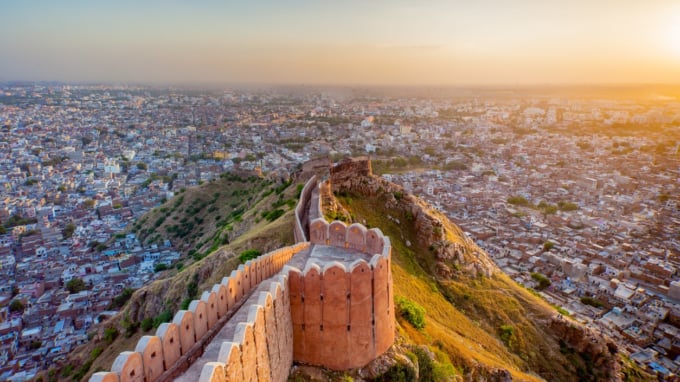 Nahargarh Fort or the 'abode of tigers' was constructed by King Jai Singh in 1734, being further extended in 1868. Located on the Aravalli Hills, the view of Jaipur from this fort is absolutely breathtaking making it the perfect place for having a picnic. The corridors of the fort have beautiful murals painted all over along with a small chamber named Madhavendra Bhawan built specially for the royal family as a relaxing spot during the summer. The best time to visit the fort is sunset, the pink city in all its glory is visible at this time.
Name: Nahargarh Fort
Address: Krishna Nagar, Brahampuri, Jaipur, Rajasthan
5. Jal Mahal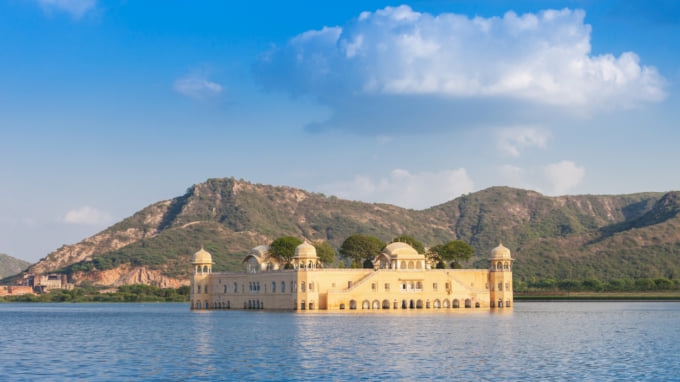 Built in 1750 by King Madho Singh and later extended by his son Madho Singh II in the 18th century, Jar Mahal or the Lake Palace is a pink sandstone monument that looks as if its floating in the centre of the Lake Man Sagar. The inside of the palace has been turned into an exclusive restaurant and is off limit to most tourists but the outside view is itself quite magnificent and well worth making the trip to see.
Name: Jal Mahal
Address: Amer Road, Jaipur, Rajasthan
Related Site: http://www.jaipur-travel-guide.com/Jaipur-attractions/Jal-Mahal-Jaipur-Water-Palace.html
6. Birla Temple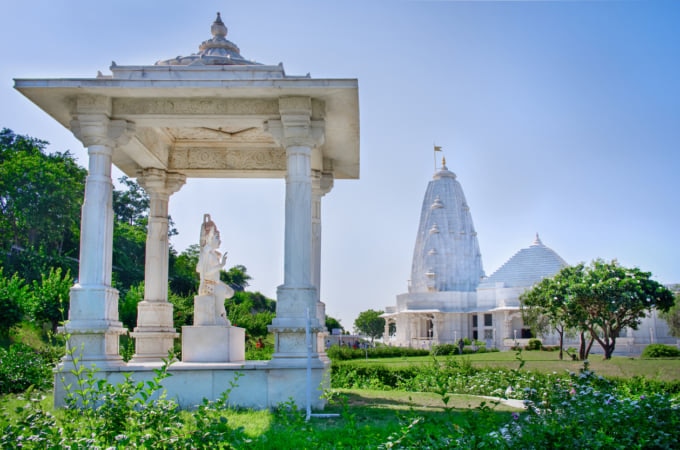 Birla Temple is a Hindu temple dedicated to the worship of Hindu God Vishnu and his wife Lakshmi, goddess of wealth. Built entirely of white marble, the temple is lit at night which is the best time to visit, during sunset you can even be part of homage to the god. The temple has some beautiful inlay work and carvings covering Hindu mythological folklore.
Name: Birla Temple
Address: Shanti Path, Tilak Nagar, Jaipur, Rajasthan
Related Site: https://www.jaipur.org.uk/temples/birla-temple.html
7. Royal Gaitor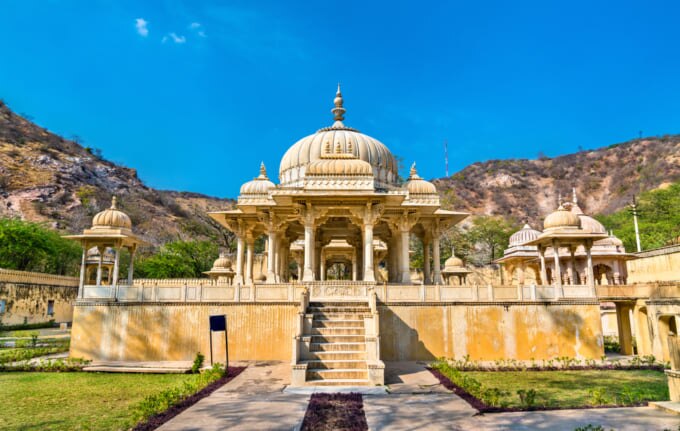 Photo by Leonid Andronov/shutterstock.com
Gaitor houses cenotaphs of various royal kings of Jaipur. Rajput architecture showcases the stature of the Kings that are laid to rest here. King Jai Singh's cenotaph is among the most popular ones with a total of 20 carved pillars. The exquisite carvings on these white marbled cenotaphs are a testimony to Rajput's master craftsmanship.
Name: Royal Gaitore
Address: Krishna Nagar, Brahampuri, Jaipur, Rajasthan
8. Central Park
In the center of Pink City, one can find Jaipur's largest park home to a beautiful spacious garden, a polo ground along with a golf club. Most locals come here to relax and have a picnic with their families. For tourists, it's a friendly hospitable space where you can observe locals and spend time taking in the city.
Name: Central Park
Address: Prithviraj Rd, Rambagh, Jaipur, Rajasthan
9. Albert Hall Museum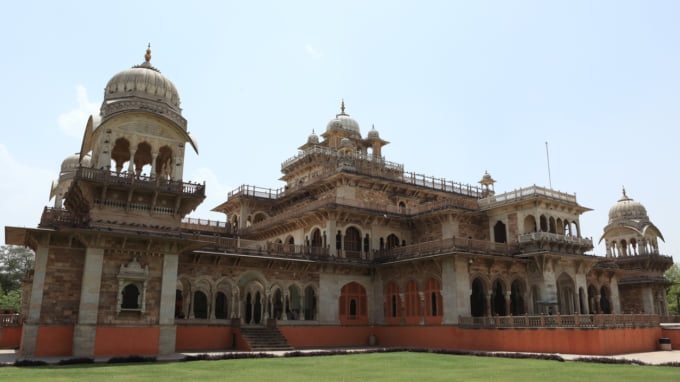 Popularly known as the Central Museum, Prince of Wales laid the first stone of this building in 1876. Rajputs were famous for their battles and armory, the museum displays beautiful sculptures from the Rajput era along with paintings from different parts of Rajasthan. There is a guided tour of the museum available for those who would like to know more about the culture and history of the Rajputs.
Name: Albert Hall Museum
Address: Museum Road, Ajmeri Gate, Ramniwas Bag, Jaipur, Rajasthan
Related Site: http://alberthalljaipur.gov.in
10. Amber Palace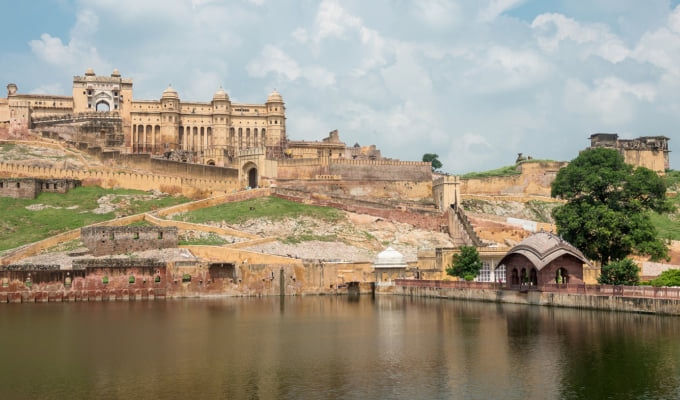 UNESCO's World Heritage Site of Amber Palace is a unique blend of Hindu and Mughal style of architecture. King Man Singh built the palace in 1592, and it was later completed by his sons. Amber Palace is made of white marble and red sandstone while the interiors show a mirage of exquisite inlay work, precious stones and mirrors on the ceilings. The site particularly beautiful to behold on full moon nights.
Name: Amber Palace
Address: Devisinghpura, Amer, Jaipur, Rajasthan
Related Site: https://www.amberfort.org/
Conclusion
Jaipur is a city that leaves one spellbound with its sheer beauty and fascinating ancient past. The hospitality to Prince Wales that led to it turning pink can be observed in simplicity and forthcoming helpful nature of this city's dwellers. Everyone has a story to tell about the majestic past and the pride of Rajputs is still quite visible in the stories shared. Jaipur is one of the most visited tourist spots for the same reason, everyone loves a good story and this city has plenty to offer.