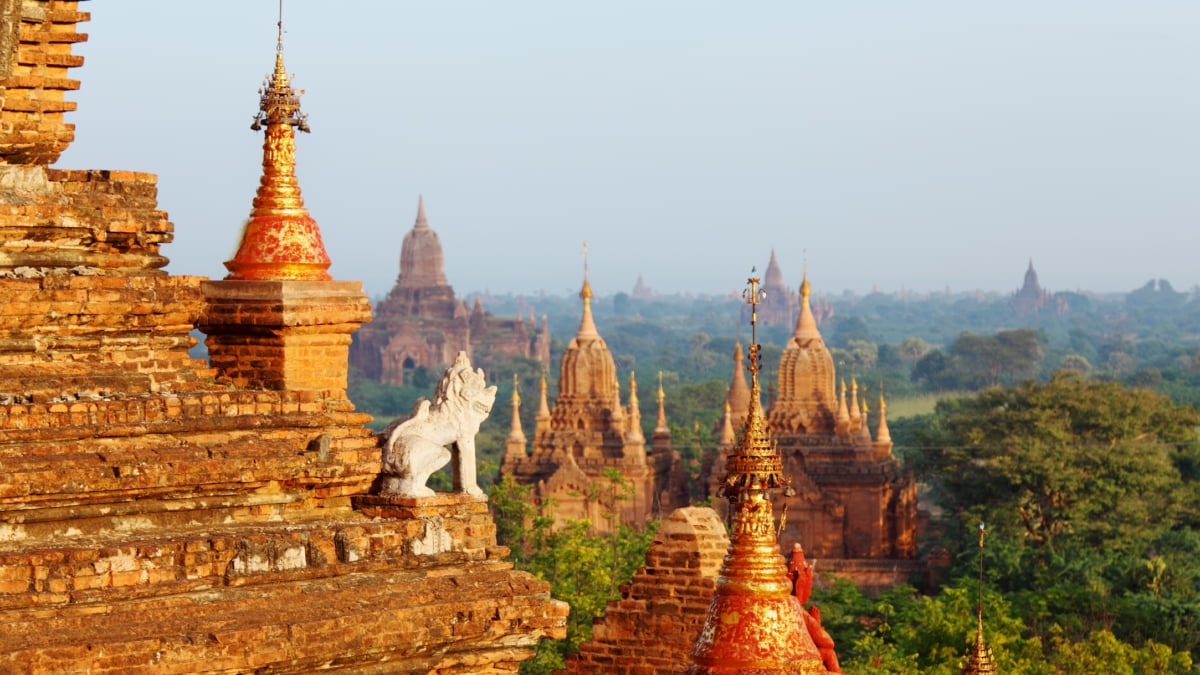 6 Temples and Sacred Sites to Check Out in Bagan, Myanmar
A sprawling ancient city at the heart of Myanmar, Bagan is one of the most intact and visually-stunning of Asia's archaic sites. Crumbling pagodas and impressive temples write with history and splendor showcase Myanmar's fascinating history as an ancient kingdom.

Of course what else is there to do here but spend a day or two traveling from temple to temple, transporting you back in time to almost a thousand years in the past. However with almost 3,000 temples still left intact, you're not going to be able to explore every single one of them in one trip. Here are some of the most famous temples and sacred spots to check out around Bagan.
table of contents
[x] close
6 Temples and Sacred Sites to Check Out in Bagan, Myanmar
Gawdawpalin Temple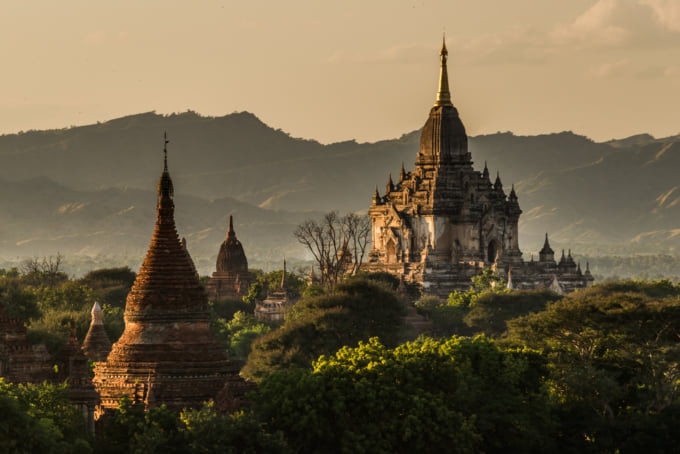 Photo by Ralf Siemieniec/Shutterstock
One of the late Bagan period's most fabulous achievements, Gawdawpalin stands out beautifully among the surrounding pagodas. Although it's the second tallest pagoda in Bagan, unfortunately the top upper sections are off limits to visitors. If you want that famous sunset view of the area, you'll need to head to one of the manmade mounds built by the government as a viewing platform.
Dhammayangyi Temple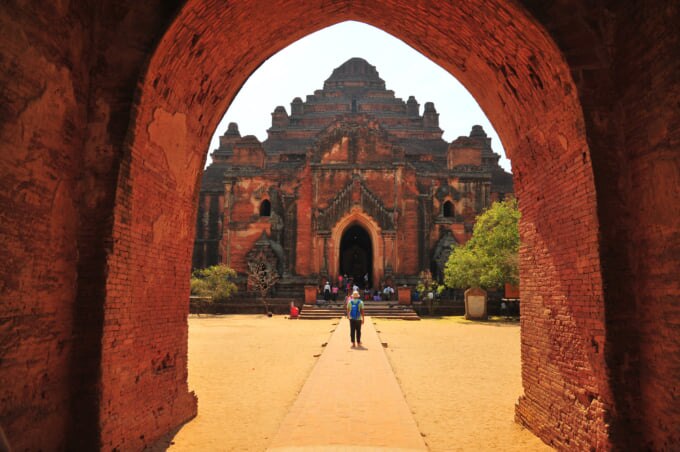 Photo by karinkamon/Shutterstock
The largest of all the temples, Dhammayan rises up above the plains of Bagan as one of the most photogenic of the historic buildings found here. The temple itself was never finished after King Narathu, who ordered it to be built, was assassinated before its completion. However even in its unfinished state it's still one of the most impressive you'll find here.

Unfortunately you can't enter the actual temple, the inside is closed off from visitors, currently only the four porches and the outer corridors are accessible.
Ananda Temple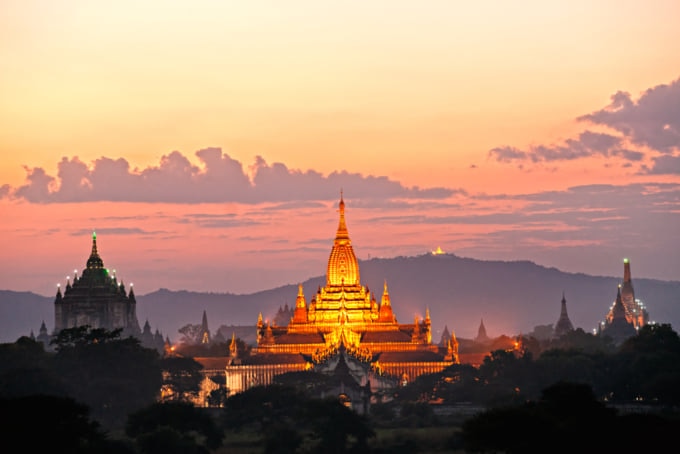 Photo by Luciano Mortula - LGM/Shutterstock
The most famous of the temples around Bagan, Ananda is one of the best preserved and largest of its kind, built in the early 12th century by King Kyanzittha. Usually the first on most people's list of temples to visit, Ananda was partly destroyed by an earthquake but has since been restored beautifully. Now it's one of the best representations of these ancient ruins.

As this is one of the few temples and pagodas that you can enter, it's also one of the most popular. Make sure to check out the four golden Buddhas and glazed tiles showing scenes of jataka (different stories of Buddha).

As the story goes, King Kyanzittha was inspired by visiting monks to build a temple which would stay cool in the Bagan plains. After his architects successfully built the Ananda Temple, he had them executed so that no one would be able to build a similar style.
Thatbyinnyu Temple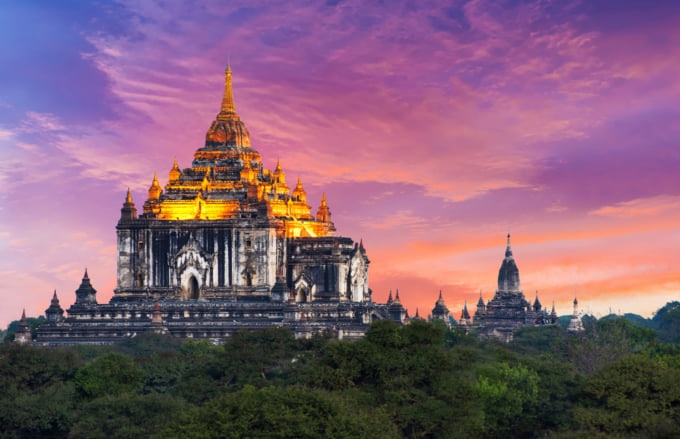 Photo by Filip Fuxa/Shutterstock
Thatbyinnyu often dominates the skyline of Bagan, along with Ananda, with its square base and beautiful golden stupa. It's the tallest reaching temple in Bagan, though the base isn't as large as Dhammayangyi.

The upper level of Thatbyinnyu is closed to the public, so unfortunately you can't see the main shrine that's inside. Although it's the tallest temple at 66 meters, it's not permitted to climb the structure.
Shwesandaw Pagoda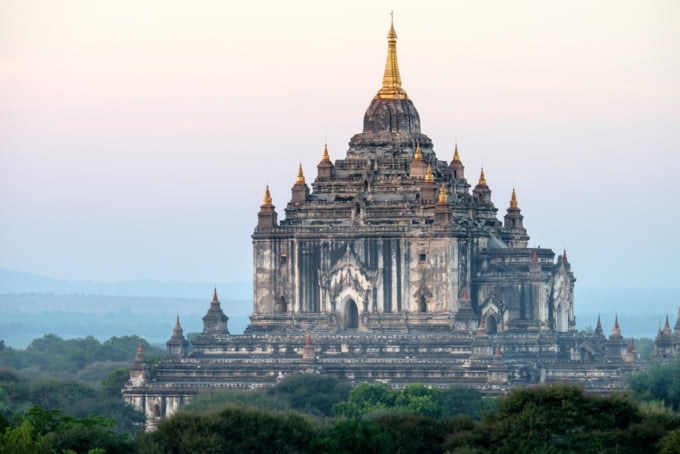 Another of Bagan's larger buildings, Shwesandaw has its own unique, impressive charm. While it's not adorned with gold like some other structures, it's impressive height and intimidating white-washed upper levels makes it a sight to behold. Shwesandaw used to be one of the best places to view the sunset in Bagan, however to protect the structure, tourists have since been banned from climbing to the top (along with other temples and pagodas in Bagan).
Taung Kalat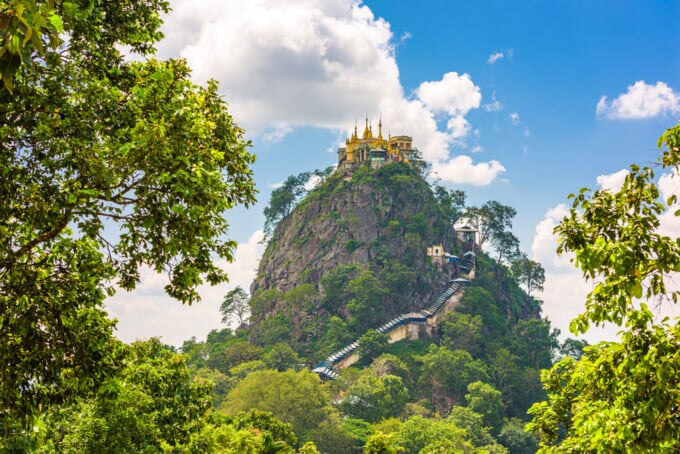 Photo by Sean Pavone/Shutterstock
While it might not be one of the ancient temples of the old city, Taung Kalat is still unmissable while traveling around the region. This odd-shaped mountain is a sacred spot for many locals and a popular pilgrimage spot for Buddhists in the country. It's just over an hours drive from the sea of ancient pagodas in Bagan, a highly unique looking hill with a temple and shrines built on the top that gives a beautiful view over the surrounding scenery from the top.
Other Things to Do in Bagan
For the trip of a lifetime, consider booking a slot for a balloon ride over the temples of Bagan. The experience is amazing, as you calmly float over the incredible ancient city of Bagan, made even more impressive by the beautiful sunrise. While it's not particularly cheap, usually ranging from US$300 to US$400, the experience is something you'll never forget and really makes for an impressive trip.


Best Time to Visit Bagan
Although the rainy season usually lasts from May to September, Bagan tends to stay a little drier than other places in Myanmar. The rainfall tends to be heavy and short, so finding some cover and waiting for 20 minutes or so is usually all it takes. It's also much hotter during these months, so it's best to visit outside of this period if possible.
How to Get to Bagan
While it might look close to the old capital of Mandalay, the roads are still quite underdeveloped and takes at least five hours by bus and over seven hours by train. By far the easiest route that most visitors take is to fly there, flights from both Yangon and Mandalay depart everyday. Although much more expensive than taking a bus, you pay extra for a much more comfortable ride and hours saved. If you're considering taking the overnight train from Yangon to Bagan, be warned the journey can be extremely bumpy at times and most travelers aren't able to sleep.
Myanmar and COVID-19
Myanmar did well to keep cases of COVID-19 low for most of 2020. However a recent spike in cases has seen the country struggle to control the pandemic. International flights are mostly cancelled from and to Myanmar and new tourist visa applications are being suspended for the time being. Those traveling to Myanmar will need to quarantine themselves for 14 days on arrival. While the situation may change in the future, this is the current case as of October 2020.