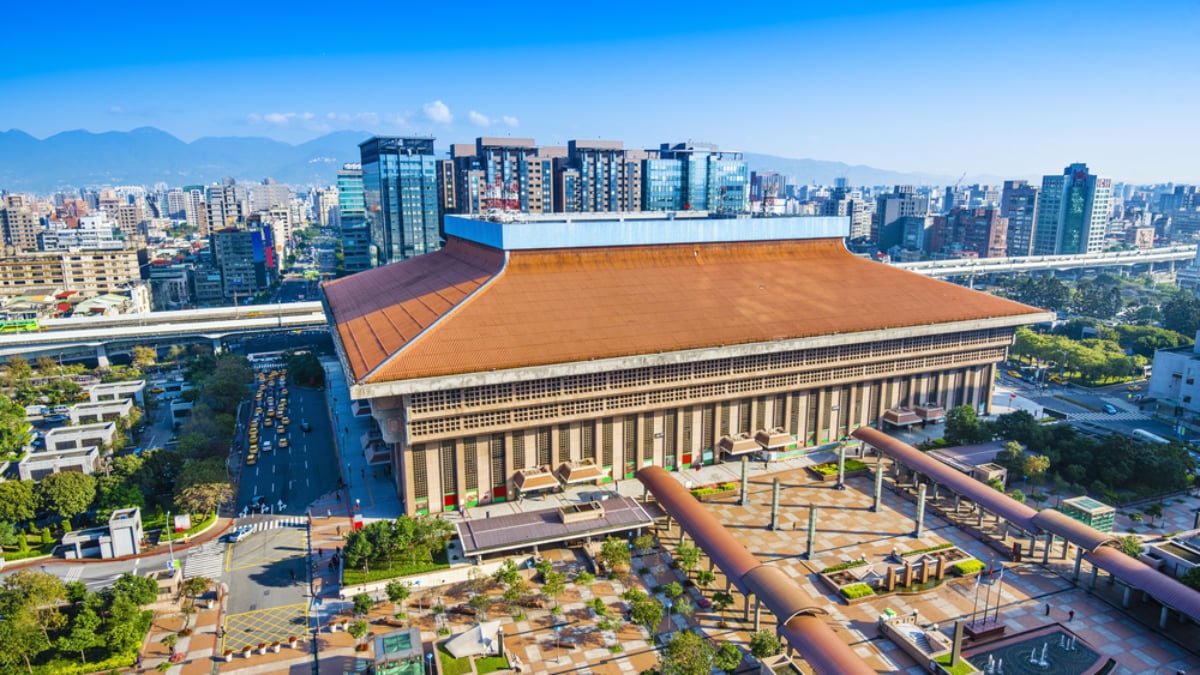 Photo by ESB Professional/Shutterstock
7 Things to Do Around Taipei Main Station
The transport hub of Taiwan's capital, Taipei Main Station links visitors to all corners of the city and beyond. Whether you're waiting for a train to the south of Taiwan, or just got to the city and want to hit the ground running with your travel plans, here are the top things to do around Taipei Main Station.
table of contents
[x] close
7 Things to Do Around Taipei Main Station
The MOCA (Museum of Contemporary Art)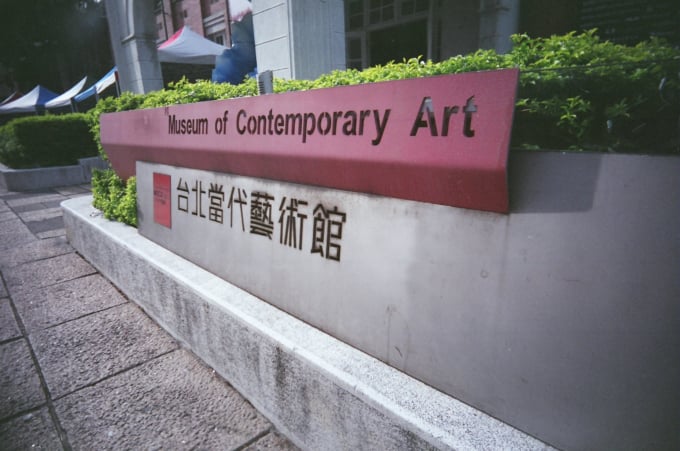 Taipei's Museum of Contemporary Art is full of incredible exhibits that make it interesting even for non-art lovers. With regular new and changing exhibitions, it's well worth checking out every time you visit Taipei. The museum often displays artwork that depicts current affairs happening around the world and in Asia.

The building itself is beautiful, a classic example of the Japanese colonial architecture built around Taipei.
Address: No.39 Chang-An West Road Taipei, Taiwan 103
Phone: +886 2-2552-3721
Website: mocataipei.org.tw
Taipei City Mall
An huge sprawling shopper's paradise encompassing the underground of Taipei Main Station and beyond, Taipei City Mall's shops offer everything you can dream of buying. While you could easily spend a whole day exploring the whole area, the most popular shops are those selling Taiwanese souvenirs, cheap clothes and bags, jewelry and electronics.

If you're looking for somewhere to buy souvenirs before leaving to catch the MRT Airport Line, there are plenty of shops that sell all kind of trinkets and Taiwanese sweets and snacks packaged in boxes that might for great gifts. Almost all of the shopkeepers here speak a decent amount of English meaning communication isn't a problem.
Chiang Kai-Shek Memorial Hall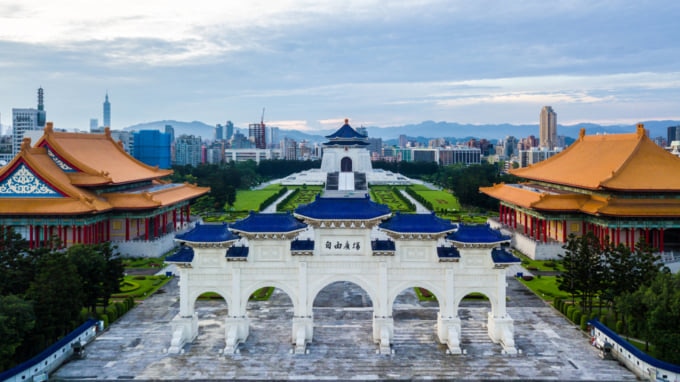 Photo by Avigator Fortuner/Shutterstock
Often seen as the most famous sights of Taipei after the iconic skyscraper Taipei 101, Chiang Kai-Shek Memorial Hall and the adjacent Liberty Square Arch are some of the most impressive examples of Chinese architecture in the world. It's one of the best things to see on a trip to Taiwan. The hall is the final resting place for Chiang Kai-shek, former President of the Republic of China and was built in 1976 after his death.

For decades the surrounding site has been a gathering place for demonstrations and historical movements, often seen as the birthplace of Taiwanese democracy. To honor its place in history, the area was formally rededicated as Liberty Square by President Chen Shui-bian in 2007.

For those with a passion for jazz, the Theater Trattoria inside Liberty square puts on a live jazz show every Friday and Saturday night that is worth checking out, the food there is also delicious.
Chiang Kai-Shek Memorial Hall from Taipei Main Station
To get to Chiang Kai-Shek Memorial Hall from Taipei Main Station just walk south on Zhongshan South Road or take the MRT Tamsui-Xinyi Line towards Xiangshan and get off at the second station.
Huashan 1914 Creative Park
Opened as Taihoku Winery in 1916 for making rice wine during Japanese colonial rule, Huashan was redeveloped in 2005, offering a place for local artists to display their work. Apart from the frequently changing art exhibitions, there are a number of trendy restaurants and shops selling handmade items. The park is often used for special events and music performances, especially at the weekend.

Two stations west of the main station on the Bannan Line and you'll get to Zhongxiao Xinsheng Station, Huashan 1914 Creative Park is just a short walk from Exit 1.
Getting to Huashan 1914 Creative Park from Taipei Main Station
Two stations west of the main station on the Bannan Line and you'll get to Zhongxiao Xinsheng Station, Huashan 1914 Creative Park is just a short walk from Exit 1.
Address: No. 1, Section 1, Bade Rd, Zhongzheng District, Taipei City
Second Floor Food Court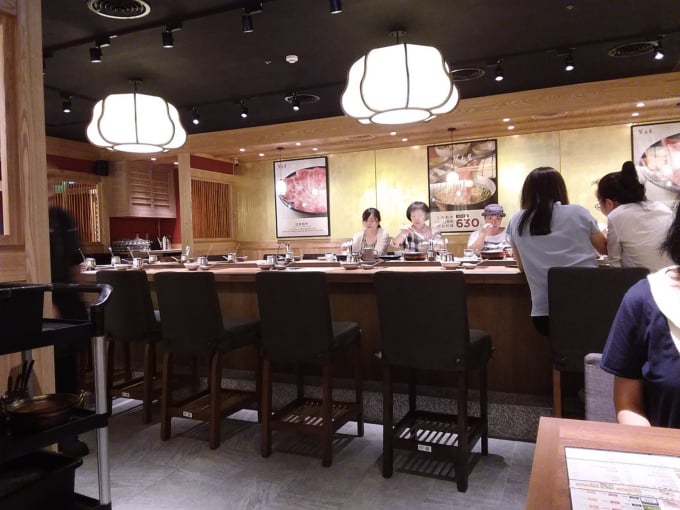 Photo by NG LAU Hears/Wikipedia
Head to the second floor of Taipei Main Station in the Breeze Center for a selection of different restaurants and eateries. You'll find a diverse range of different restaurants, mainly Japanese such as famous ramen chain Ippudo, along with local eats like Hot Star's delicious fried chicken cutlet.
Shandao Temple
The next stop after Taipei Main Station on the Bannan Line (blue line), Shandao Temple is also an easy walk from the main station. While most temples on the island are built with a Qing Dynasty architecture, Shandao Temple is a Buddhist temple built by the Japanese and its grand golden façade is distinctly different to other temples.

There's not much to do other than admire the impressive Buddhist architecture, however it makes for an interesting place to stop for a moment. If you're not particularly interested in architecture or temples however, consider heading straight to Huashan 1914 instead, a short walk from the temple. The temple is also close to Fuhang Soy Milk, one of Taipei's most famous breakfast shops. Read more about Taiwanese style breakfast here.

Dr. Sun Yat-Sen Memorial House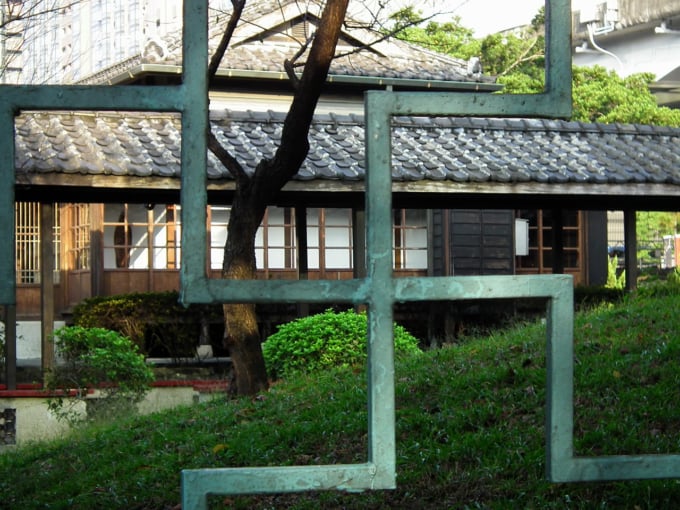 Photo by lienyuan lee/Wikipedia
Located right next to Taipei Main Station, Dr. Sun Yat-Sen Memorial House is a small green oasis in the heart of the city. The traditional Japanese building here was used by the founding father of the Republic of China (Taiwan), Sun Yat-Sen. As it's located right outside the station, it's a great place to head to if you arrive there early in the morning before the surrounding shops and restaurants have opened. While the traditional house itself only opens at 9AM, you can explore the surrounding park at any time.
How to Get From Taoyuan Airport to Taipei Main Station
Getting from Taoyuan Airport to Taipei Main Station is easy with the new Taoyuan Airport MRT. The airport line tends to not be too busy as trains run regularly. If you're getting into the airport late, the last MRT train from the airport departs just before 11PM. If you miss the train there are also regular buses that travel between Taipei Main Station and Taoyuan Airport which run a little past midnight (Bus 5201) and also Bus 1819 which runs infrequently but for 24 hours.