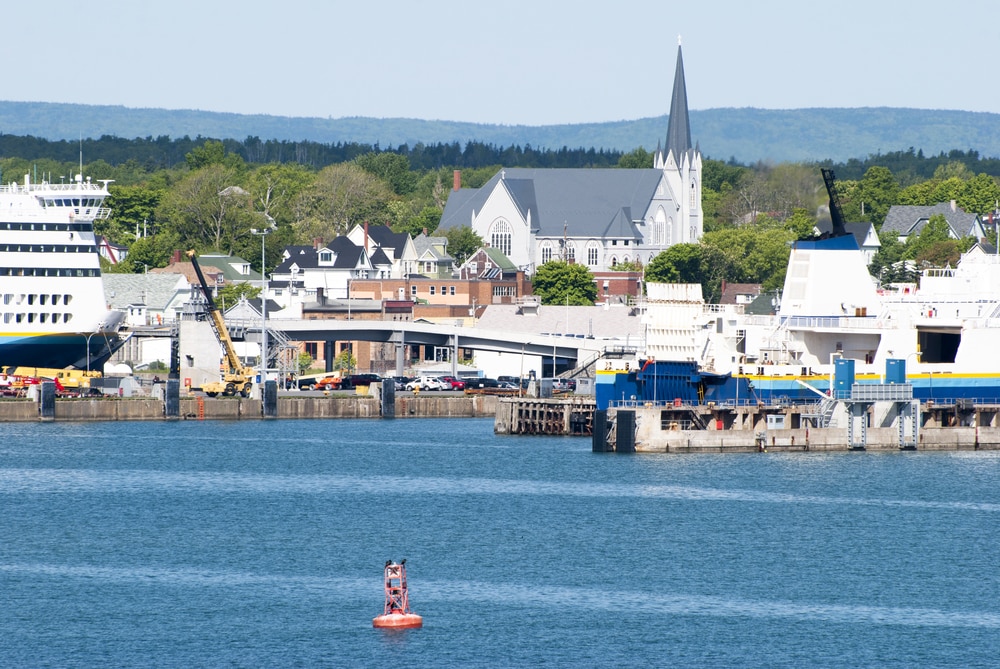 Photo by Ramunas Bruzas/shutterstock.com
Sydney (Canada)
This city can be easily confused with Australia's Sydney, however our next destination will be exactly on the opposite point of the planet. Sydney in Nova Scotia, Canada is the former capital city of the Nova Scotia province. The city was founded in 1785 by the British and it was announced as a city in 1904. When the Cape Breton Island colony merged with Nova Scotia the capital moved to Halifax and Sydney lost the title of the capital city. With a lot of historical events behind, Sydney is a fun and vibrant city for tourism. Let's check out some of the places that are worth a visit.
table of contents
[x] close
1. Cossit House Museum
The Cossit House Museum is a very cute place to start off the trip the right way. The historic place will take back the visitors into the eighteenth century and will have the delight to experience life in the old days. People can enter and tour the house which dates back to 1787. The guided tours will take visitors through the house and will explain and give out interesting information and historical events. The house features the time period related decor and furniture and the staff are in periodic attire respecting the era they represent.
Name:Cossit House Museum
Address:75 Charlotte St, Sydney, NS B1P 4P4, Canada
Related Site:https://cossithouse.novascotia.ca/
2. Jost Heritage House
The Jost Heritage House is the best place to go to in order to get introduced properly to the city of Sydney and the area around it. The heritage house is a museum representing the old days of 1786 in Sydney. Visitors will be able to tour the house and will be able to see the exhibitions of the local historical events. People can also observe the marine life from a closer view through the museum as well. There is a restored apothecary displayed in the Jost Heritage House for people to view and learn from the past.
Name:Jost Heritage House  
Address:54 Charlotte St, Sydney, NS B1P 1B7, Canada
Related Site : http://www.oldsydneysociety.org/jost-house/
3. Old Sydney Society Museum
The Old Sydney Society museum might be a small museum but that does not mean that it can be left out while visiting Sydney. This museum plays a crucial part in the city because of the many historical events it represents and introduces to visitors. People interested in further getting to know the history of the once capital city will be able to tour this little museum and see various displays representing the old days of Cape Breton County. Visitors can see the natural and social history throughout the museum while enjoying the tour.
Name:Old Sydney Society Museum
Address:173 Charlotte St, Sydney, NS B1P 1C4, Canada
Related Site:http://www.oldsydneysociety.org/
4. St Patrick's Museum
Every visitor who visits the St Patrick's Museum will have a lucky experience. The museum has a historical value in the city of Sydney and is a very interesting museum presenting the history from a different point of view. The St Patrick's Museum introduces the religious side of the history in Sydney. Visitors will be able to find out interesting informations about the religious parts of the story in a former church which was built in the 1828s by pioneers in the well known Gothic style.
Name:St Patrick's Museum
Address:87 Esplanade, Sydney, NS B1P 1A3, Canada
Related Sitehttp://www.oldsydneysociety.org/st-patricks-church-museum/
5. Cape Breton Highlander Museum
Military is a very big part in history and it is especially big in Sydney's life. Visiting the Cape Breton Highlander Museum will be a well spent time acquiring many interesting and important informations. People are drawn to the Cape Breton Highlander Museum because it possesses one of the best military collections in the area which was the result of the hard work and time the museum put in to collect the pictures and stories of brave men and women who protected their country. Visitors will be able to see a large amount of memorabilia and will hear and read interesting and inspiring stories.
Name:Cape Breton Highlander Museum  
Address:4 Garrison Rd, Sydney, NS B1P 7G9, Canada
Related Site:http://capebretonhighlandersassociation.ca/Museum/CBH%20Museum.htm
6. Worlds Largest Fiddle
If you would like to see something really cool and breathtaking then you should definitely check out the Worlds Largest Fiddle. This sight will definitely leave you speechless but it is also very interesting if you are not really into classical music. The Worlds Largest Fiddle is located in Sydney and attracts thousands and thousands of tourists and locals as well to admire and get some pictures of and with the Worlds Largest Fiddle. This sight is right next to the cruise ship terminal which means that a walk can be associated with visiting this interesting site.
Name:Worlds Largest Fiddle
Address:74 Esplanade, Sydney, NS B1P 1A1, Canada
7. Membertou Heritage
Visiting Membertou Heritage Park will open a whole new aspect of how the visitor is thinking of the place and how they view it. This park is not a regular park with playgrounds and stuffed with other things that normal parks usually have. The Membertou Heritage Park is rather intellectual and tries to pass on a whole new culture within the boundaries of Sydney. The park's mane focus falls on teaching about the Membertou people and their ancestors along with their stories and history. On this five acre park there is an indoor exhibit which takes the visitors into the center of the culture and gives them an inside peek in their lives.
Name:Membertou Heritage Park
Address:35 Su'n Awti, Membertou, NS B1S 0A5, Canada
Related Site:http://www.membertouheritagepark.com/
8. Open Hearth Park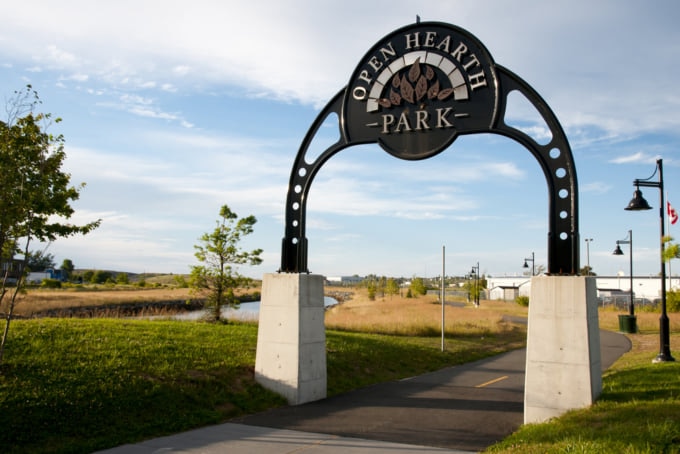 Photo by Adwo/shutterstock.com
Sydney is often blessed with beautiful weather and sunshine. In case of good weather it is the best to go to a local park to soak up the warm sunshine or listen to the birds chirp or just lay back and relax. The Open Hearth Park has enough green space for everyone. The park features a huge sport field where people can go and enjoy watching a competitive game. Concerts can be also seen on the outdoor stage set up in the park or people can retire to the eating area. There is a playground for anyone interested in having fun or there are walking paths to discover.
Name:Open Hearth Park
Address: 109 Ferry St, Sydney, NS B1P, Canada
Related Site:http://www.openhearthpark.ca/
9. Casino Nova Scotia - Sydney's Neighborhood Casino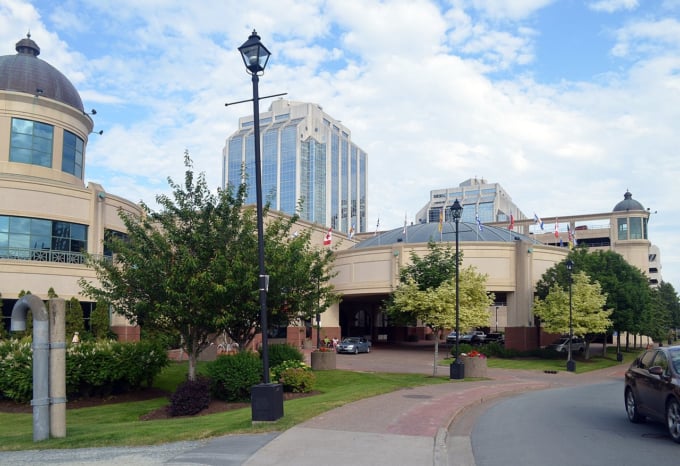 Photo by commons.wikimedia.org
To have a little fun during your trip to Sydney visiting the Casino Nova Scotia - Sydney's Neighborhood Casino is a pretty good idea. Visitors enjoy going to local places where they can have fun and this place is one of them. It attracts travelers and locals as well. The place features slot machines and gambling tables for those who feel they are lucky or there is also poker games on Fridays and Saturdays. However if you are not much of a player then you can just go and hang out there while enjoying the great atmosphere and snacking on some delicious food.
Name:Casino Nova Scotia - Sydney's Neighborhood Casino
Address:525 George St, Sydney, NS B1P 1K5, Canada
Related Site:http://sydney.casinonovascotia.com/
10. Wentworth park
Wentworth park is one of Sydney's most visited parks. The park focuses to stimulate interest to all ages and invite them to enjoy active living. The park also aims to ficus on the cultural education of all those who visit the park. Visitors will not find lack of the artistic perspective either and the park pays special attention to the sports and recreation fields. The park is a place for constant events and activities where people can join in and pass a lovely time. There is a skateboard park for skaters and swimming is also a common activity. In Sydney's Wentworth park everyone will find something for their taste.
Name:Wentworth park
Address:744 George St, Sydney, NS B1P 4Z4, Canada
◎ Closing
Nova Scotia's Sydney might not be burning hot but it doesn't need to be a melting pot to have the greatest time on your trip. Sydney in Canada is definitely an important destination point. Sydney has a line of great historical events and is proud of it. This can be all seen and experienced throughout the trip. This holiday destination is for those travelers who value intellectual trips just as much as a sandy beach. Sydney has a great gastronomy with tasty food and cool restaurants. Sydney is a very good destination for families but it can give the maximum to any other trip.