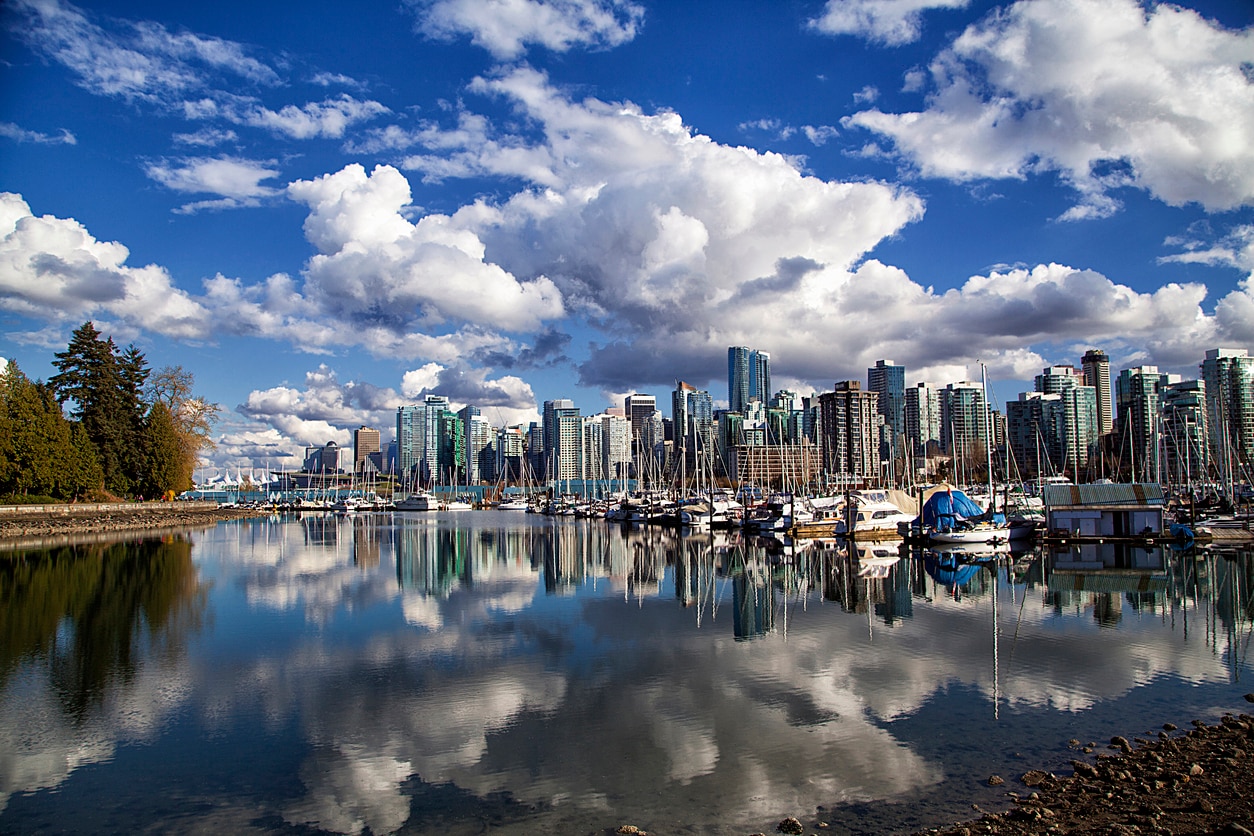 Vancouver: 10 Things to Do in Canada's Most Diverse City
Vancouver is one of Canada's most diverse cities, attracting immigrants from all around the world. Located in British Columbia on the west coast of the country, much like the other parts of Canada, Vancouver is blessed with beautiful nature, mountains and vast expanses of greenery. Due to the beauty of the city, Vancouver became a very popular filming location for movies and music videos. If you can't decide what to do in the city then make sure to check out the list be low.
table of contents
[x] close
Vancouver: 10 Things to Do in Canada's Most Diverse City
1. Stanley Park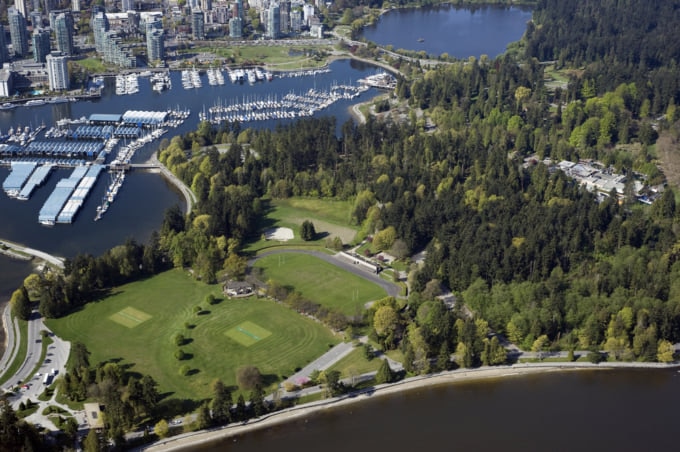 Photo by Josef Hanus/shutterstock.com
Stanley Park is located on a four hundred hectare territory by the coast making home for a diverse landscape.

People will be able to enjoy the views of majestic mountains or look at the reflections in the water. The park features a beach and visitors can wonder on existing trails or discover new ones. People will be able to see into the local wild life or they can go on a train ride and many more. No matter what you choose it will be a great time.
Name:Stanley Park
Address:Vancouver, BC V6G 1Z4, Canada
Related Site:http://vancouver.ca/parks-recreation-culture/stanley-park.aspx
2. Vancouver Aquarium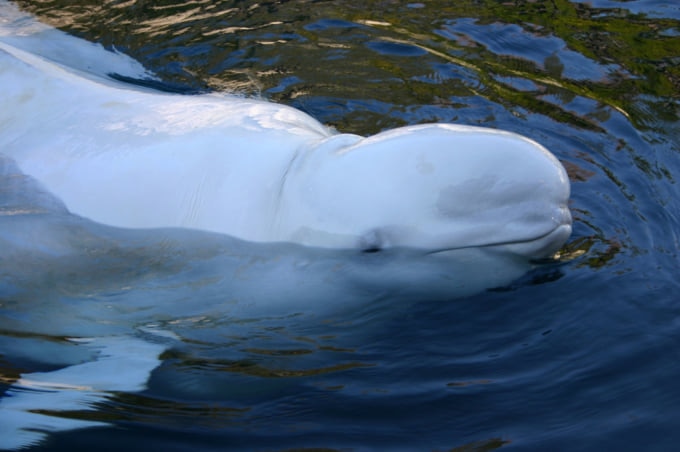 Photo by Liset Alvarez/shutterstock.com
If you visit Stanley Park then you cannot leave without going into Vancouver's public aquarium. It is a very popular place where everyone will notice something that appeals them. The Vancouver Aquarium aims to focus on conservation while making the exhibitions interactive and interesting. Visitors will find the aquarium very kid oriented with attractive exhibitions. The Vancouver aquarium showcases especially local under water life but visitors will not find the lack of exotic creatures either.
Name:Vancouver Aquarium
Address: 845 Avison Way, Vancouver, BC V6G 3E2, Canada
Related Site:http://www.vanaqua.org/
3. Queen Elizabeth Park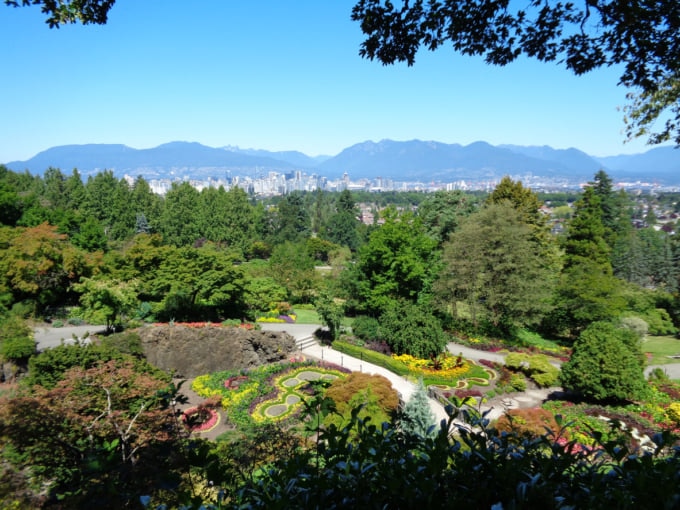 This 130-acre park in Vancouver is a great way to experience the beauty of Canada's natural environment. The park is located on Little Mountain and is home to a wide range of activities. Walking along in the park visitors will come across interesting sculptures, both unique and often amusing. The Queen Elizabeth Park is known for featuring a conservatory that people can visit or participate in numerous sports offered by the park. on the courts there.
Name:Queen Elizabeth Park
Address:4600 Cambie St, Vancouver, BC V5Z 2Z1, Canada
Related Site:http://vancouver.ca/parks-recreation-culture/queen-elizabeth-park-directions.aspx
4. Science World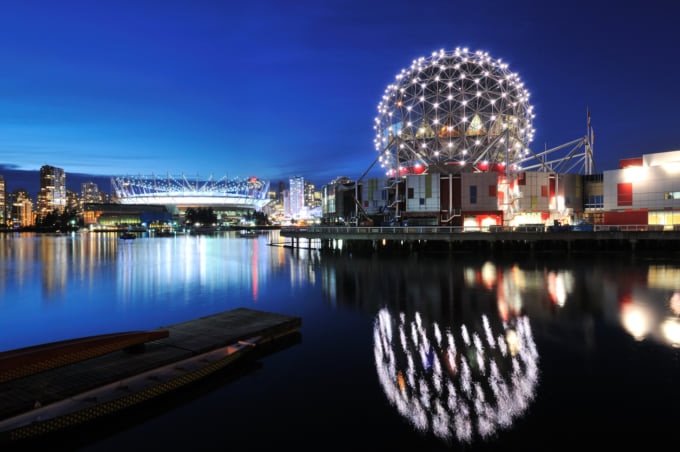 The mind blowing popular Science World is a science center located in Creekside Park. The museum displays science related topics and showcases interactive exhibits. People who are eager to see something outstanding and are keen to learn will love the Vancouver Science World. Visitors will be able to see interesting and engaging scientific displays throughout the center. The Science World features educative films in a dome building. The films are for all ages and every member of your family or group will love a place like the Science World.
Name:Science World
Address:1455 Quebec St, Vancouver, BC V6A 3Z7, Canada
Related Site:https://scienceworld.ca/
5. Lynn Canyon Suspension Bridge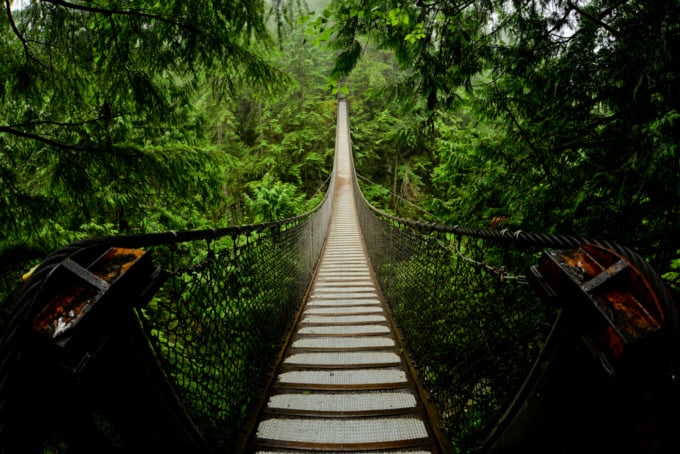 Photo by lastdjedai/shutterstock.com
Located in Lynn Canyon Park the Suspension Bridge is an experience for the books! This site is another great place to experience the beauty and the excitement of Canada with plenty of adrenalin rush. The pedestrian bridge is hanging fifty meters high from the bottom of the Lynn Canyon. People with adventurous souls will love this place because they can go across a suspended bridge which was built in 1912 and is still there hanging way above the ground. Visitors can also admire the untouched lush plants while making their ways to the other side.
Name:Lynn Canyon Suspension Bridge
Address:North Vancouver, BC, Canada
Related Site:https://lynncanyon.ca/
6. Dr. Sun Yat-Sen Classical Chinese Garden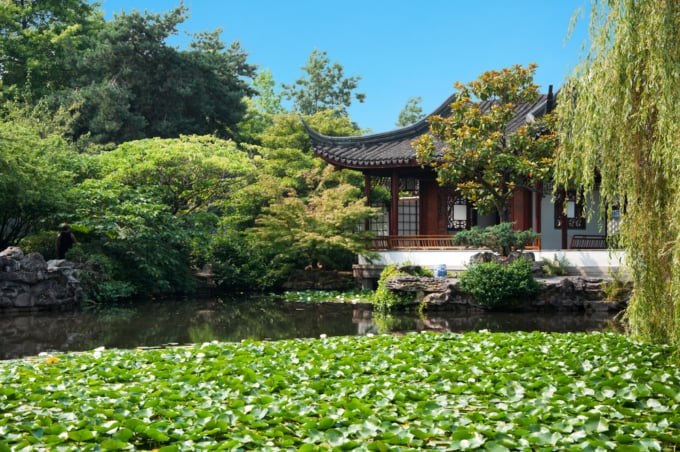 Photo by CatchaSnap/shutterstock.com
The Dr. Sun Yat-Sen Classical Chinese Garden is a very good proof of Vancouver's diversity. It brings another culture right in front of the eyes of the visitor making it possible to experience and learn. The garden is an authentic Chinese garden and was the very first Chinese garden to be built outside of China. The garden is located in Chinatown which immediately sets the mood for some cultural travel. Visitors will feel the quiet piece while strolling by the water and plants. The garden features a serene place and visitors will see arranged rocks by principles.
Name:Dr. Sun Yat-Sen Classical Chinese Garden  
Address:578 Carrall St, Vancouver, BC V6B 5K2, Canada
Related Site:http://www.vancouverchinesegarden.com/
7. VanDusen Botanical Garden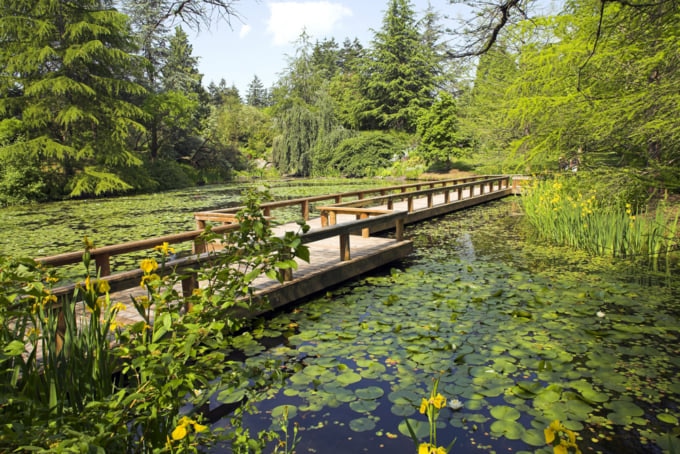 Photo by fred goldstein/shutterstock.com
Another peaceful location to enjoy in Vancouver is the VanDusen Botanical Garden. Located on the part of the old Shaughnessy Golf Course the gardens are open to public visits to bring visitors joy and a lovely time outside. People can enjoy the green area which is constantly changing and evolving. You can enjoy taking long walks by beautiful scented flowers or explore paths in the garden. The VanDusen Botanical Garden features a casual cafe place and even a prime dining space to enjoy while being in the park.
Name:VanDusen Botanical Garden
Address:5251 Oak St, Vancouver, BC V6M 4H1, Canada
Related Site:http://vancouver.ca/parks-recreation-culture/vandusen-botanical-garden.aspx
8. Chinatown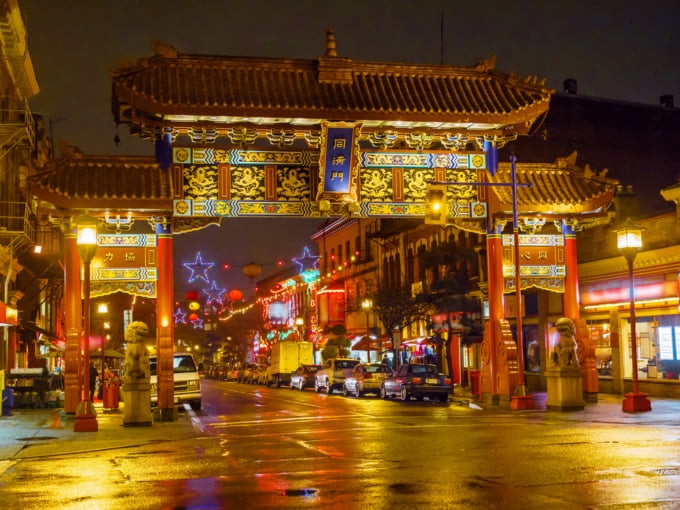 Photo by pr2is/shutterstock.com
If you visit the Dr. Sun Yat-Sen Classical Chinese Garden it is impossible to avoid a walk around Vancouver's China Town. The authentic place is a great cultural place to check out new scenery and to get to know another culture. China Town is very famous for the great food they serve visitors. Beginning form Asian bakeries to authentic restaurants or cocktail bars people will have a feeling like they are visiting China. Along the walk travelers will be able to acquire Chinese goods to take with them or they can look around in the fashion shops.
Name:Chinatown
Address:Residential district in Vancouver, Canada
9. Lost Lagoon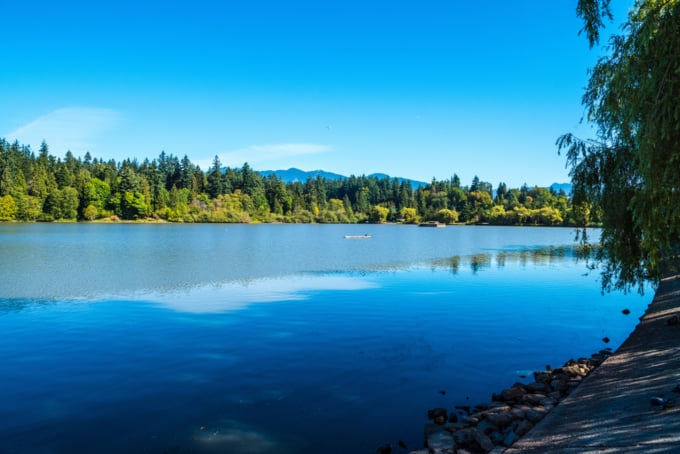 Photo by maibin/.shutterstock.com
If you visit Stanley Park it is impossible to leave without at least taking a look at the Lost Lagoon! The artificially made Lost Lagoon will bring unforgettable memories that will never be lost! The lagoon is located west of Georgia street and has an almost seventeen hectare water body. Visitors will be able to enter the lagoon near or from the Stanley Park . The best activity is to walk around the lagoon on the almost two kilometers trail. It is a great exercise while you admire the natural beauty. Have fun and try not to get lost!
Name:Lost Lagoon  
Address:Lost Lagoon Path, Vancouver, BC, Canada
Related Site:http://vancouver.ca/parks-recreation-culture/landmarks-in-stanley-park.aspx
10. Playland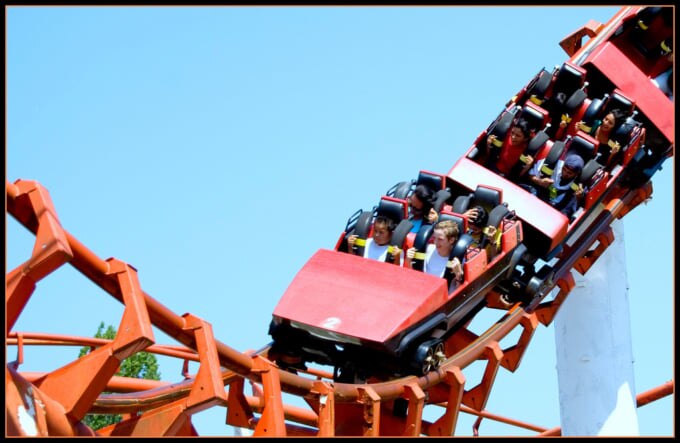 There is no better place to have fun than the famous and popular Playland. The park is located in one of the parks in Vancouver called the Hastings Park. Playland is an amusement park and it is actually the oldest amusement park in the whole country. The amusement park brings lots of fun to those who visit the area. People can enjoy the traditional rides which never go out of style or be frightened on a scary ride. Visitors will find the park a fun time passing while eating yummy carnaval treats and sweet candies.
Name:Playland
Address:2901 E Hastings St, Vancouver, BC V5K, Canada
Related Site:https://www.pne.ca/
Conclusion
Canada's most diverse city is not only blessed with a broad range of beautiful natural features but it has evolved into a culturally diverse city as well. With many more places to visit and to have fun at, Vancouver became a very popular and attracted place, not only for tourists but for film makers as well. Visiting Vancouver will be an extraordinary experience for every member of your group and who knows maybe you will even run into your favorite actor or witness a behind the scenes moment.