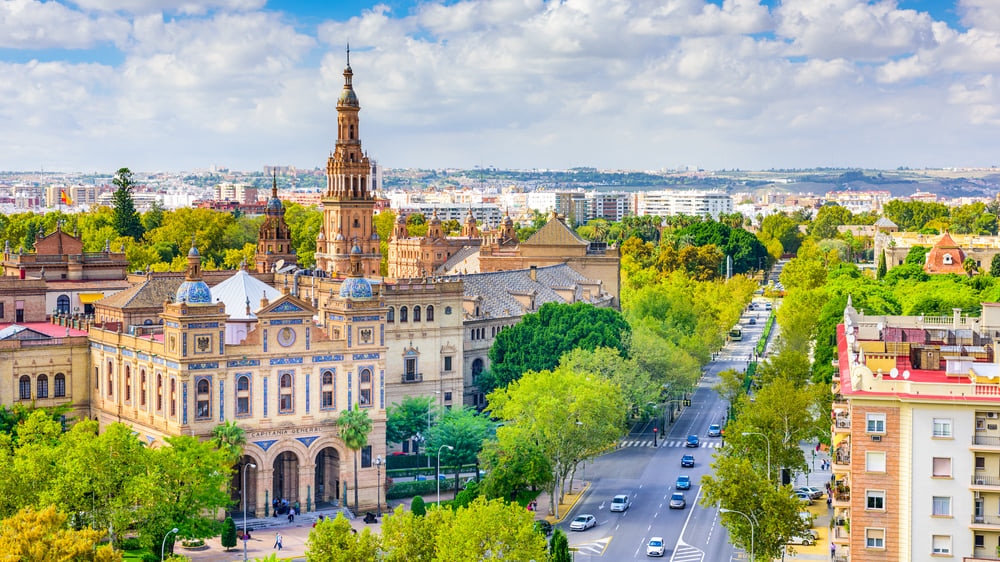 Photo by ESB Professional/shutterstock.com
Seville: Andalusia's Charming City Filled with History
Seville is Spain's only harbor that's located along a river. It's one of Europe's oldest cities, founded as early as the 8th century BC, giving the city a long and fascinating history with many old iconic landmarks of various historical eras still intact. Classical, Mudejar Palaces, baroque churches and neo-Gothic styles are some examples of the fascinating array of architectural styles found here. Below are some of the places well worth visiting in this beautiful Spanish city.
table of contents
[x] close
Seville: Andalusia's Charming City Filled with History
1. Seville Cathedral
One of Europe's oldest and largest holy buildings, the whole complex houses close to seventy chapels. Around the grounds you'll find the ruins of a mosque, showcasing an era where Islam was once dominant here. The tomb of the infamous explorer, Christopher Columbus, can also be found here. The stone details and huge entrance doors are a stunning sight to behold. The church tower features Islamic influences with the rest being a mix of Middle Age and Renaissance architecture.
Name: Seville Cathedral
Address: Av. de la Constitución, s/n, 41004 Sevilla, Spain
Related Site: http://www.catedraldesevilla.es/
2. Real Alcazar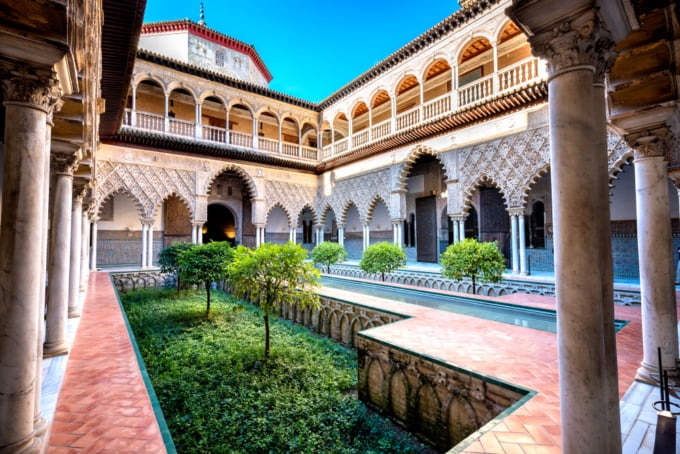 Photo by Massimo Santi/shutterstock.com
One of the most impressive and beautiful areas to walk around in Seville, the Real Alcazar is a royal palace built for King Peter of Castile. Often remarked as the most beautiful palace grounds in the world, the gardens and courtyards really are something else and warrants spending some time walking around to appreciate the stunning architecture.
Name: Real Alcazar
Address: Patio de Banderas, s/n, 41004 Sevilla, Spain
Related Site: http://www.alcazarsevilla.org/
3. Plaza de Espana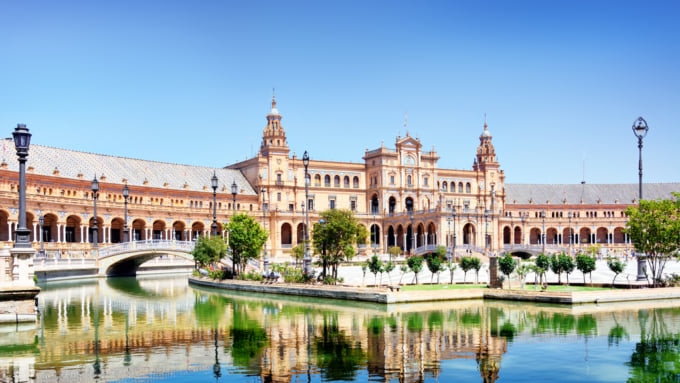 Located along the Guadalquivir River, is one of the most scenic places in the city, often used as a backdrop for wedding photos. The Plaza de Espana is a long picturesque plaza with a canal on the edge of its semi-circular curve. Important national figures are commemorated along the plaza with ceramic tiles portraying each of Spain's provinces. Boats on the canal are available for renting and taking a cruise around the Guadalquivir, adding to the iconic scenic experience.
Name: Plaza de Espana
Address: Av de Isabel la Católica, 41004 Sevilla, Spain
Related Site: http://www.andalucia.org/es/turismo-cultural/visitas/sevilla/otras-visitas/plaza-de-espana-2/
4. Maria Luisa Park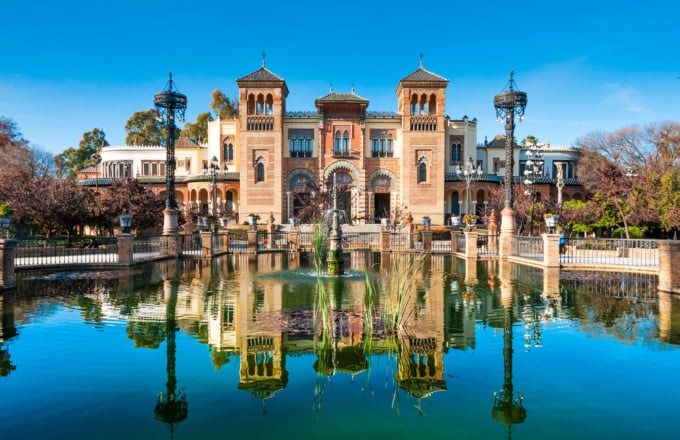 Photo by Alexander Demyanenko/shutterstock.com
Maria Luisa Park is a beautiful stretch of public park that runs along the Guadalquivir River in Seville. Along the grounds you'll find a number of beautiful statues and monuments along with it being home to the stunning Plaza de Espana which sits at the edge of the park. The botanical gardens are particularly beautiful with a plethora of flower and plant species that adorn its grounds which makes for a perfect afternoon strolling around.
Name: Maria Luisa Park
Address: Paseo de las Delicias, s/n, 41013 Sevilla, Spain
Related Site: https://www.sevilla.org/servicios/medio-ambiente-parques-jardines/parques/parques-y-jardines-historicos/parque-de-maria-luisa
5. Las Duenas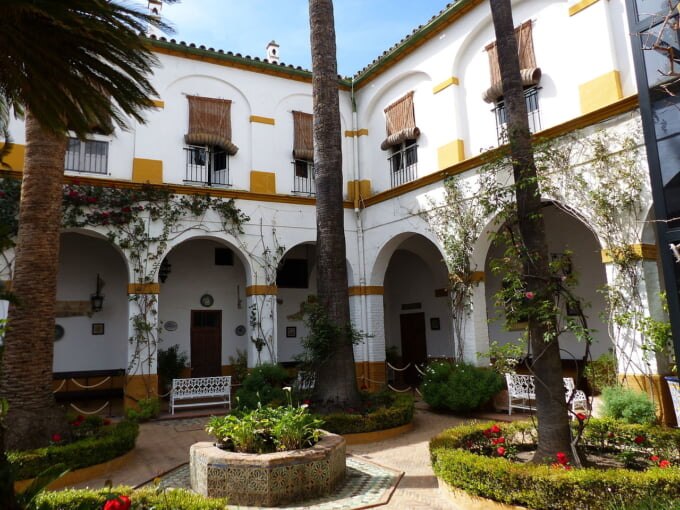 Photo by commons.wikimedia.org
This was one of the numerous palaces found around Seville, belonging to the House of Alba. The stunning building is built with a blend of Gothic, Moorish and Renaissance Styles. The gallery inside houses more than 1500 artifacts from famous Spanish painters such as Jacopo Bassano and outsiders such as Jack Kennedy's water paintings. The courtyard is well worth checking out with its iconic Islamic-style tiles and a beautiful raised water fountain at the center. The gardens adjacent to the courtyard are lemon orchids, adding a lick of green to the building's elegance. The courtyard is in the midst of arched marble pillars, that further add to the surrounding scenery.
Name: Las Duenas
Address: Calle Duenas 5, 41003 Seville, Spain
Related Site: http://www.lasduenas.es/
6. Triana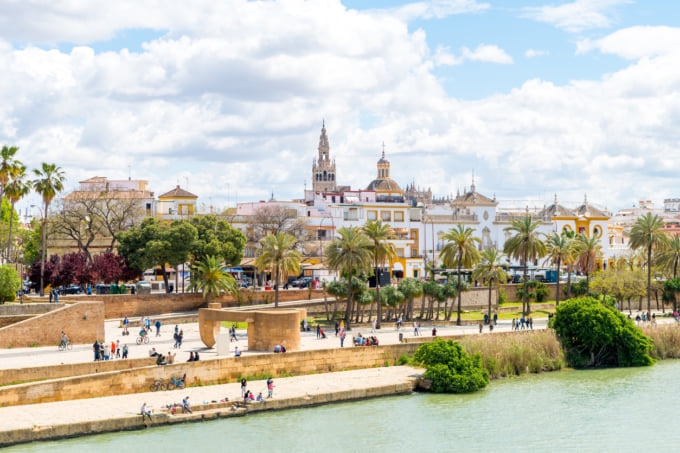 A vibrant neighborhood of the city, Triana is separated from the center of the city by the Guadalquivir River. With a unique atmosphere to the rest of the city, the locals of Triana often see themselves as different to those from Seville. Along with walking along the quaint narrow streets lined with baroque and Moorish architecture, make sure to catch a Flamenco show, something Triana is famous for.
Name: Triana
Address: 41010 Seville, Spain
Related Site: http://www.andalucia.com/cities/seville/triana.htm
7. Archaeological Museum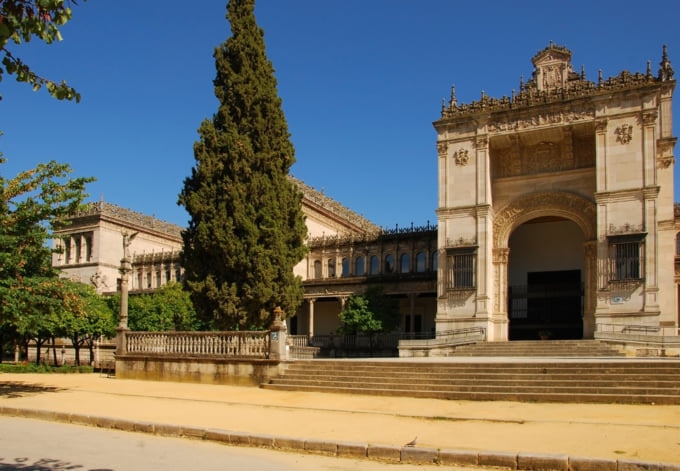 Photo by Silvia B. Jakiello/shutterstock.com
One of the most important museums in the city, the Archaeological Museum features a large range of historical artifacts and findings displayed there, mainly from the old Roman city of Italica that once lay just outside of the city. Also including a large amount of Bronze Age artifacts. Some of the most famous items are the copy of the Bull of Osuna and the Treasure of El Carambolo.
Name: Archaeological Museum
Address: Plaza América, s/n, 41013 Sevilla, Spain
Related Site: http://www.museosdeandalucia.es/web/museoarqueologicodesevilla
8. Italica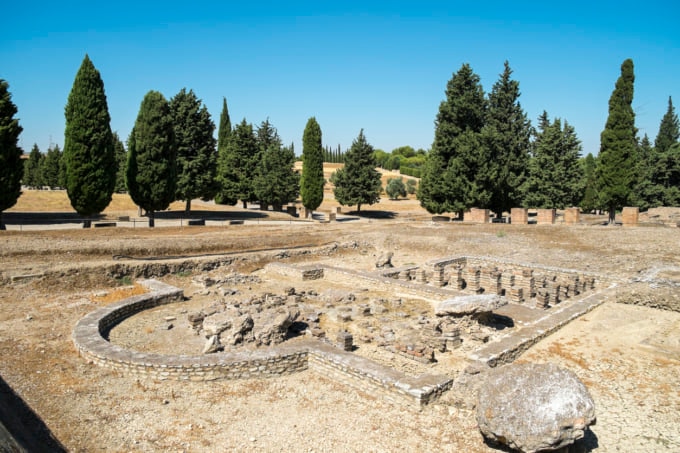 Just a thirty-minute bus ride from the city of Seville you'll find the ruins of the old Roman city of Italica. As with many Roman cities, at the heart of the ruins you'll find an amphitheater, which once seated around twenty thousand spectators. There are tunnels in the midst of terraces that open up to the underground system of the arena. Also unearthed at the site are foundations of temples and royal houses, some complete with floor mosaics.
Name: Italica
Address: 41080 Santiponce, Sevilla, Seville, Spain
Related Site: http://www.museosdeandalucia.es/cultura/museos/CAI/index.jsp?redirect=S2_1_2.jsp
9. Barrio Santa Cruz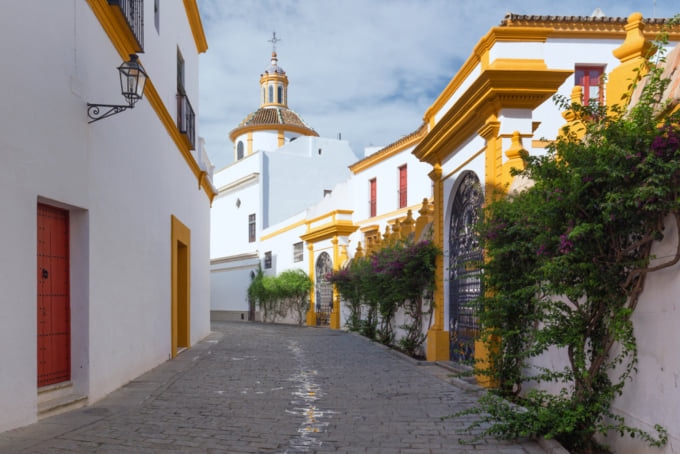 Photo by Andrzej Rostek/shutterstock.com
The Barrio Santa Cruz was the Jewish quadrant of the city during the Moorish era. The area has seen little change in terms of architecture and style over the years, maintaing much of its Moorish influence which can still be seen today. Intricately laid cobblestone paves the narrow pedestrian lanes and the beautiful courtyards lined with orange trees that make for a beautiful sight. A bed of roses with an elegantly decorated iron cross is found at Plaza Santa Cruz. The barrio is also home to a pair of museums, one a 1800s hospital for senile priests now hosting a range of Spanish sculptures and paintings.

Name: Barrio Santa Cruz
Address: 41004 Seville, Spain
Related Site: http://www.andalucia.com/cities/seville/barriosantacruz.html
10. Museum of Fine Arts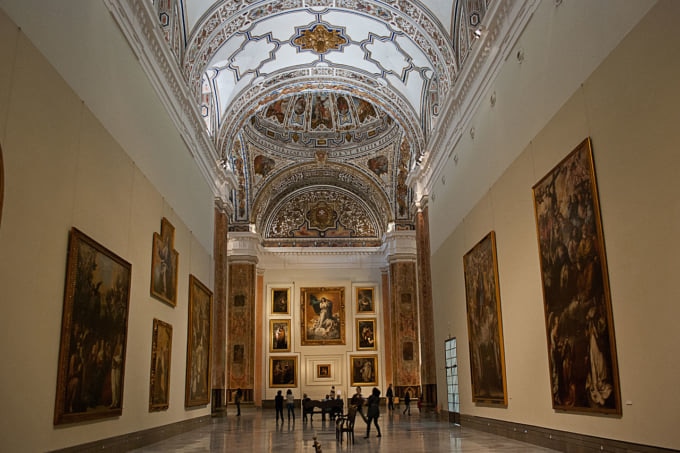 Photo by commons.wikimedia.org
While the city of Seville is especially famous for its incredible history, it's also home to one of Spain's most renowned fine arts museums. Seville's Museum of Fine Arts hosts an impressive display of art pieces from Spain's most famous artists throughout history such as Cano Alonso, El Greco, Pacheco and Velazquez.

Name: Museum of Fine Arts
Address: Pl. del Museo, 9, 41001 Sevilla, Spain
Related Site: http://www.museosdeandalucia.es/web/museodebellasartesdesevilla
Conclusion
Seville city is an ancient city that has still kept its roots in mint conditions. A tour and sightseeing adventure around the city will be an awesome experience for history enthusiasts, but still an evocative experience for those not historically inclined. Not only does it offer historical tours but great sightseeing opportunities of the city.