Seville : Andalucía's largest City with Everything Historic Still in Place
Spain
Aug 24, 2018
389 views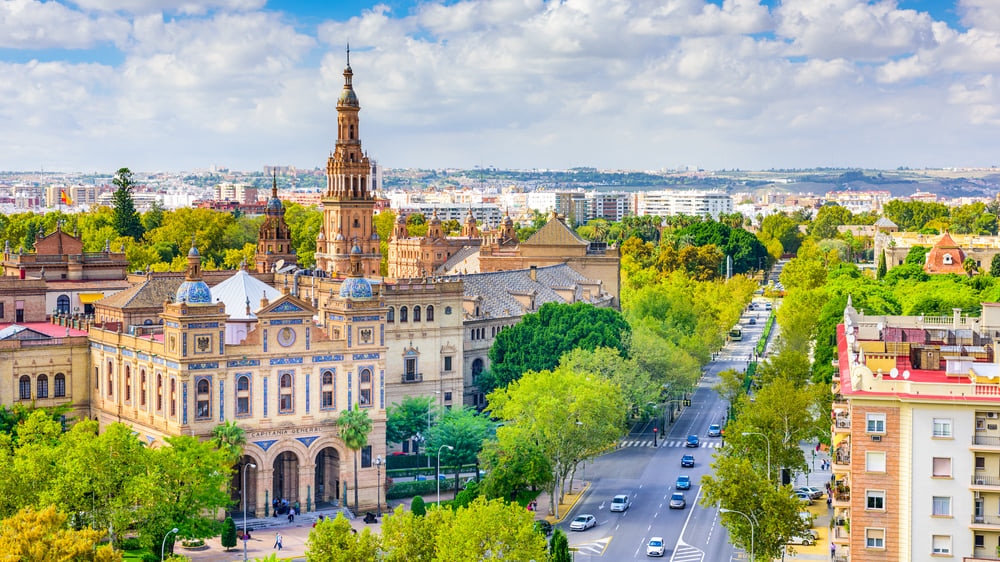 Photo by ESB Professional/shutterstock.com
Seville city is Spain's only harbor located on a river. It is one of Europe's oldest cities, beginning its urbanization at approximately 8 BC. Seville's history is too long and thrilling for a single book, with landmarks of various historical eras still intact. Classical, Mudejar Palaces, baroque churches, and neo-Gothic styles are commonplace here. Below are some of the place worth visiting and sightseeing in this city:

[x] close
Seville : Andalucía's largest City with Everything Historic Still in Place:table of contents
1. Seville Cathedral
This is one of Europe's oldest and largest chapels. It houses close to seventy chapels. On a court with orange trees, are ruins of a mosque, possibly pointing to an era where Islam was dominant here. The tomb of the infamous explorer, Christopher Columbus, is also found here. The stone details and huge entrance doors are a sight to remember. The church is made up of a Muslim-like tower, with the rest being a mix of middle age and Renaissance architecture types. The cathedral has a stadium like the capacity of approximately eighty thousand faithfuls at ago. The Seville city cathedral serves as a good sightseeing place as well as one of the major historical abodes of the city.

Name : Seville Cathedral
Address : Av. de la Constitución, s/n, 41004 Sevilla, Spain
Related Site : http://www.catedraldesevilla.es/
2. Real Alcazar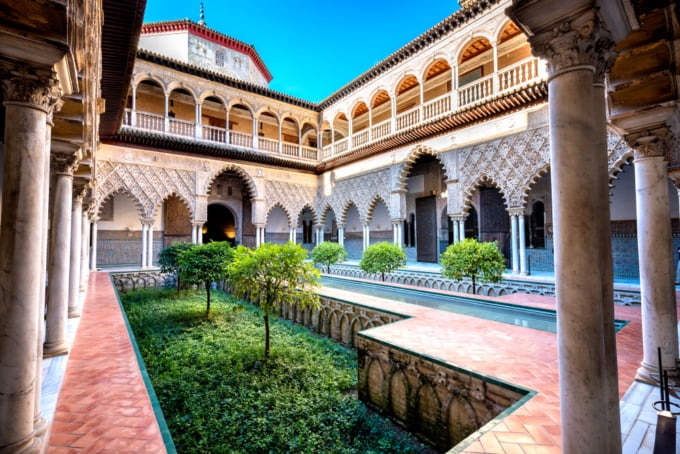 Photo by Massimo Santi/shutterstock.com
The Real Alcazar is one of the best places to restore tranquility after a hectic day of city experience. Situated at King Peter's royal palace, it is one of the best ways for commoners to have a taste of the royal life. The exterior has a garden with beautiful tapestry, with roofless, marble-paved courtyards. The garden is large and beautiful, with orange trees. Water fountains that spew water in intricate patterns are at the center of the garden. For people wanting to spend longer periods within the back and enjoy the scenery, tiled benches dot the courtyard.

Name : Real Alcazar
Address : Patio de Banderas, s/n, 41004 Sevilla, Spain
Related Site : http://www.alcazarsevilla.org/
3. Plaza de Espana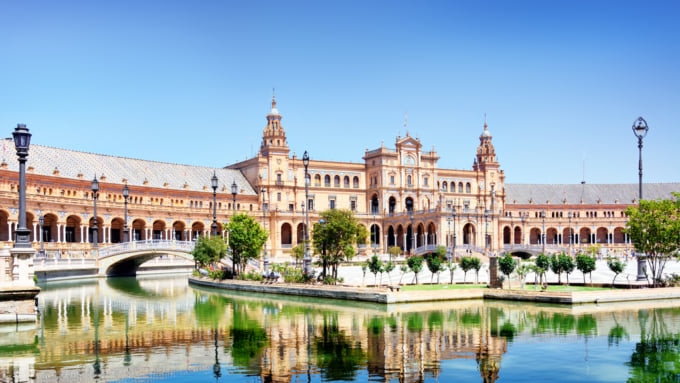 Located along the Guadalquivir River, is one of the epic places worth picture moments, as shown by frequent bride visits for photo-shoots. The Plaza de Espana is a long curvy plaza with a canal on the edge of this semi-circular curve. Important national figures are commemorated along the plaza having ceramic tiles portraying each of Spain's provinces. Boats on the canal are available for renting and cruising around the Guadalquivir, supplementing the sightseeing experience. The plaza is a nice place to crash course on Seville city and province, at large.

Name : Plaza de Espana
Address : Av de Isabel la Católica, 41004 Sevilla, Spain
Related Site : http://www.andalucia.org/es/turismo-cultural/visitas/sevilla/otras-visitas/plaza-de-espana-2/
4. Maria Luisa Park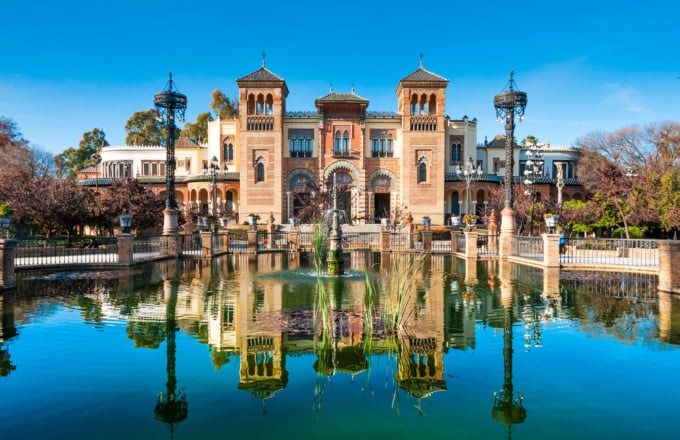 Photo by Alexander Demyanenko/shutterstock.com
The Maria Luisa Park is a huge acreage of beauty, all meant for sightseeing. The park has a pond whose décor is entirely ornamental, overlooked by a pavilion. A water fountain with beautiful tiles is found next to a couple of sculptures. There are large botanical gardens with a plethora of flower and plant species, accessible by avenues having double rows of palm trees. Benches are provided in the park, for those who would wish to take their time to complete the sightseeing itinerary. Within the park, there is a miniature lake, surrounding an island, giving a miniature coastal experience.
Name : Maria Luisa Park
Address : Paseo de las Delicias, s/n, 41013 Sevilla, Spain
Related Site : https://goo.gl/SAJt3V
5. Las Duenas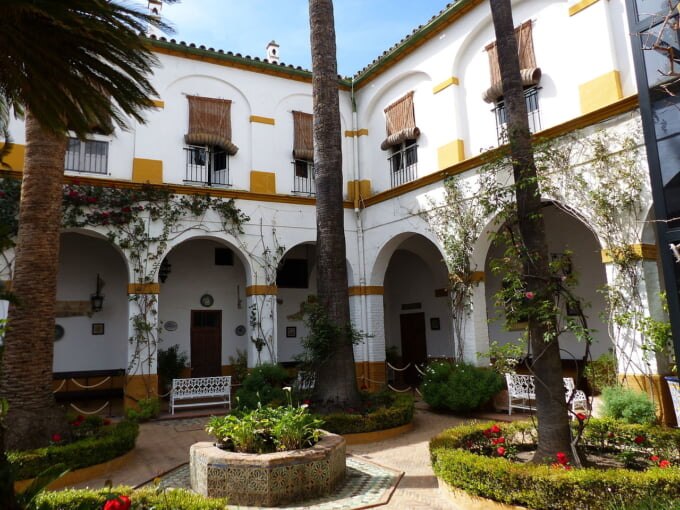 Photo by commons.wikimedia.org
This was one of the palatial households found within Seville, currently housing a gallery. It is built with a blend of Gothic, Moorish and Renaissance Styles. The gallery houses more than 1500 artifacts from famous Spanish painters such as Jacopo Bassano and outsiders such as Jack Kennedy's water paintings. The courtyard is worth a sightseeing moment; Islamic style tiles and a raised water fountain at the center. The gardens adjacent to the courtyard are lemon orchids, adding green to the present elegance.The courtyard is in the midst of arched marble pillars, that further beautify the place.

Name : Las Duenas
Address : Calle Duenas 5, 41003 Seville, Spain
Related Site : http://www.lasduenas.es/
6. Triana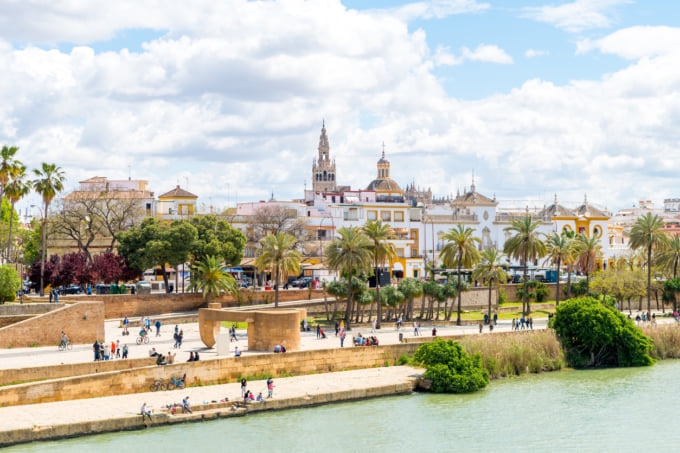 Found on the left bank of Guadalquivir river, is one of the city's finest sightseeing spots. The streets here are decked in both the flamboyant baroque and curvy ornate Moorish styles, displaying the synergy that comes with marrying these styles. The clap and dance flamenco performances are always available all through. Painted ceramics are also to be found in this place. Recreational spots such as bars, shops, and restaurants are located here each offering great views of the city, an amazing sightseeing location. Some of the shops are also decorated with the Spanish azulejos tiles.

Name : Triana
Address : 41010 Seville, Spain
Related Site : http://www.andalucia.com/cities/seville/triana.htm
7. Archaeological Museum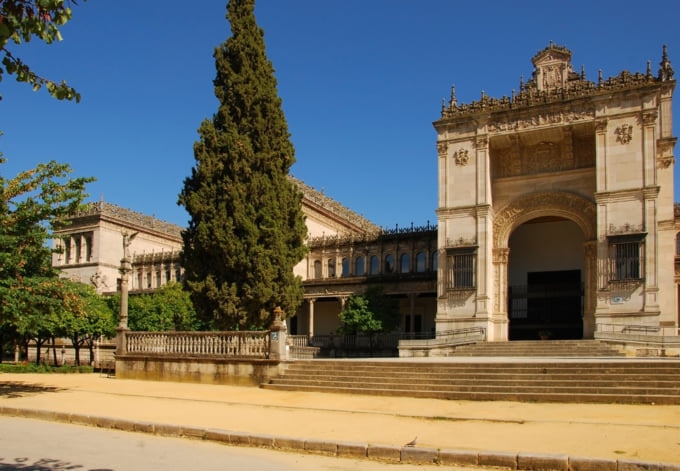 Photo by Silvia B. Jakiello/shutterstock.com
This museum is one of the offerings due to the opening up of Iberia to the visiting American influence. The museum has one of the city's collections of artifacts, as well as collectibles from the entire Seville Province. The artifacts are as old as Seville, from the Bronze age when the city was in its infant stages. Other artifacts found here are Roman items, funeral pots, a copy of the Bull of Osuna and the El Carombolou valuables. The archaeological museum forms a good educative experience, away from the usual sightseeing places.

Name : Archaeological Museum
Address : Plaza América, s/n, 41013 Sevilla, Spain
Related Site : http://www.museosdeandalucia.es/web/museoarqueologicodesevilla
8. Italica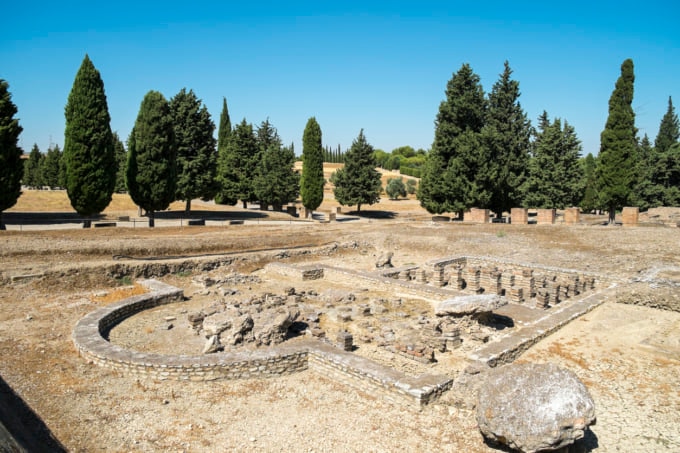 Just a thirty-minute bus ride from the city of Seville is the Italica. It is the archaeological unearthing of remains of the city during the Italian dominated era. At the site is an amphitheater, with a capacity of almost twenty thousand. There are tunnels in the midst of terraces that open up to the underground system of the arena. Also unearthed at the site are foundations of temples and royal housing, some complete with floor mosaics. No entrance fee is charged here, making it a completely pocket-friendly site. An episode of the popular Game of Thrones TV series was shot here, a further affirmation that this place is epic for sightseeing.

Name : Italica
Address : 41080 Santiponce, Sevilla, Seville, Spain
Related Site : http://www.museosdeandalucia.es/cultura/museos/CAI/index.jsp?redirect=S2_1_2.jsp
9. Barrio Santa Cruz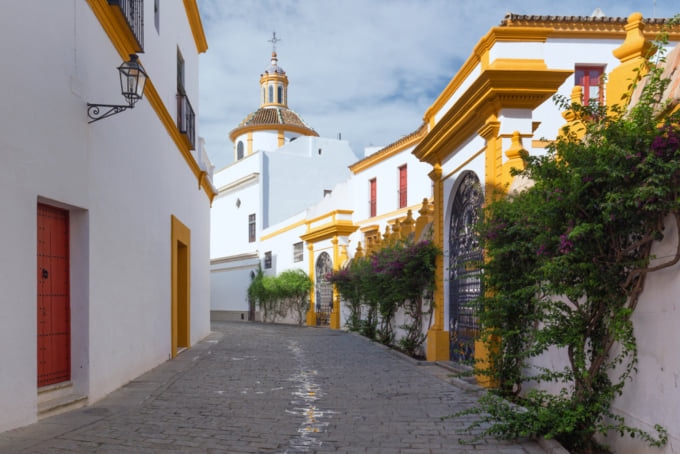 Photo by Andrzej Rostek/shutterstock.com
The Barrio Santa Cruz was the Jewish quadrant of the city during the Moorish era. With little interference from the subsequent residents, the estate maintains its original design. Intricately laid cobblestone paves the accommodating pedestrian lanes, though not wide enough for vehicles. Courtyards on which orange trees are planted make it further an awesome sightseeing venue. A bed of roses with an elegantly decorated iron cross is found at Plaza Santa Cruz. The barrio is also home to a pair of museums; one a 1800s hospital for senile priests now hosting Spanish sculptures and paintings.

Name : Barrio Santa Cruz
Address : 41004 Seville, Spain
Related Site : http://www.andalucia.com/cities/seville/barriosantacruz.htm
10. Museum of Fine Arts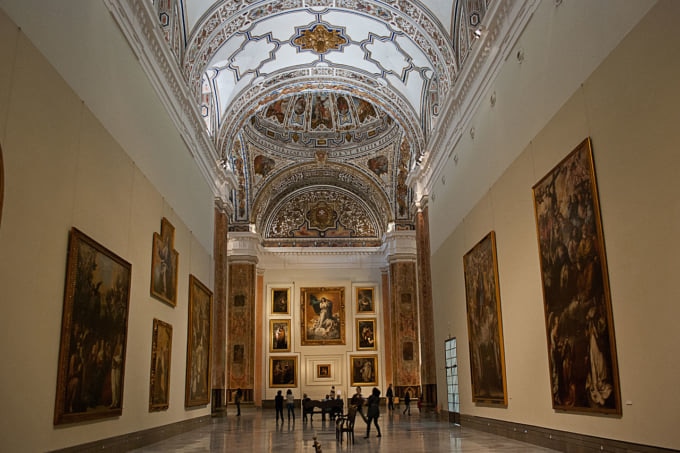 Photo by commons.wikimedia.org
Though Seville city is as old as old testament biblical times, it is also home to museums hosting historical pieces from the recent past. The museum of a seventeenth-century building housing works from the twentieth century, going back to the middle ages. It also contains art pieces of some of the most known Spanish artists such as Cano Alonso, El Greco, Pacheco and Velazquez. Paintings from the Zurbaran religious era as well as from the Seville Schools find a home here.

Name : Museum of fine arts
Address : Pl. del Museo, 9, 41001 Sevilla, Spain
Related Site : http://www.museosdeandalucia.es/web/museodebellasartesdesevilla
◎ Closing
Seville city is an ancient city that has still kept its roots in mint conditions. A tour and sightseeing adventure around the city will be an awesome experience for history enthusiasts, but still an evocative experience for those not historically inclined. Not only does it offer historical tours but great sightseeing opportunities of the city.