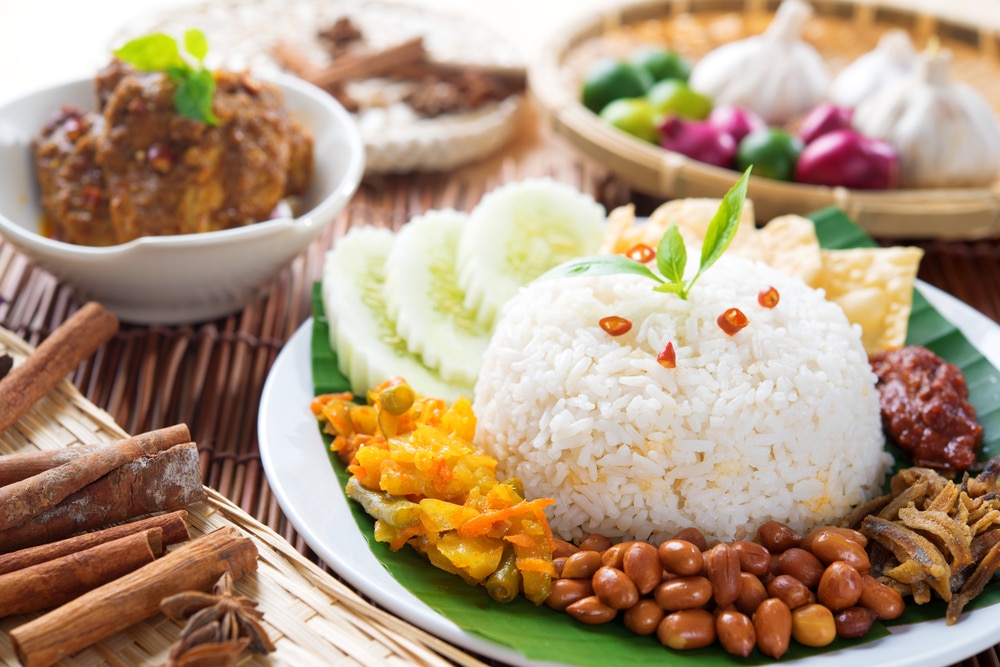 The Top Restaurants you Need to Visit in Kuala Lumpur
Kuala Lumpur is a vibrant city which at first glance is high-tech and modern. Those who venture down the alleys and into the distant suburbs will find that the city is actually a unique blend of the old and the new, with an equally diverse cuisine to boot.

To eat 'local' in Kuala Lumpur is a very broad concept. Malaysian cuisine has been molded and shaped by the people who have settled there over many years. Dishes often show evidence of Malay, Chinese and Indian influence. You may even detect a hint of Portuguese or Dutch influence, like the durian pasteis de nata found on Jonker Street in Malacca. We have compiled a list of our top five favorite places to eat in Kuala Lumpur which offer lip smacking local dishes.
table of contents
[x] close
The Top Restaurants you Need to Visit in Kuala Lumpur
Devi's Corner, Bangsar
Devi's Corner offers a traditional banana leaf experience in the heart of the vibrant and social suburb of Bangsar. While it isn't much to look at, you can rest assured that they offer some top notch curry and meat. After sitting down, you'll be provided with a banana leaf with rice, sambal and pickles. A server will arrive with a selection of sauces, you can have as many as you like on your rice. The crab curry sauce is fiery but flavorful while the chicken is better for those who prefer less spice.

Get some extra protein to soak up your sauce, the Devi's mutton and tandoori chicken are particularly popular. The sauce is merely for flavor, there isn't much meat in the sauce itself, so don't be afraid to mix and match sauces with different meats. Most people enjoy a glass of limo ice with their banana leaf buffet. Definitely a must try restaurant for a banana leaf meal in Kuala Lumpur.
$
14, Jalan Telawi 4, Bangsar, Kuala Lumpur
+60 12-267 6714
Limapulo: Baba Can Cook, Chow Kit
Limapulo offers some of the best Nyonya dishes in Kuala Lumpur. Nyonya is a fusion of Chinese and Malay cuisine which came about after the Chinese settled in Malaysia and began to marry into Malay families. This particular Nyonya restaurant is located on the Row in Chow Kit and is extremely trendy and a must for Instagram enthusiasts. The Nyonya Laksa is the most popular dish on their menu, and can often be sold out as a result. Be sure to get to Limapulo early on a Monday, Wednesday, Friday or Saturday in order to get a bowl. Other must try dishes include the pie tee, fried fish with sambal and the prawn and petai. The food is delicious, the atmosphere is warm and inviting, and the beers are cold, making for a perfect experience.
$-$$
50, Jalan Doraisamy, Chow Kit, Kuala Lumpur
+60 3-2698 3268

Highlanders Sports Bar, Bangsar
Don't let the name fool you. Behind the rough sports bar exterior of Highlanders, is the heart of an authentic and fiery Indian kitchen! Most people stumble upon this hidden gem by accident. Their laminated menu is jammed full of Indian curry favorites. Every dish is loaded with flavor and their naans are so moreish you sometimes need to order more curry just as an excuse to eat more naan! Top picks include tandoori paneer skewers, chicken tikka, butter chicken and the rogan josh. Don't forget to order plenty of garlic and cheese naans to scoop up the extra sauce. The bar atmosphere is pleasant and as far as food and drink prices go in Bangsar, it's very affordable. The perfect spot to sit and enjoy a curry whilst chatting with friends or watching football.
$-$$
No.5, Jalan Tandok, Bangsar, Kuala Lumpur
+60 3-2389 8972

Thirty8, Kuala Lumpur Central
If you are looking for a more upmarket experience, paired with an awe-inspiring view, Thirty8 is a must. This sky bar and restaurant sits daringly on the 38th floor of the Grand Hyatt in the center of Kuala Lumpur. Diners are treated to a 360-degree view of the city around them, including the glittering Petronas Towers. The restaurant serves a mix of Chinese, Japanese and Western dishes. Their signature wok-fried rice with scallops, shrimp, tobiko fish roe and spicy seafood sauce comes highly recommended. Ask your waiter for the pastry and dessert specials if you are interested in making the experience a little sweeter.
$$$
Level 38, Grand Hyatt, 12, Jalan Pinang, Kuala Lumpur
+60 3-2182 1234
Old China Cafe, China Town
Step back in time as you enter this boutique restaurant. The walls are covered floor to ceiling in pictures from the past. All featuring Chinese migrants and traders who settled in Malaysia. The building is nearly a hundred years old and adds to the time-capsule feel of the eatery. They serve Nyonya classics and are popular, so be sure to make a reservation. Must try dishes include the beef rendang and deep fried chicken with lemon sauce. This is one of the best restaurants in Kuala Lumpur for Nyonya food. Thoughtfully decorated and absolutely Instagrammable.
$-$$
11, Jalan Balai Polis, City Centre, Kuala Lumpur
+60 3-2072 5915

Conclusion
Life in Kuala Lumpur revolves around food. The younger generations are always searching for the next spot to sit and 'gram their food or write about in their blog. This, paired with the inherently tasty cuisine and top quality produce, means the food is always delicious. So whether you visit a tapas style restaurant or opt for one of our local picks listed above, we're certain that you'll enjoy some of the best food in the world here.