Chios Island : Greek Paradise Shrouded in History and Culture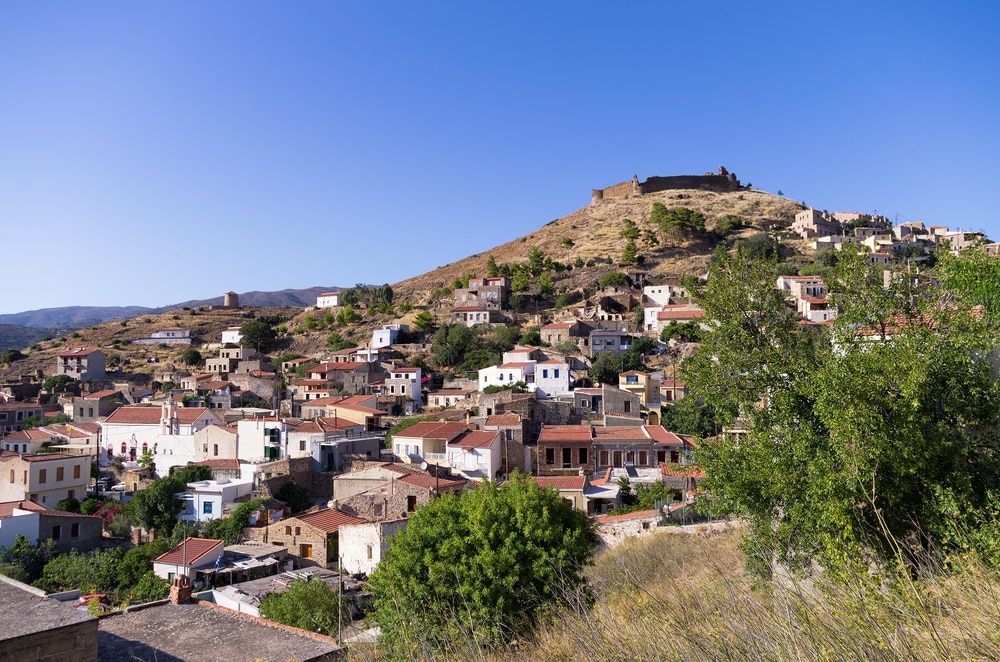 Photo by kokixx/shutterstock.com
Chios Island is a fascinating spot located in Greece, in the Aegean Sea. Chios Island is a very popular travel destination with tourists, due to its awesome scenery and pleasant climate. Chios Island also has a quality shipping community, which is large. There are numbers of sightseeing in Chios Island worth to visit.
[x] close
Chios Island : Greek Paradise Shrouded in History and Culture:table of contents
1. Anavatos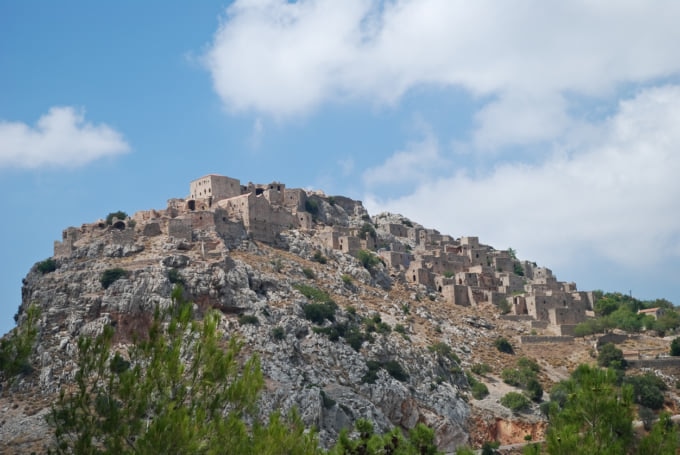 Anavatos is certainly one of the best sightseeing in Chios Island. This spot is famous for its historical background. Both its history and ruins are a very interesting experience for the travelers to Chios Island. Around the sightseeing you will find nice paths for walking. The area also includes cafes and restaurants, where you can have some meals or have some drink. In short, here you will have a great time and will get a good experience. Take the best from Chios Island by visiting this incredible sightseeing on your tour to Chios Island.
Name:Anavatos
Address:Omiroupolis, 821 00, Greece
Related Site:https://www.chios.gr/en/anavatos-en
2. Nea Moni Monastery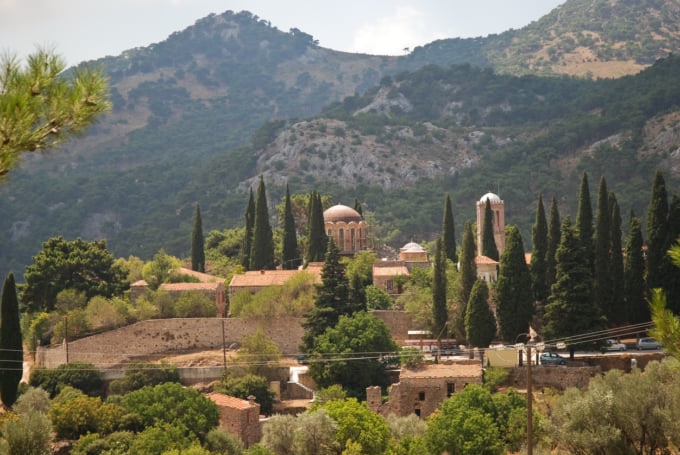 Nea Moni Monastery is the sightseeing in Chios Island that is definitely worth to visit. This spot is the most incredible and beautiful monastery in Chios Island and it also has a great importance for Chios Island. This building was founded in the 11th century and it is included in the UNESCO world cultural heritage list. Thus, this is an impressive sightseeing that is both rich in history and is beautiful; no matter you look at it inside or outside. So, do not hesitate to include this sightseeing in your visit-list for Chios Island.
Name:Nea Moni Monastery
Address:Nea Moni 821 00, Greece
Related Site : https://www.gtp.gr/LocPage.asp?id=7972
3. Windmills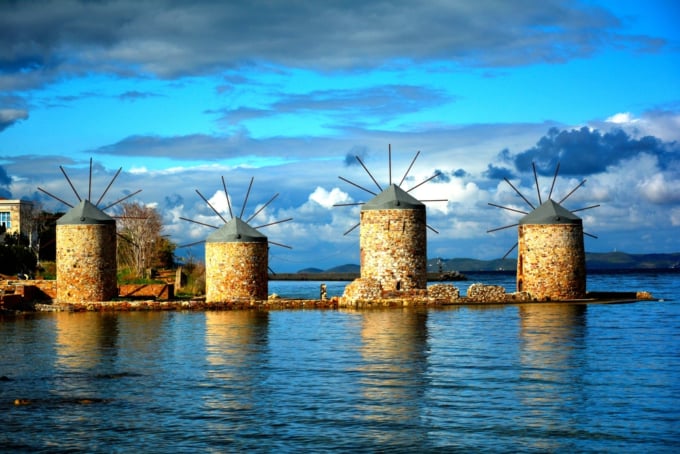 Phoyo by Cem OZER/shutterstock.com
And now we came to one of the most fantastic spots in Chios Island, which is Windmills. This sightseeing has a fascinating beauty especially in the evening and at night, when it is full of lights. At this part of the day you can take the most incredible photos you have ever dreamt about. This is an absolute must see sightseeing in Chios Island. There are also some small restaurants nearby the sightseeing, where the visitors can have some tasty and diverse seafood. Windmills will give one of the most astonishing impressions for your tour to Chios Island.
Name:Windmills
Address:Vrontados 821 00, Greece
4. Pyrgi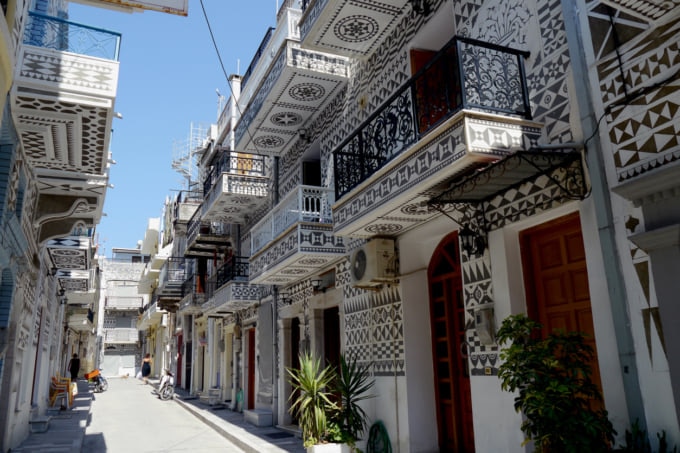 Chios Island is rich in impressive and beautiful sightseeing: there is no doubt in it! But Pyrgi is surely one of the sightseeing in Chios Island that we can call the most unique one in the whole Chios Island. This spot is so nice and so subtle for your eye that you cannot even cut your eye from it. This place is something different from the other parts not only in Chios Island, but also in Greece. The design of this sightseeing is so original and so unique. Even if you are not an artist, you will be impressed by the décor of Pyrgi.
Name:Pyrgi
Address:Chios island, Greece
Related Site:https://www.chios.gr/en/pyrgi-en
5. Mavra Volia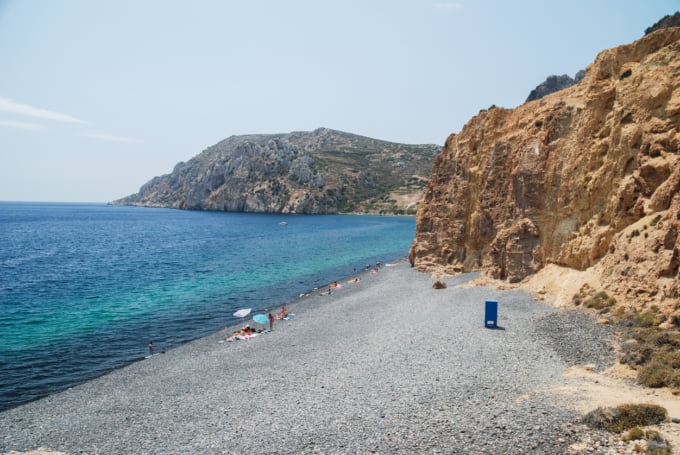 Be ready to shout "Wow" when you arrive to Mavra Volia – one of the most amazing spots of Chios Island. This is a spot of astonishing sceneries and two gorgeous beaches. You can even do nothing else besides walking along the beach and you will fill like you do not anything else additionally. The sightseeing is unique and is really beautiful whenever you are there. Each corner of this spot is attractive and fascinating. Do not miss the chance of enjoying this stunning beauty on your tour to Chios Island.
Name:Mavra Volia
Address:Chios island, Greece
Related Site:https://www.chios.gr/en/emporio-mavra-volia-en
6. The Chios Mastic Museum
And now let's come to some sightseeing in Chios Island that are of cultural value. The first cultural centre in Chios Island that is worth mentioning is The Chios Mastic Museum. This is extraordinary museum with thematic exhibitions and items. Be ready to explore some interesting facts about Chios Island and do some discoveries on its culture before and now. Moreover, the views that you can enjoy from the museum, are fantastic and adorable. The space is very welcoming and very comfortable, too. This is a must see in Chios Island.
Name:The Chios Mastic Museum
Address:Pyrgi 82102, Greece
Related Site:http://www.piop.gr/en/diktuo-mouseiwn/Mouseio-Mastixas/to-mouseio.aspx
7. Archaeological Museum
Let's move to the other impressive museum of Chios Island - Archaeological Museum. Here you can see nice stone sculptures, small sculpture of women and animals, nice exhibitions and presentations and other great collections. Entering the museum you will meet the welcoming staff. The latter will gladly show you every single item and will give some description and explanation over it. Be aware that you will not be allowed to take any photo inside, so be ready to look at everything attentively to keep the image in your mind. This will be one of the best experiences that you can have in Chios Island.
Name:Archaeological Museum
Address:10 Michalon | Chios, 821 32, Greece
Related Site:http://www.namuseum.gr/visiting/index-en.html
8. Vroulidia
Vroulidia is a live paradise located in Chios Island and this is why the sightseeing is visited by thousands of tourists yearly. The area is so lovely and so catchy and it is also an excellent seaside providing a great atmosphere for a perfect rest and relaxes. Just walk around the area or along the seaside or lie down to enjoy the greatest atmosphere in Chios Island. Here you can spend a whole day, being sure you will not even notice how the time passes. The clean water and the beautiful view will create one of the best memories that you can take from Chios Island.
Name:Vroulidia
Address:South Chios, Greece
9. Emporios Beach
Emporios Beach is a spot in Chios Island that can be reached by a vehicle or you can take a tour guide to show you to there. Besides, the tour guide may provide some information and details on Chios Island and the beach and this will even become a more fascinating experience full of nice experience and important information. Visit the beach with your family to spend your time even more attractively. There is a space suitable for riding and having some activities and also you will find restaurants around the area, where you can taste the most delicious food in Chios Island.
Name:Emporios Beach
Address:Emporios, Greece
10. Agia Dinami Beach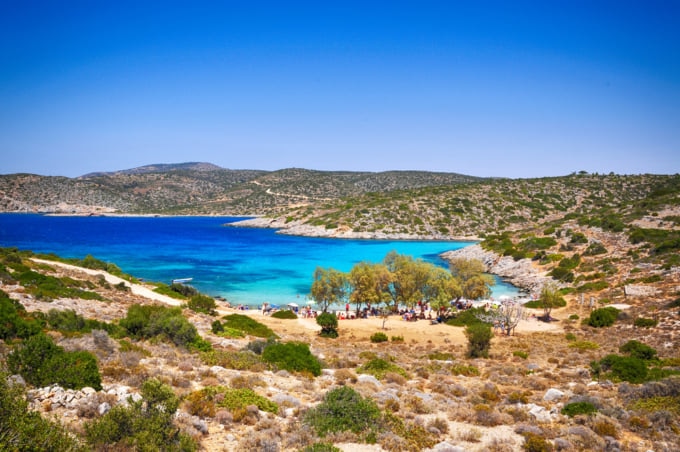 Phoyo by chiosphotographer/shutterstock.com
And we finish our recommendation list with the amazing beach of Chios Island - Agia Dinami Beach. This sightseeing is famous for its turquoise waters and the unique beauty. This is known as the hidden treasure of Chios Island and is a very desirable spot for the tourists. First, this sightseeing is incredibly beautiful due to its landscape of white sands and lovely color of its waters. This can provide a total relaxation to the visitors of Chios Island and will certainly become one of the top sightseeing you have ever visited.
Name:Agia Dinami Beach
Address:Mastichochoria 821 02, Greece
◎ Closing
Chios Island is a real natural wonder in the world. Chios Island is not only recommended for your visit, but it is also a must see attraction for anyone. If you make a tour to Chios Island you can be sure that you are going to spend the greatest part of your lifetime. Choose the most adorable sightseeing of Chios Island to get the best impressions from it.