Dortmund : Largest Prospering City in the Ruhrgebiet Area With its Coal, Steel and Oceans of Beer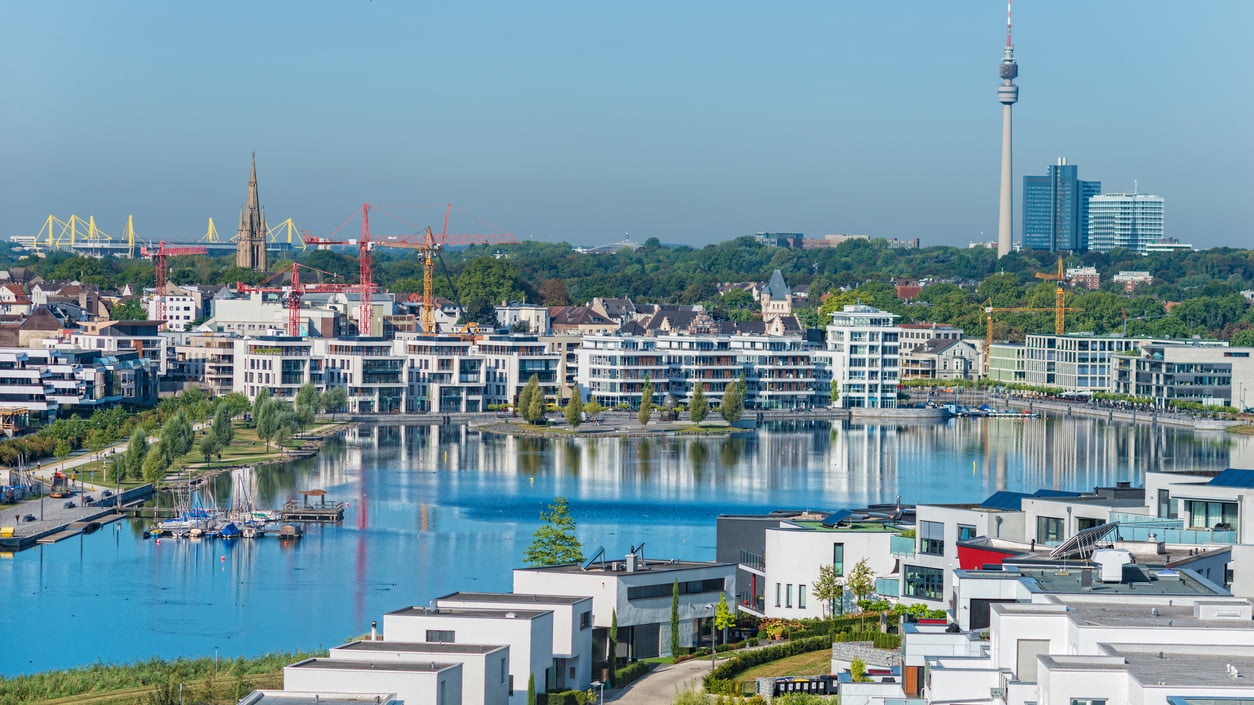 Dortmund is a high-tech industry and is one of Germanys first brewing centers, with Dortmund beer being its finest. It is well known for its football team Borussia Dortmund, which plays in their cathedral-like stadium called the Signal Iduna Park. It explodes with vibrancy, culture, and a community that appreciates art and history. There is an array of things to sightsee in Dortmund, such as:
[x] close
Dortmund : Largest Prospering City in the Ruhrgebiet Area With its Coal, Steel and Oceans of Beer:table of contents
1. Dortmund Zoo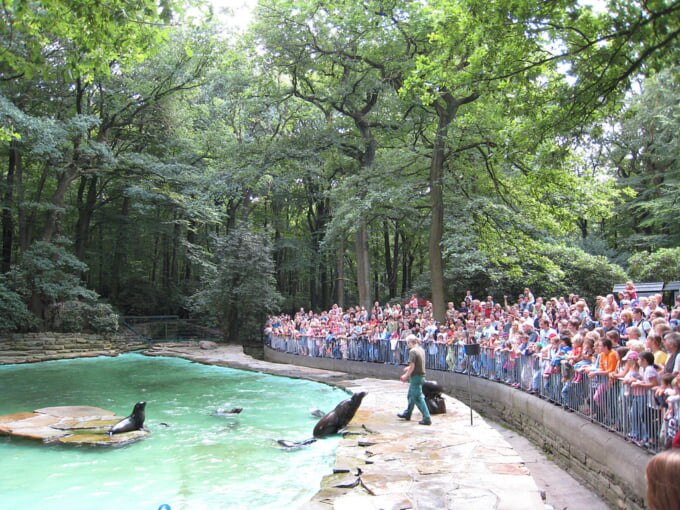 Photo by commons.wikimedia.org
Established on May 4th, 1953, the Dortmund zoo, famous for leading in the breeding of the giant anteater, the giant otter, and tamandua is situated in the south of the city between the boroughs of Hacheney and Brünninghausen. They specialize in the keeping and breeding of south the South American species. It holds close to 230 species of animals, birds, and reptiles. They have a restaurant conveniently placed near the children's park. The entrance fee is quite moderate, and it is accessible through private or public transport. the weather reaches 14°C to 23°C in the summer, and 1°C to 6°C in the winter. There is enough ample parking to fit 720 cars. It's a family-oriented place that has a lot of sightseeing activities to offer.
Name : Dortmund zoo
Address : Mergelteichstraße 80, 44225 Dortmund, Germany
Related Site : https://www.dortmund.de/en/
2. Kokerei Hansa (Mines)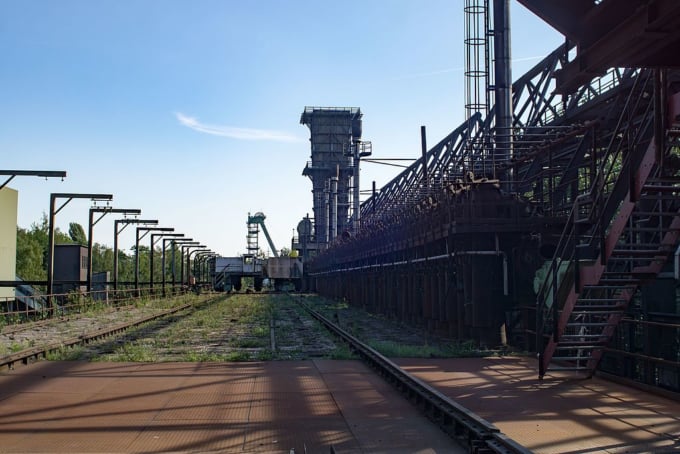 Photo by commons.wikimedia.org
Kokerei Hansa is part of the industrial heritage in Dortmund. An event takes place called the night of industrial heritage which displays an array of light. It has an impressive machine hall which can be a good place to explore, creating a peculiar atmosphere any photographer would dream about. It is considered an essential stop on the Ruhr's Industrial Heritage Trail. However, it halted its production back in December 15th, 1992. Sightseeing tourists get to enjoy authentic insights into the process and the working conditions on a coking plant.
Name : Kokerei Hansa
Address : Emscherallee 11, 44369 Dortmund, Germany
Related Site : http://www.route-industriekultur.ruhr/ankerpunkte/kokerei-hansa/
3. Brewery Museum (Brauerei museum)
Located in a former brewery, hence the name 'Brauerei museum'. With an affordable entrance and gift shop, post era machinery, for this exquisite portrayal, you would need to book in advance. With the legendary 'Dortmund beer', it has a limited array of displays. Entrance is only €2.50 and there is an explanatory leaflet in the English language and a handout inclusive. It is enough to keep any beer enthusiast happy. German beer is known to be the best in the world. This is the perfect place to enjoy this fine taste.
Name : Brewery Museum (Brauerei Museum)
Address : Steigerstraße 16, 44145 Dortmund, Germany
Related Site : https://www.dortmund.de/en/
4. Hohensyburg Castle
Photo by commons.wikimedia.org
Hohensyburg Castle is part of a war memorial. It is very well maintained and a relatively well-preserved ruin that tourists enjoy sightseeing. Admittedly, there is a great view over the Hengsteysee to Hagen. If you're looking for a nice walk with lovely views this is a great place to come to. Stay away from the 'bicycle route' suggested by Google along the steep cliff on the South side of the ruin. It has a free entrance.
Name : Hohensyburg Castle
Address : Hohensyburgstraße 202, 44265 Dortmund, Germany
Related Site : https://www.dortmund-tourismus.de/en/
5. Signal Iduna Park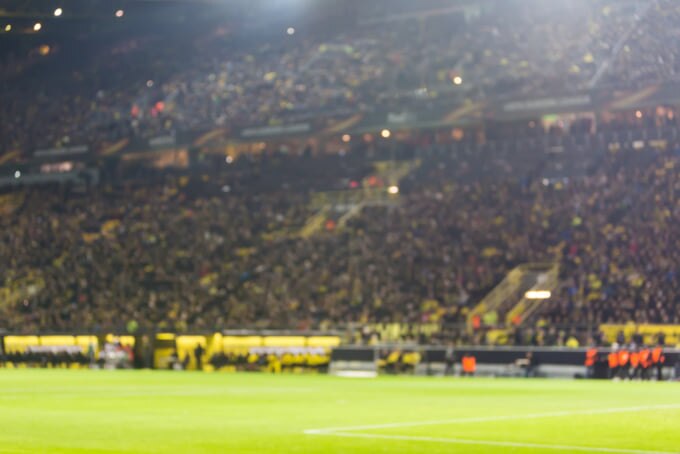 Photo by Ververidis Vasilis/shutterstock.com
It is Germanys largest stadium and is the home of Bundesliga club Borussia Dortmund of German Bundesliga league. It has a great atmosphere with plenty of sitting space, with every game having an 80,000 plus sellout. You can smoke anywhere, and the food and drinks are sold in plenty. The price to watch a match in Germany is extremely fair. You can get a ticket in standing locations for 10€. Other prices vary from 54.40€ - 6.80€. Near the stadium are other popular sightseeing sites such as the museum of Borussia Dortmund. Here you can have a guided tour both in German and English. It can be accessed both by car and by train.
Name : Signal Iduna Park
Address : Strobelallee 50, 44139 Dortmund, Germany
Related Site : https://www.bvb.de/eng/
6. Reinoldikirche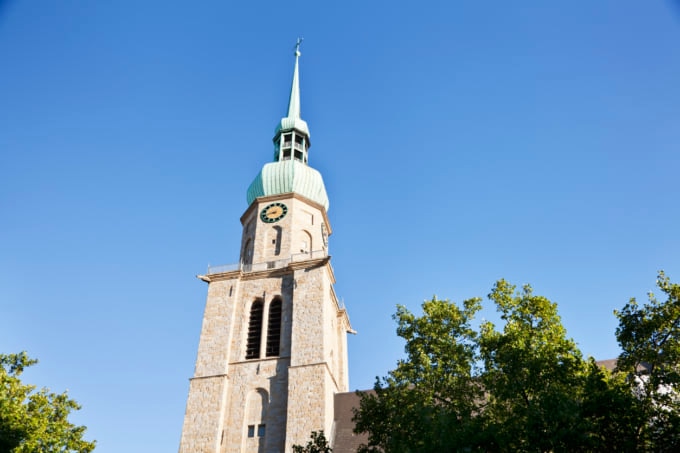 Reinoldikirche is an old church located in the old town busy square. You can hardly miss this remarkable building a is visible from almost every angle of the old town. Like most city churches in this part of Germany, it was heavily bombed in WWII. Having been over 750 years old, expect to find some ancient gems from the medieval era such as the eagle lecturne. Tourists sightseeing can also get to see the beautiful Belgian altar that dates back to the 1420's and the wooden carved Reinoldus figure. It also has a Bell Tower, with close up of six bells with good views of the City. It is surrounded by good restaurants and bars and has a free entrance.
Name : Reinoldikirche
Address : Ostenhellweg 2, 44135 Dortmund, Germany
Related Site : https://www.sanktreinoldi.de/start.html
7. Dortmund Christmas Market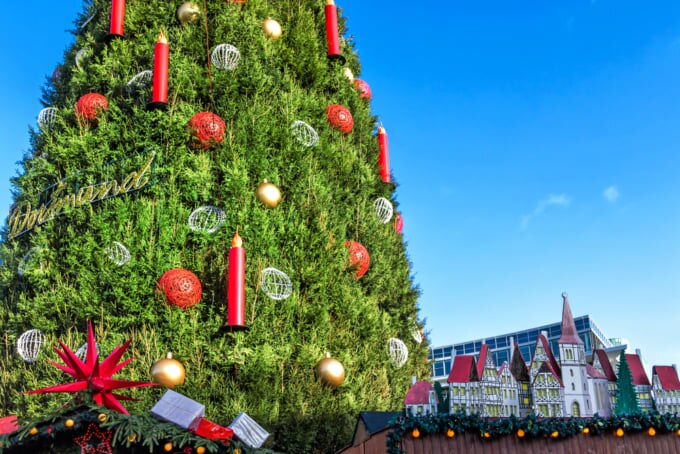 Photo by Moskwa/shutterstock.com
It is among the largest and most popular Christmas markets in Germany. Tourists enjoy sightseeing displays of the world's largest Christmas tree. It is spread all over the inner city. It has about 300 stalls and food vendors to choose from. It closes at 9 p.m so be sure to get there early so you can see the amazing Christmas decorations and lighting. There is a colorful show program by the Alter Market Theatre company, and a puppet/magic shoe to keep the children entertained.
Name : Dortmund Christmas Market
Address : Hansastraße 72, 44137 Dortmund, Germany
Related Site : https://dortmunderweihnachtsmarkt.de/
8. Botanischer Garten Rombergpark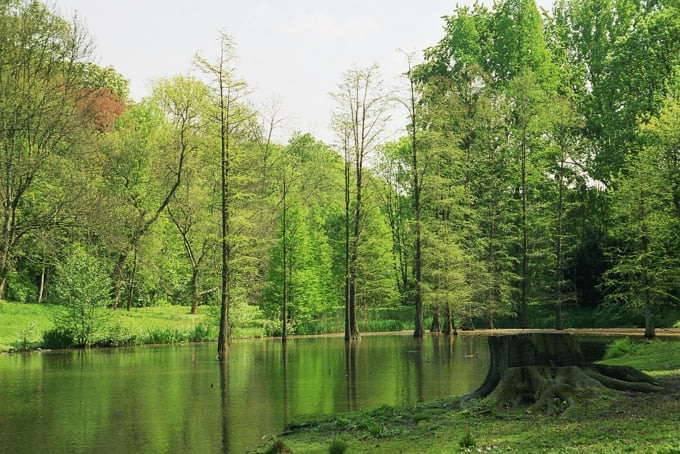 Established by the Romberg family in 1952, Rombergpark still exists as one of the largest botanical gardens in the world. Initially, it was a landscape English park open for sightseeing. It was rebuilt in 1952 after it was bombed heavily in WWII as an arboretum with 4500 different species to the park. It is said to be wonderful in the spring when most of the trees bloom. Enjoy a lovely walk or jog or sit on the benches and relax or indulge in a nice picnic. It is accessible by bus, private transport or the subway.
Name : Botanischer Garten Rombergpark
Address : Am Rombergpark, 44225 Dortmund, Germany
Related Site : https://www.dortmund.de/en/
9. Westfalenpark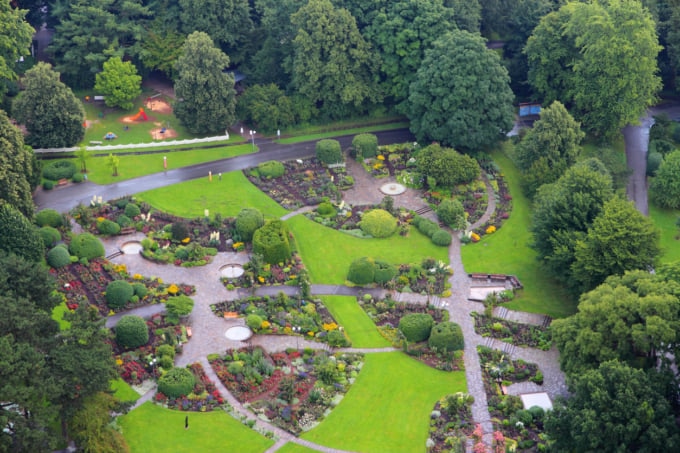 Westfalenpark charges €3.50 as entrance offering sightseeing opportunities for tourists to view a number of small lakes and fountains. It has beautiful nature and birds including Flamingoes. There is a café selling German beer and food too but you can also choose to have a picnic. It has a fascinating botanical garden with a lot of festivals like "Lichterfest" all year round. Apart from sightseeing, it is a great place to bring kids along because of all the play areas they can enjoy. It has a great venue for open-air events and a tower with an observation deck with a great view of the park.

Name : Westfalenpark
Address : An der Buschmühle 3, 44139 Dortmund
Related Site : https://www.dortmund.de/en/
10. DASA (Specialty Museum)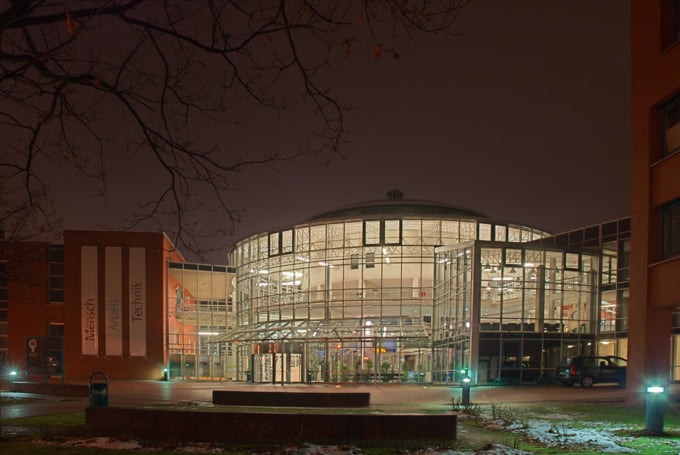 Photo by commons.wikimedia.org
The DASA offers many interesting exhibits for sightseeing and has something for both children and adults to enjoy. It displays an array of many different exhibits and talk/reading panels. It focuses on the past, present, and future of careers. You can explore labor through the ages in engineering, media, healthcare and factory work among others. It is the size of two soccer stadiums. You can purchase souvenirs and specialist books at the DASA shop or indulge in a snack at the catering area.
Name : DASA (Specialty Museum)
Address : Friedrich-Henkel-Weg 1-25, 44149 Dortmund, Germany
Related Site : https://www.dasa-dortmund.de/startseite/
◎ Closing
With near-perfect weather ranging from mild winters, to cool summers, Dortmund is a unique place in its own right. It is filled with breathtaking scenery, exotic animals, Romanesque architectural churches, historical monuments, a booming market filled with diverse businesses among other things. It is advisable to check out the football team and museum. There are plenty of sightseeing locations and adventures to choose from.