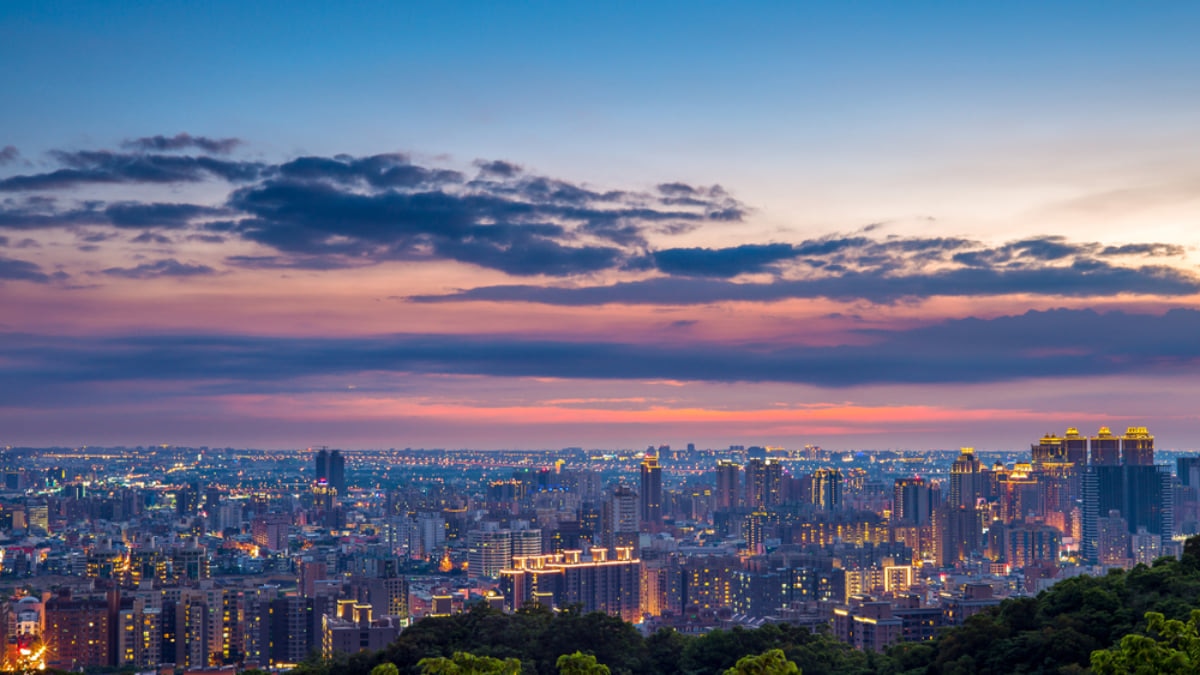 Photo by Richie Chan/Shutterstock
The Best Things to Do in Taoyuan, Taiwan
For most tourists, Taoyuan is just seen as a gateway to Taiwan and its capital Taipei through Taoyuan International Airport, however there are plenty of things to see and do in this city that warrants staying a little longer. As one of the most rapidly developing cities in Taiwan, Taoyuan is becoming a destination in itself. Here are some of the best things to do in Taoyuan that warrant spending some time there.
table of contents
[x] close
The Best Things to Do in Taoyuan, Taiwan
Shihmen Reservoir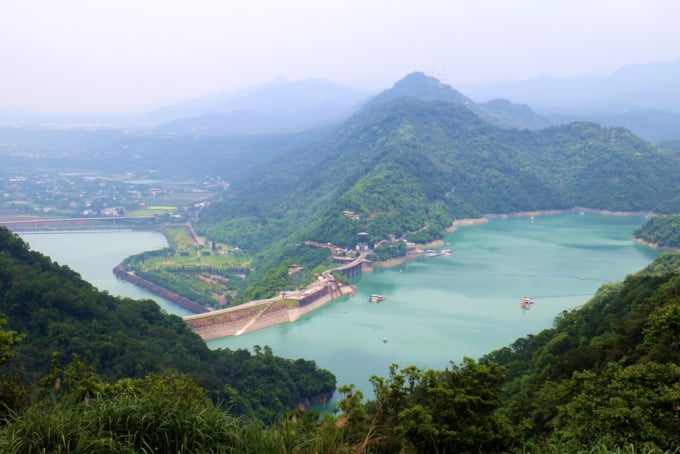 Photo by Lee peiming/Shutterstock
Offering similarly beautiful lakeside views as Taiwan's more famous Sun Moon Lake, Shihmen or Shimen Reservoir in Taoyuan is surrounded by mountain scenery. There are plenty of great hiking trails around the mountain with stunning views out towards the reservoir along with a number of camping sites and even a few luxury hot spring resorts. Visitors can take sightseeing boats around the lake such as from Amuping Marina for beautiful waterside views.
Daxi Old Street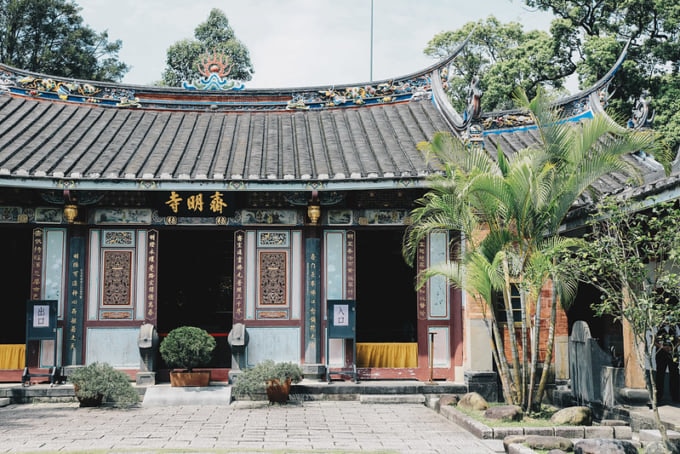 Stepping back in time, the shops and buildings along Daxi Old Street were mostly built during the period of Japanese rule over Taiwan from the late 19th century. While there are a number of old streets around Taipei and Taoyuan, Daxi's is one of the most impressive with beautiful decorations carved out of stone.

The area around Daxi is full of historic buildings and attractions such as Lee Teng-fan's Ancient Residence, a large Hakka style residence, along with Daxi Wude Hall.

While Daxi is a little far from the main center of Taoyuan, there's plenty of things to do there to visit for a whole day. Try one of the many places serving dried bean curd or dougan which is a specialty of Daxi, and has a delicious texture to it.
Zhongli Tourist Night Market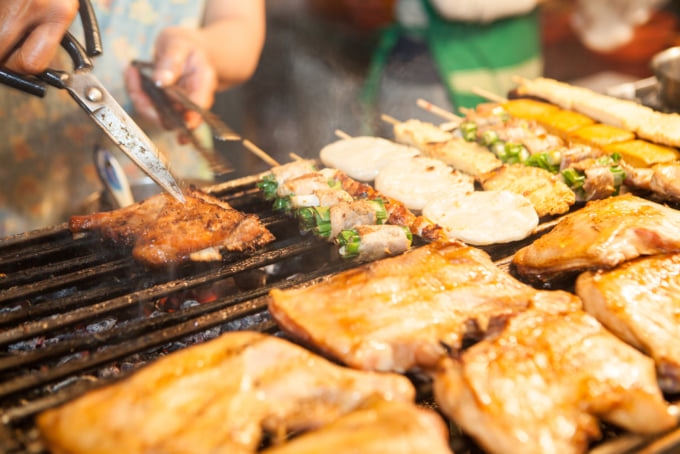 Photo by Top Photo Corporation/Shutterstock
Also known as Zhongli Xinming Night Market, Zhongli Tourist Night Market is one of the best night best night markets to visit in the Taoyuan area, with a number of unique foods you won't find at similar places in Taipei. Some of the best foods to try include sesame oil chicken, fried pork chops and the stinky tofu. For the more adventurous you can also find snake soup here.

While there is Taoyuan Night Market, the markets in Zhongli are generally rated much higher. It's worth heading to Chung Yuan Night Market, the other major night market in Zhongli too. There are a few smaller night markets around Taoyuan too, but these are not open every day unlike those mentioned above.

Xiao Wulai Scenic Area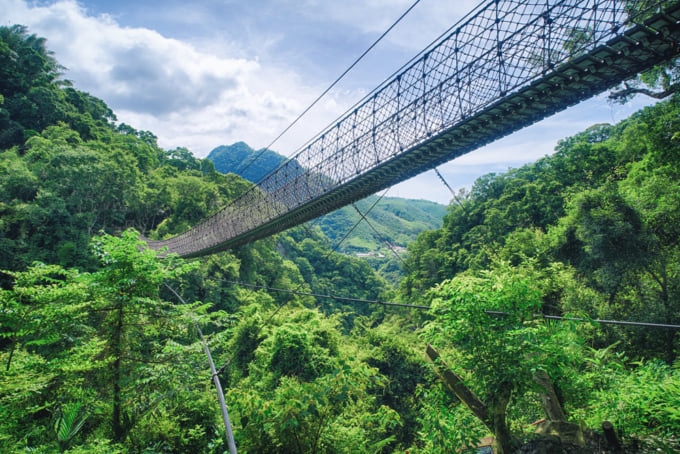 Photo by YUSHENG HSU/Shutterstock
One of the most beautiful scenic areas in Taoyuan and North Taiwan, Xiao Wulai is famous for its impressive waterfall and the adjacent Xiao Wulai Sky Walk, a glass walkway with stunning views over the Xiao Wulai Waterfall.

Xiao Wulai is named similar to New Taipei's Wulai District, a similar scenic area with waterfalls, valley scenery and hot springs. Both get their name from the Atayal people, one of Taiwan's aboriginal groups that live in both areas.

There's also a number of picturesque rope bridges such as Heping Suspension Bridge for crossing the valleys in the area along with hot spring resorts to relax in.
Luofu Bridge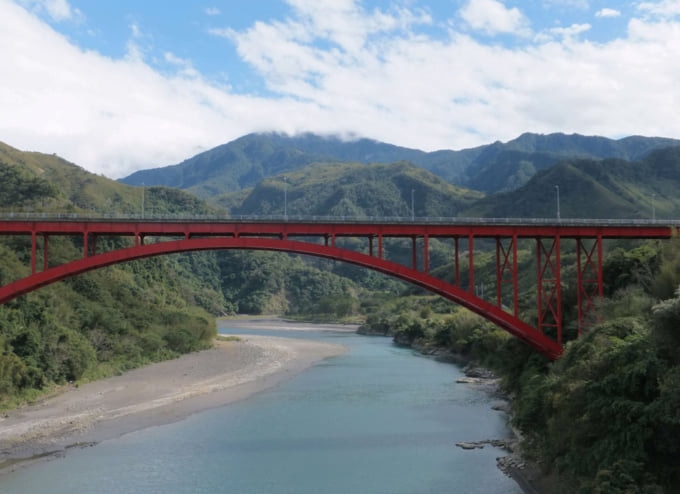 Photo by Tzumin Chen/Shutterstock
While visiting the area of Xiao Wulai, make sure to check out Luofu Bridge, a beautiful red arch bridge crossing over the Dahan River Valley.

There are a few hotels around Xiao Wulai and Luofu, it's a good idea to stay overnight around Fuxing District or Daxi. Shihmen Resevoir, Sanmin Bat Cave, Jiaobanshan, Luofu Bridge and Xiao Wulai are close together and can be easily explored in a couple of days.
Yingge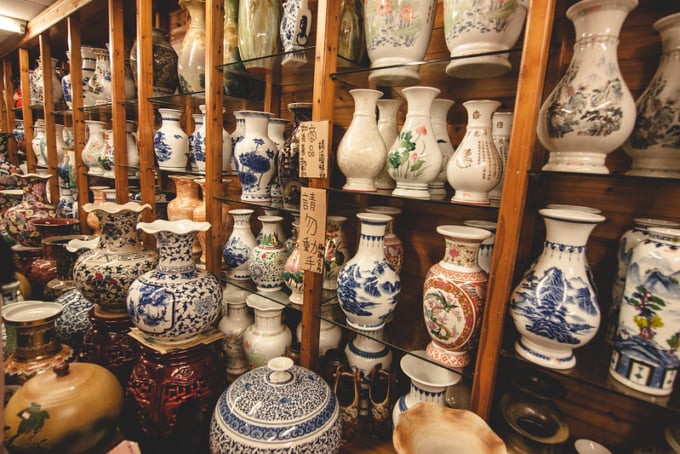 Photo by Jirka Matousek/Shutterstock
Famous for its old town atmosphere, Yingge is a historic area with shops that have been producing pottery and ceramics for around 200 years. Apart from exploring Yingge Old Street, there are a number of places where you can make your own pottery, especially popular with children.

Although Yingge is technically part of New Taipei City, it's right next to Taoyuan City and much closer to reach from there than Taipei or Banqiao.
Taoyuan Xpark Aquarium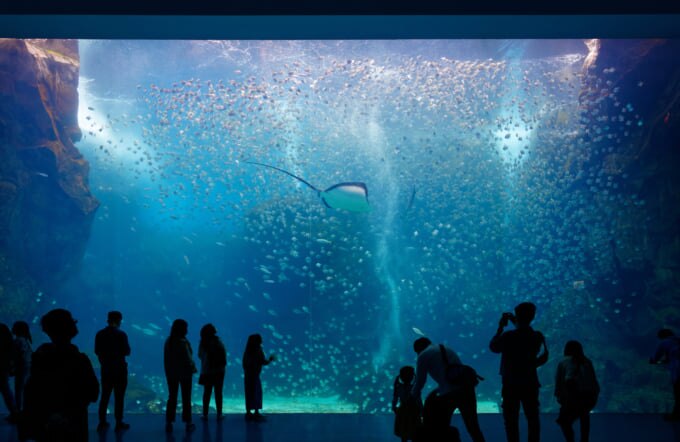 Photo by CHEN MIN CHUN/Shutterstock
One of Taiwan's newest attractions, Xpark Aquarium opened in Taoyuan in 2020, offering one of the most diverse and breathtaking varieties of marine life in the country. With modern state of the art facilities and huge glass panels for viewing including some 360 degree views, it really is quite stunning. If you're traveling to Taoyuan with children, Xpark Aquarium is a must-see.
Sanmin Bat Cave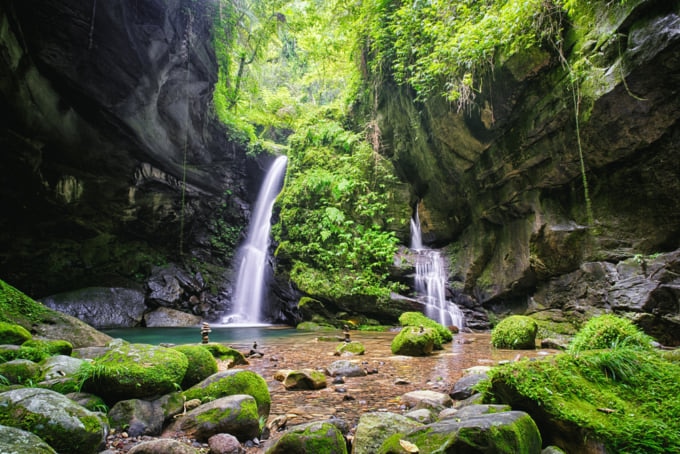 Photo by YUSHENG HSU/Shutterstock
Further into the mountains in the south of Taoyuan, Sanmin Bat Cave is a large cave system with beautiful gorge scenery and waterfalls. Once a home for hundreds of bats, the local Atayal people, a group of Taiwanese aboriginals living in the area, hunted most of them causing most of them to leave.

While there aren't usually any bats residing there anymore, the scenery and natural atmosphere is reason enough to visit.
Places around Taoyuan Airport
If you've only got a short amount of time to check out Taoyuan while waiting for a flight, Xpark is easily reached by the Airport MRT and can be explored in a few hours. It's also quite easy to reach Zhongli Tourist Night Market from the airport (although will need a 15 minute walk), for shorter periods there's also Dayuan Night Market right next to Taoyuan Airport but it's only fully open on Friday and Saturday.
Taipei to Taoyuan
If you're coming from Taipei City to explore Taoyuan, the easiest way is to take a regular train from Taipei Main Station to Taoyuan Station. Getting around most places in Taoyuan will require taking a bus or taxi, currently the only metro system is the Airport MRT, which goes as far as Huanbei in Zhongli (an extension is under construction).