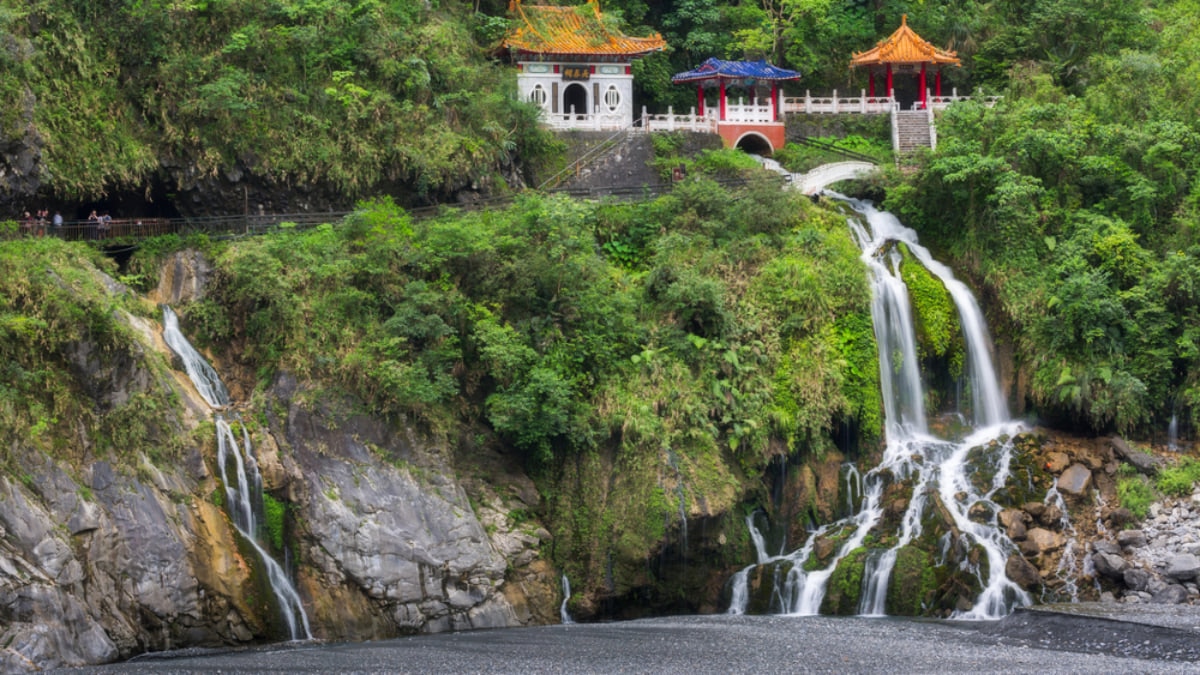 Photo by Peera_stockfoto/Shutterstock
How to Visit Taroko Gorge in Taiwan: Best Taroko Trails, Sights and More
Taroko Gorge is one of the most famous scenic spots and attractions in Taiwan, the beautiful dramatic canyon cuts through Taiwan's Central Mountain Range, offering some of the most incredible scenery in Asia. The park is an example of some of the stunning scenery you'll find on Taiwan's east coast and in Hualien. Taroko National Park is the broader area around the gorge, one of nine national parks in Taiwan, there's plenty to see and do there, along with an endless amount of hiking trails. As most people only have time for one or two days to explore Taroko Gorge, here are the best of the best sights and trails in Taroko.
table of contents
[x] close
How to Visit Taroko Gorge in Taiwan: Best Taroko Trails, Sights and More
Things to Do and See in Taroko Gorge
The Eternal Spring Shrine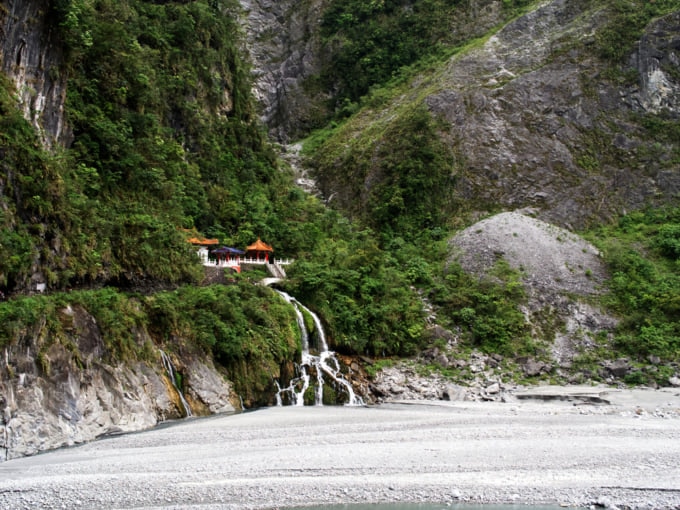 Photo by Kittisak Chotikkakamthorn/Shutterstock
One of the most picturesque attractions in Taroko Gorge, The Eternal Spring Shrine or Changchun is famous for its location on the side of a steep gorge with cascading waterfalls flowing below it.

The shrine was built in 1958 in memory of 212 workers who died constructing the Central Cross-Island Highway that cuts through the mountains of Central Taiwan including Taroko Gorge.

Swallow Grotto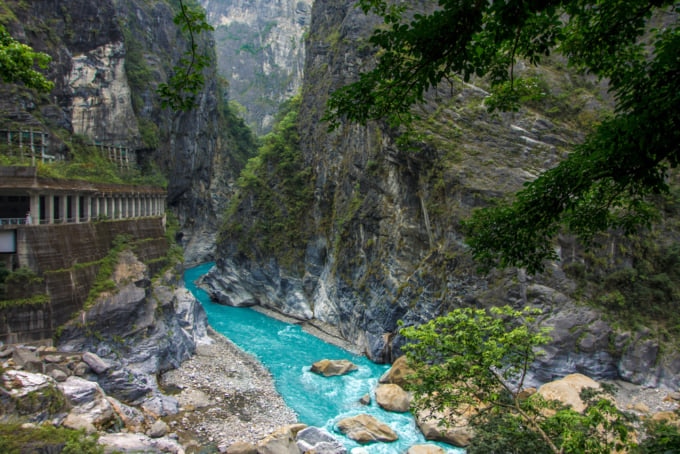 Photo by Thanachit Krikeerati/Shutterstock
Some of the classic scenery of Taroko Gorge, Swallow Grotto features some narrow canyons with towering gorge scenery overheard. The canyons and tunnels here are filled with tiny potholes, many of which have become nesting places for swallows, giving the area its name.
Tianxiang Recreation Area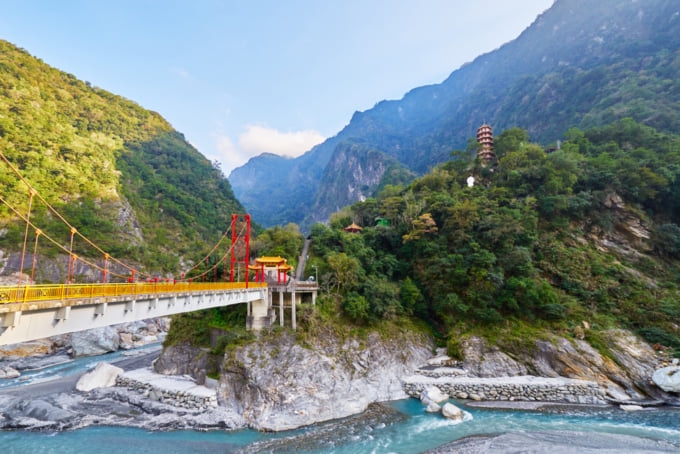 Photo by The HippoZoom/Shutterstock
The main rest area in the park, Tianxiang has a few restaurants, a 7/11 and one of Taroko's most luxurious hotels, Silks Place Taroko. The area is also where you'll find Xiangde Temple and the Tianfeng Pagoda, another of Taroko Gorge's most famous views.

It's the last stop for most buses that go to Taroko from Hualien. It's a good idea to stop here first and get some breakfast and snacks for later or to head there for lunch to eat at one of the restaurants there.
Qingshui Cliffs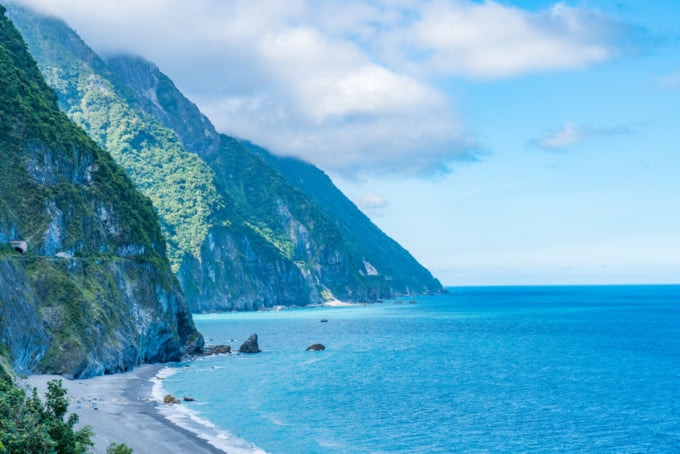 Photo by Ryan_Cheng/Shutterstock
Right at the edge of Taroko Gorge, the coastal area of Hualien is home to some of Taiwan's most beautiful scenery. The dramatic mountain scenery of Taroko quite abruptly meets the Pacific Ocean, creating the towering Qingshui Cliffs. While it's not in the main part of the park that most people explore, you can see the beautiful scenery here by taking a train to Chongde Station and walking along some of the coastal hikes of Taroko such as the Huide Trail.
Annual Taroko International Marathon
Each year Taroko Gorge holds a half marathon and full marathon event along with two smaller leisure runs (12 km and 5 km). For those keen on running, the event is a great way to see the beautiful nature of Taroko Gorge without the accompaniment of the busy traffic from the highway. Often described as the world's most beautiful race, the Taroko Marathon traverses some of the gorge's most beautiful scenery along what is normally the highway.

If you're not wanting to take part in the marathon, then make sure to avoid visiting Taroko Gorge during the event. Hotels around Taroko Gorge are booked up quickly and the area is much busier, with most of the highway closed off to both traffic and pedestrians who aren't taking part in the marathon.

If you're looking to participate, make sure to sign up and book a spot early, it's one of the most popular marathons in Taiwan and spots get taken quickly.
Taroko Music Festival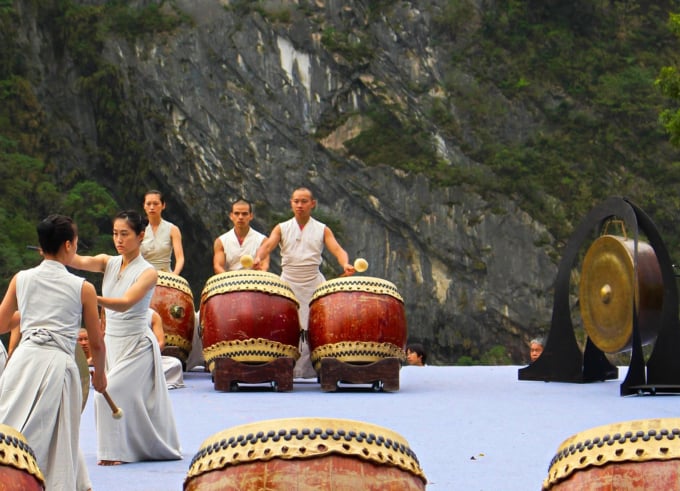 Every year at the end of the October for one day, the national park organizes a Taroko Music Festival event that takes place at Taroko Terrace offering a number of lively music performances such as Taiwanese aboriginal music, local orchestras and opera singers. The event is completely free and usually offers free shuttle buses between Xincheng Station and the park area. With the music echoing through the gorge, the event is quite impressive and recommended if you're planning to visit Taroko Gorge in October.
Best Hiking Trails in Taroko Gorge
Short Taroko Trails
Changchun Trail (Eternal Spring Shrine)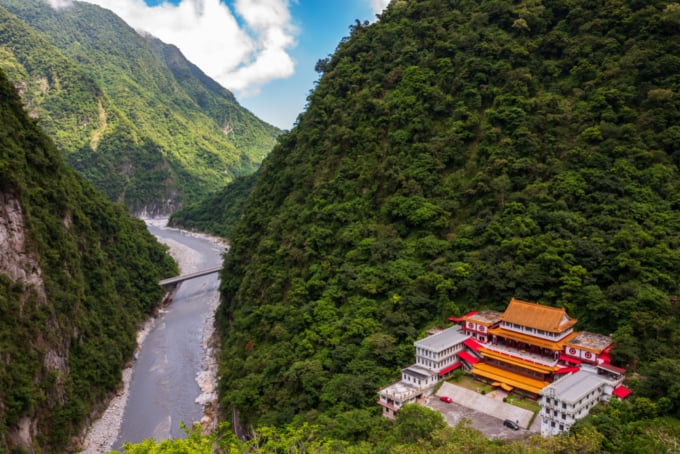 Photo by Pierre Aden/Shutterstock
Starting near the main entrance to Taroko, this short trail loops around the area behind the famous Changchun Shrine or Eternal Spring Shrine and Changuang Temple. The whole loop is around two kilometers and can be walked around in about 20 minutes.

Xiaozhuilu Trail
Named after the longer and more difficult Zhuilu Trail, Xiaozhuilu Trail also called the Little Zhuilu Trail offers some beautiful scenery on a shorter more gentle route. You can walk the route in about 30 minutes easily. At the end of the trail you'll come to the beautiful red Shakadang Bridge along with the start of the Shakadang Trail.
Yanzikou Trail (Swallow Grotto Trail)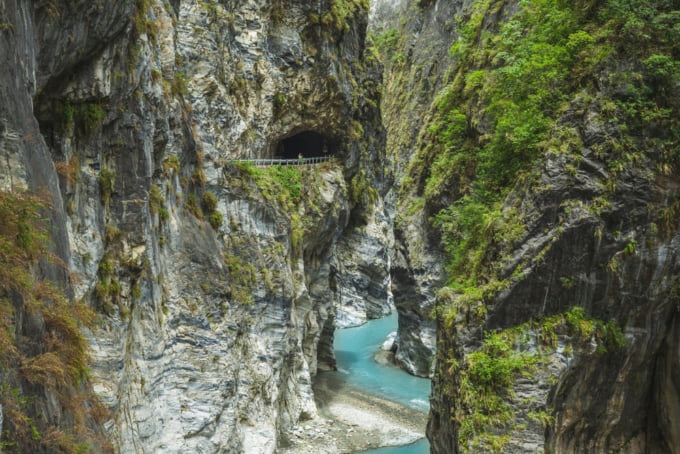 Photo by Richie Chan/Shutterstock
The trail for seeing Swallow Grotto, it's also one of the shorter trails of Taroko, taking about 30 minutes or less. The route takes visitors to see the beautiful narrow valley scenery dotted with tiny potholes that have become a nesting spot for swallows.

Tunnel of Nine Turns Trail
Another short trail slightly further down the road from Swallow Grotto with similar scenery, it's slightly longer and takes about 40 minutes but the views are beautiful. The bus going through Taroko stops at the trailhead.
Moderate Trails
Baiyang Waterfall Trail (Water Curtain Cave)
Photo by Chiang Eddie/Shutterstock
Starting just next to the main village of Tianxiang, the Baiyang Waterfall Trail brings hikers to the beautiful viewpoint of the Baiyang Waterfall and the popular Water Curtain Cave. The springwater gushes through the cave to create a unique and picturesque scene. The trail takes about one and a half hours to two hours (about 4.2 kilometers) in total, it finishes at the cave and goes back along the same route (not a loop trail).


Shakadang Trail
One of the slightly longer trails in Taroko Gorge, the Shakadang Trail is a one way route that follows the Shakadang River and its gorge, known for the beautiful clear blue water. The route is about 8.2 kilometers to the end and back and takes about three to four hours to complete. It goes past a small aboriginal community and their farmers market selling snacks and souvenirs along the way.
Zhuilu Old Trail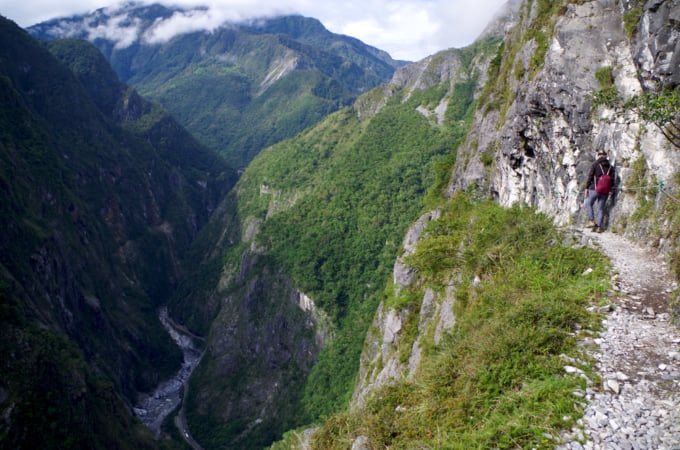 Photo by Veronika Hanzlikova/Shutterstock
Note that the trail requires applying for a park permit first before you can use it, a limited amount of people are allowed access per day. Only part of the trail is open (as of 2021) due to some sections still damaged from previous typhoons.
Dali-Datong Trail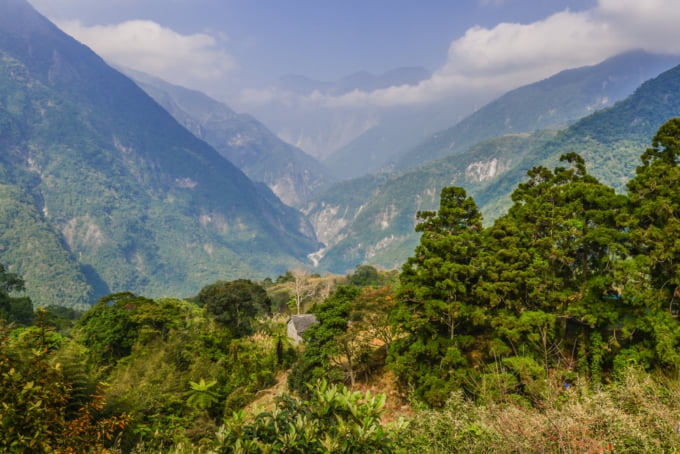 Photo by weniliou/Shutterstock
The villages of Dali and Datong are two Taiwanese aboriginal villages located high up in the mountains of Taroko. For those looking for something more adventurous while visiting Taroko Gorge, hikers can traverse the Dali-Datong Trail, stopping overnight before at the aboriginal village. While you can hike to and back from Dali in a day, for the longer hike to Datong Village you'll want to stay overnight before heading back down, luckily there's a number of small guesthouses you can stay at in Datong.

It takes about two and a half to three hours to hike to Dali (over five hours there and back) and about five and a half hours to Datong (2.5 hours from Dali). From Dali to Datong, either the Tongli Trail or the Shakadang Forestry Trail can be used.
Dekalun Trail
The Dekalun Trail also heads towards Dali which can be used to reach the village instead of the Dali Trail, it later joins up with the Dali trail. Note that the Dekalun Trail climbs up quite steeply with a number of stairs and can be tiring for those not used to hiking.
Getting Around Taroko Gorge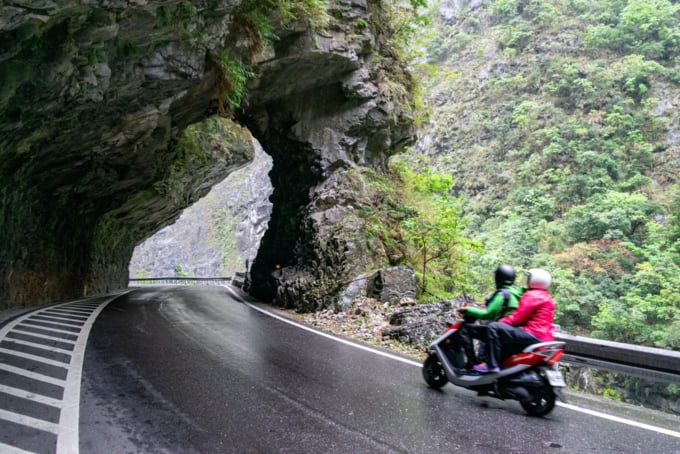 Photo by Nate Hovee/Shutterstock
While most people recommended renting a scooter or bicycle for exploring Taroko Gorge, it'll depend on your skill and preferences.

During weekends and busier periods, the highway passing through Taroko Gorge can get quite busy, with large vehicles like coaches driving down. This coupled with the narrow, winding, mountainside road can be a little unintimidating to drive along for most people. If you're not used to driving a scooter or bicycle along main roads in areas like Taroko Gorge, it's best to use the buses or taxi services instead.

It's perfectly doable to get around Taroko Gorge by public transport, regular buses go through and stop at main attractions in the park before heading back to Hualien city. The numerous hiking trails and paths around Taroko mean exploring by foot is highly recommended.

The main issue with walking around Taroko Gorge is the highway that passes through, many parts aren't really walkable (despite looking close on google maps), so you'll want to stick to the trails and using buses to get to starting points.
For more things to do around Hualien check out this article.
Getting to Taroko Gorge
Train from Taipei to Hualien
The most popular way to get from Taipei to Taroko Gorge is by taking a train to Hualien Station or the nearer Xincheng Taroko Station. The fastest Puyuma and Taroko trains take about two hours from Taipei Main Station to Hualien, with slower trains taking about three to four hours (Tze-Chiang Limited Express and Chu-Kuang Express).

If you want to take the faster trains to Hualien and are traveling on a weekend day or national holiday, make sure to book the ticket in advance. Train tickets go on sale two weeks before the journey time and are often sold out almost instantly. Slower trains do not usually require reservations (you can also opt to stand if seats are sold out).
Bus from Taipei to Hualien
Buses from Taipei to Hualien leave from Nangang Bus Station, in the east of the city to Hualien Train Station and Xincheng. The journey usually takes around three and a half hours to four hours and buses are quite comfortable (UBus Route 1663). Discounted tickets currently cost 200 NTD which is cheaper than the train, however if paying full price (320 NTD) it may make more sense to take the train instead.
How to Explore Taroko Gorge in a Day Trip from Taipei
Taroko Gorge can be done in a day trip from Taipei, although it's recommended to stay in Hualien for at least one night to explore the park.

For those short on time who want to see Taroko Gorge however, it's possible to see most of the main sites of Taroko and a few of the shorter hikes on a day trip from Taipei. The first train from Taipei Main Station leaves at about 7 AM and gets to Xincheng (the station near Taroko Gorge) at 09:43. On the way back we'd recommend getting the bus back to Hualien Station instead of Xincheng and checking out Hualien's Dongdamen Night Market, one of the biggest night markets in Taiwan.

The last buses from Taroko Tianxiang to Hualien leave much earlier (from 5 PM to 6 PM depending on the bus number) than the Taroko National Park Headquarters where the last 1129 Bus leaves at 19:20. If you miss the bus back from Tianxiang or stations in between, you can always get a taxi back to the park headquarters and catch the last bus from there.

For more interesting day trips around Taipei see here.
Group Day Tour of Taroko Gorge from Taipei
If you don't mind joining a group tour, there are a number of companies that offer a day trip from Taipei to Taroko Gorge, covering most of the main sights. While more expensive than navigating Taroko Gorge on your own, the tour is an easy way to see the gorge and some of its scenery without needing any planning.
Flights to Hualien
Hualien Airport is just outside of the city center with flights from Busan and Seoul (currently stopped) along with Songshan, Kaohsiung and Taichung to Hualien.
Hotels and Places to Stay Near Taroko Park
If you've got a few days to spend in Hualien, it's highly recommended to do the longer Dali-Datong Hike and stay overnight in Datong Village. It's a fascinating way to see the local Taiwanese aboriginal culture, the Truku also called Taroko group of aboriginals have been living in the mountains around the gorge for hundreds of years.
Silks Place Taroko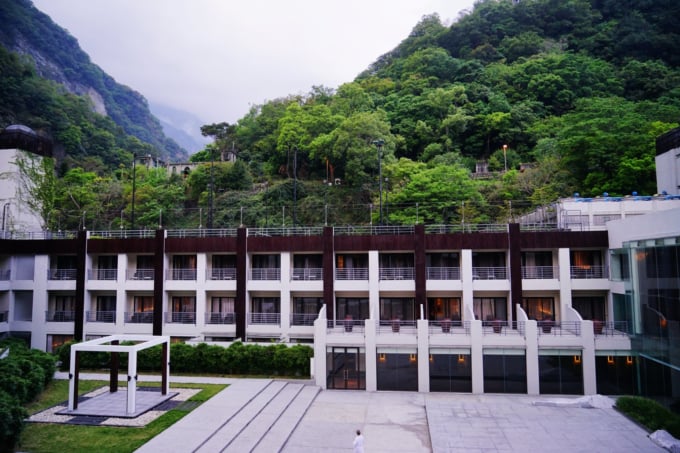 Silks Place Taroko is a five-star hotel located in the Tianxiang area of Taroko Gorge.
Taroko Village Hotel
A slightly more affordable hotel right within the national park, Taroko Village Hotel offers rooms in a beautiful secluded area further up in the mountains from the gorge.

Tienhsiang Youth Activity Center is also located in the park with well-priced rooms, only available to under 40s, students and some other groups of people.
Hotels around Xincheng Taroko Station
There are plenty of hostels and hotels around Xincheng (the nearest train station to Taroko Gorge) if you would rather be closer to the park than staying in Hualien City.

Accomodation in Xincheng is a good budget alternative to staying inside Taroko Park, there's plenty of cheaper options there.
Taroko National Park Visitor Center Hotels
There are a few hotels and restaurants around the Taroko National Park Visitor Center located right at the entrance into the main park area of Taroko Gorge.

As the trail towards Dali Village is right behind the visitor center and Shakadang Trail close by as well, staying near the visitor center means you can head up to the trails early on without having to wait for the bus, allowing more time for other trails later.

Some popular hotels around the visitor center (across the Jinwen Bridge) include Liwu Hote and Taroko Hotel. There's also a couple of small guesthouses (minsu).
There's also a cluster of popular minsu guesthouses across the Taroko Bridge, some of which will drop you off at the visitor center (otherwise it's a 30 minute walk away).
How do you say Taroko Gorge in Chinese?
Taroko in Chinese is 太魯閣 pronounced as Tàilǔgé in Mandarin Chinese and Thài-ló͘-koh in Taiwanese Hokkien. The full name of the national park is 太魯閣國家公園, however you'll just hear it referred to as 'Tailuge'.
Is the road along Taroko Gorge dangerous?
The road that goes through Taroko Gorge is called the Central Cross-Island Highway or Provincial Highway 8, cutting through the mountains of Central Taiwan, the road passes through some rugged and fairly unstable terrain. The road can sometimes be damaged by strong typhoons and earthquakes, although it has been improved with covered areas over the years. The section of the road through Taroko Gorge runs through steep rockfaces and parts of the canyon can often become unstable with falling rocks, especially after heavy rain. Despite this, Taroko Gorge is generally quite safe, the highway and national park are regularly checked for dangerous rockfalls and only a few accidents have occurred in recent years.