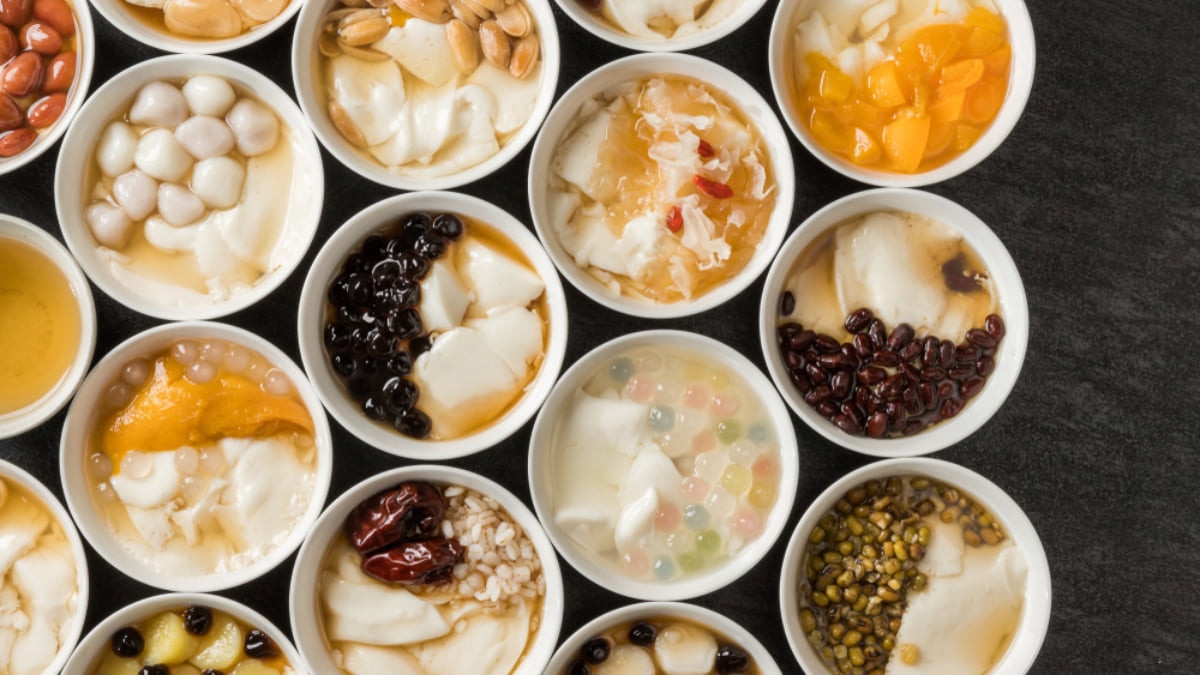 9 Taiwanese Desserts You Need to Try in Taiwan
Taiwan is mostly known for the delicious street food found at the bustling night markets and street vendors across the country. However under the surface you'll find a country with a prominent sweet tooth and a love for all things sugary. Traditional desserts in Taiwan have seen a surge in popularity both in Taiwan and elsewhere in Asia, as locals experiment with adding new flavors and twists to create delicious new sweet treats.
table of contents
[x] close
9 Taiwanese Desserts You Need to Try in Taiwan
Douhua Taiwanese Tofu Pudding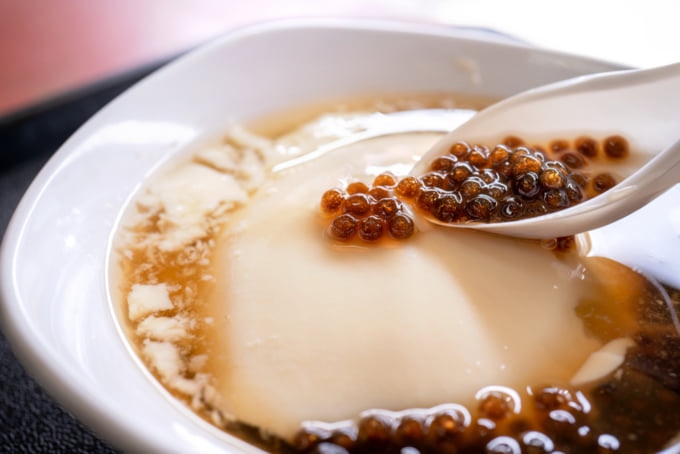 Photo by Romix Image/Shutterstock
A kind of Taiwanese dessert made from silky soft tofu, douhua is popular with Chinese communities all over the world but particularly so in Taiwan where it's often accompanied with a colorful variety of toppings. While the basic and traditional version usually contains peanuts and a sweet syrup, you can usually a mix of toppings such as adzuki beans, taro, tangyuan, sweet green beans, tapioca pearls and sometimes other new non-traditional additions. Most douhua shops serve both hot and iced versions to order.
Taiwanese Brown Sugar Cake (Hei Tang Gao)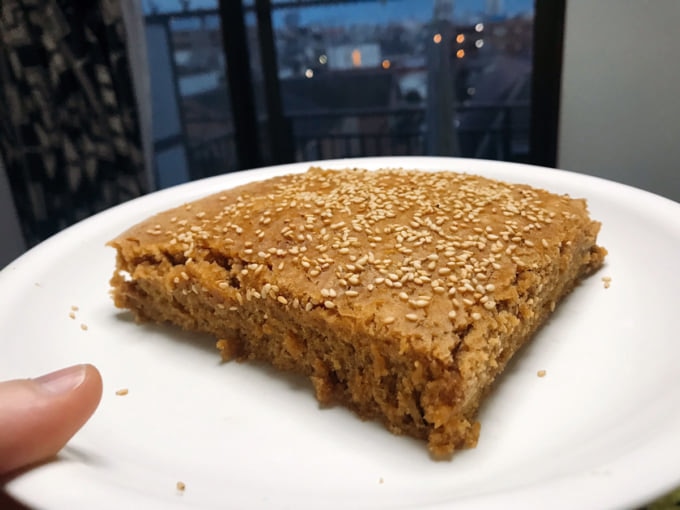 A specialty of the offshore islands of Penghu, Hei Tang Gao or Taiwanese Brown Sugar Cake is steamed in a bamboo basket to give it both a unique flavor and delicious fluffy yet moist texture to it. It's not as commonly found as some of the other famous Taiwan desserts, but some cafes and souvenir shops in Taipei will sell it too, it's worth the extra effort to find.
Bubble Milk Tea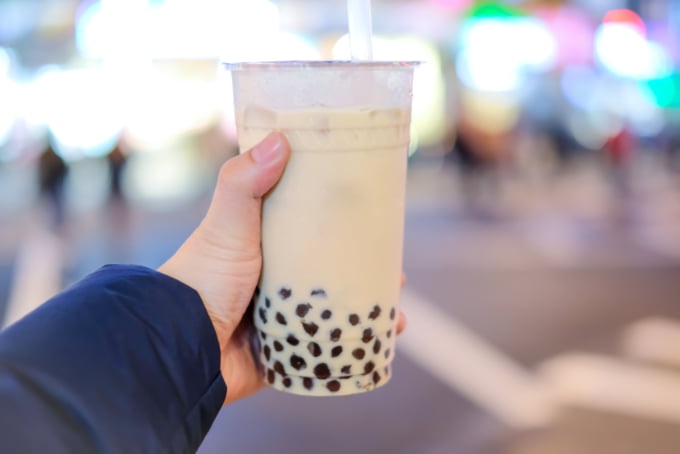 Photo by Paripol Sriwangprai/Shutterstock
Taiwan's craze for this milk tea meets dessert drink has long since reached far around the world. Despite the recent popularity, bubble milk tea or boba tea was first created in Taichung in the 80s by local tea shop Chun Shui Tang. For the uninitiated , bubble tea is made with sweet tapioca pearls that have a chewy texture, mixed with sweet milk tea. There are drinks shops on almost every street and street corner around Taiwan and almost all of them serve their own style of bubble milk tea.

Most drink shops have since strayed from the classic, adding brown sugar, Japanese pudding and other additions to make theirs stand out. If you're visiting Taiwan, these are the best bubble tea shops you need to try in Taipei.
Tangyuan Taiwanese Sweet Dumplings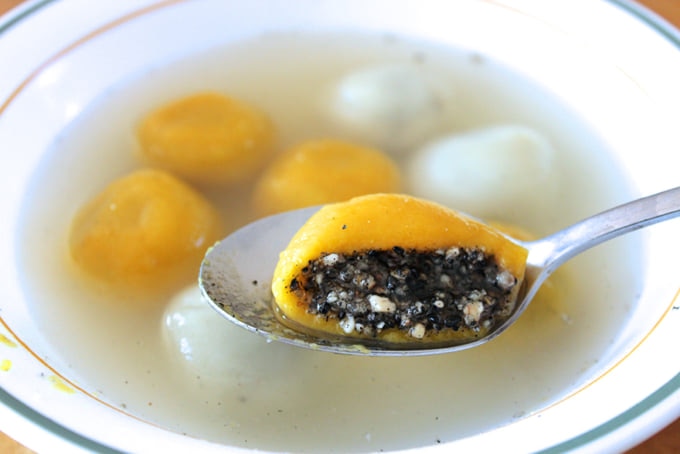 Photo by commons.wikimedia.org
Traditionally eaten during the Taiwanese Lantern Festival and often other major events and festivals, Tangyuan are a dessert in Taiwan that are made of rice flour and often with sweet fillings and served in a hot broth. Similar to mochi, tangyuan are chewy and usually filled with sweet sesame paste but you'll find other creations such as chocolate tangyuan and jam-filled ones along with plain unfilled tangyuan. The little balls of joy are then boiled and served in a sweet syrupy soup but there are also chilled ice versions of the dish too. Iced tangyuan are often served with other extras and toppings like what's often added to douhua.
Wheel Cakes (Che Lun Bing)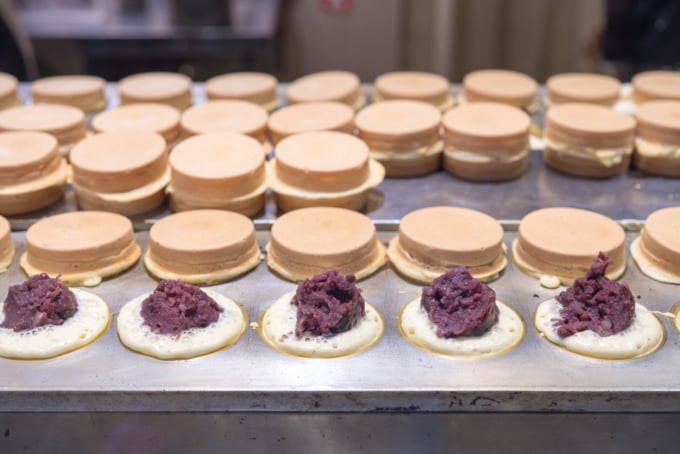 Originally from Japan, wheel cakes or Che Lun Bing have since become a classic night market food in Taiwan and the perfect street food for those with a sweet tooth. Made somewhat similar to pancake batter for the outside, the center is filled with a sweet filling, often red bean paste or custard cream. Many street vendors offer a range of different flavors however, such as chocolate, fruits and sometimes even savory fillings such as ham and cheese.
Pineapple Cakes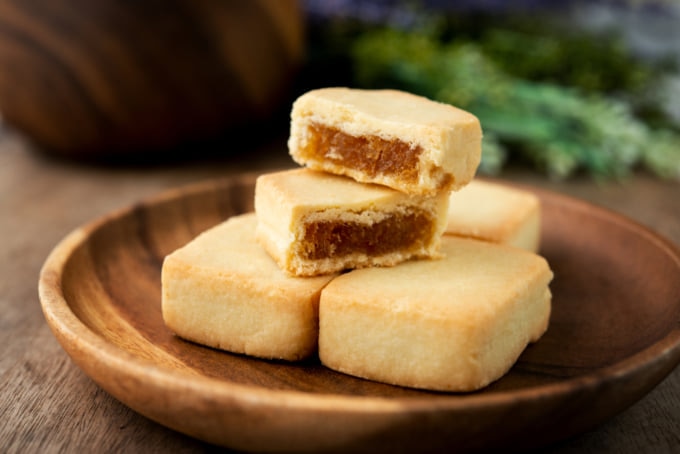 One of the most popular desserts associated with Taiwan, Pineapple Cakes are often a favorite of foreigners visiting the island and a popular souvenir to bring back from Taiwan.

With a smooth, buttery pastry on the outside and a sweet pineapple jam filling in the center, Taiwan's Pineapple Cakes are both delicious and usually quite cheap. You'll find them at souvenir shops, supermarkets and convenience stores all around the country, often sold in decorative boxes that make them perfect to use as gifts and souvenirs.
Mango Shaved Ice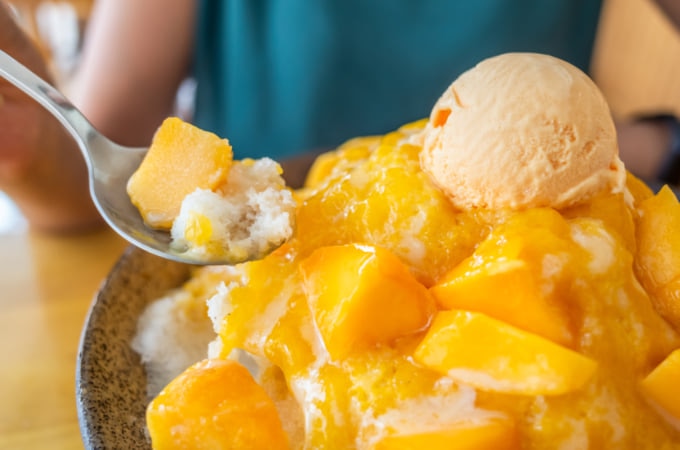 A popular favorite to help survive the hot summer weather in Taiwan, mango shaved ice can be a lifesaver to help cool things down a little. Mangos grown in Taiwan are delicious and especially sweet, an extra refreshing treat when paired with the flavored ice.

In Winter when mango isn't in season, most shaved ice shops will sell different seasonal fruits such as strawberry shaved ice or other fruits. Some shops have even made new creations such as bubble milk tea shaved ice or topped with Japanese pudding.

Check out the best mango shaved ice shops in Taipei here.
Taiwanese Mochi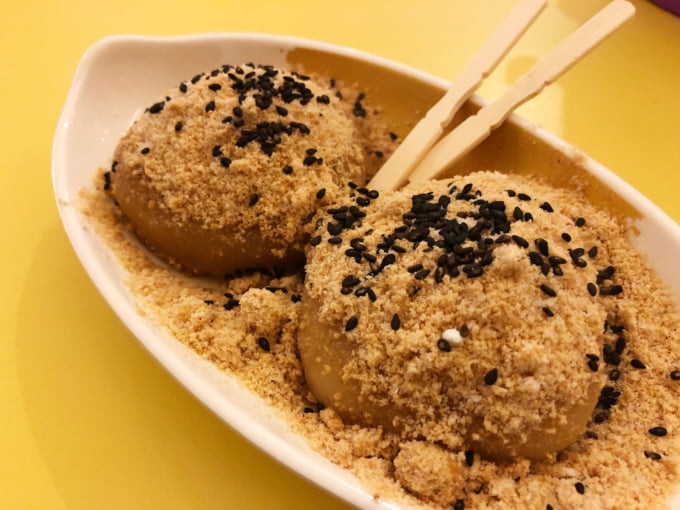 Photo by Josephine Tsai/Shutterstock
Mochi in Taiwan is similar to the classic Japanese sweet, made with rice flour to create a sweet chewy snack. The traditional Taiwanese version is usually just plain mochi or peanut filled coated in peanut powder but nowadays most shops sell a huge range of different fillings. Some of the best mochi to try while in Taiwan are sweet taro, sweet sesame and custard filled ones. There are also vendors who serve grilled mochi sticks covered with sweet sauces such as in Ximending that are well worth trying.
Aiyu Jelly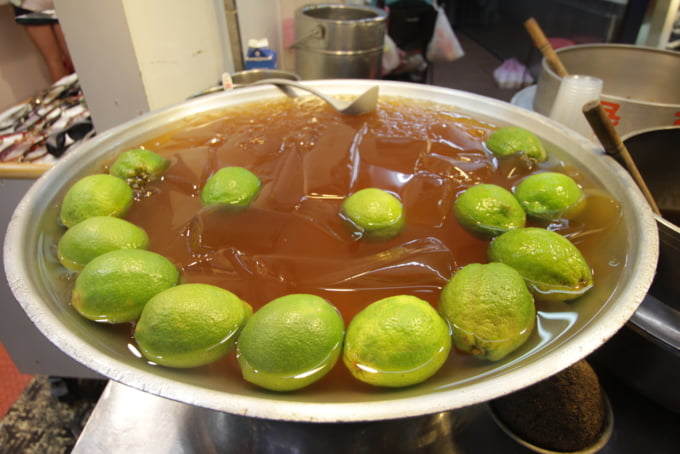 Photo by WannitaMo/Shutterstock
A traditional jelly made by using gel from seeds of a kind of creeping fig grown in Taiwan, Aiyu jelly is usually flavored with sugar and lemon or lime. Aiyu jelly is often served with tapioca pearls as a drink in night markets called frog's eggs, due to the white color of the tapioca balls looking like frog's eggs.

It's another refreshing food that's great for cooling down during the hot summer weather in Taiwan.
Read more about Taiwanese food
For more about Taiwanese food, click here for the best Taiwanese street food to eat while visiting Taiwan.

Read about the the best foods to eat while in Tainan here.

See here for the ultimate list of things to do while in Taiwan.