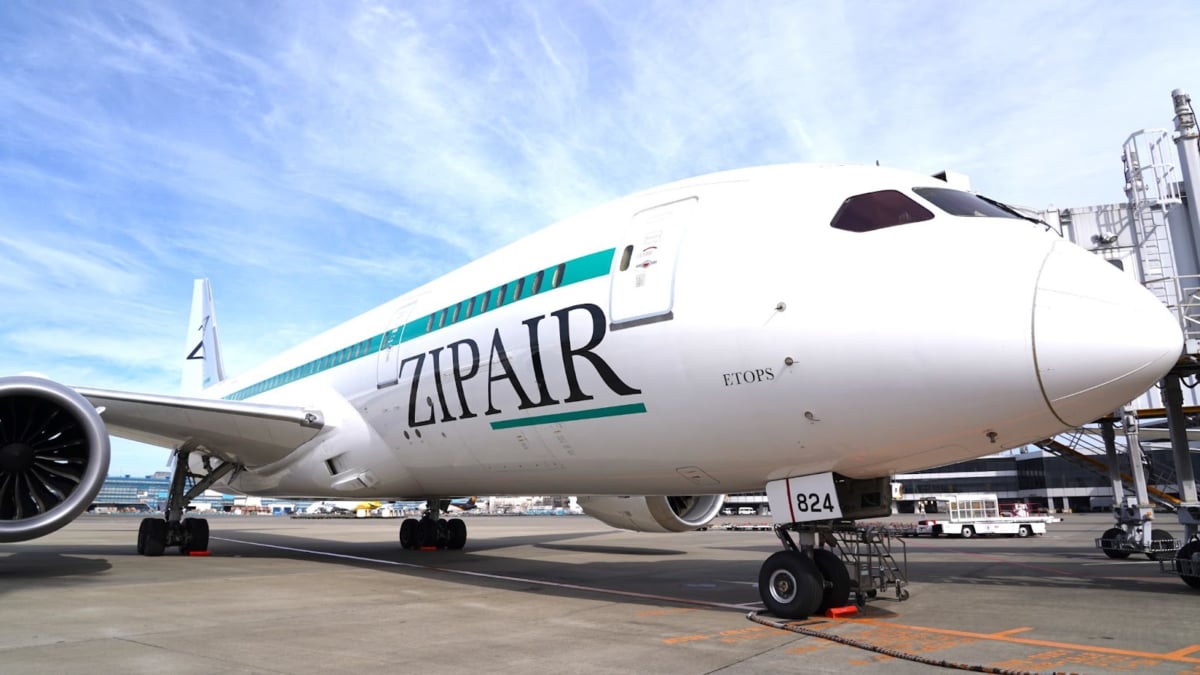 A Detailed Look at and Review of ZIPAIR, Japan's New Budget Airline
Making a brave entrance in the midst of a worldwide crisis in the tourism industry, ZIPAIR is Japan's newest budget airline, offering some attractive flight prices with impressive optional add-ons. We were invited to check out the airline and their onboard experience at ZIPAIR's hub in Narita International Airport to see how this newcomer to the low cost carrier realm fares.
table of contents
[x] close
A Detailed Look at and Review of ZIPAIR, Japan's New Budget Airline
Economy Class Seats (Standard Seats)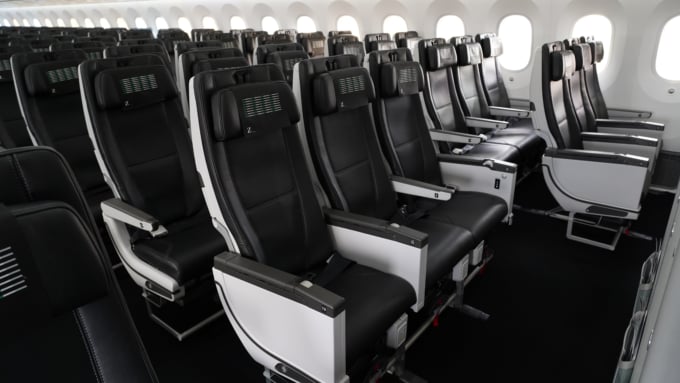 With being a new airline, the seats are brand spanking new and the design is simplistic and refreshing. More importantly the seats are fairly comfortable, especially for a budget airline. The space is nothing to call home about, at 43cm (17 inches) in seat width and 79cm (31 inches) in seat pitch (from front to back) the economy seats with ZIPAIR are fairly average compared with other airlines. However the space is clearly better than some low cost airlines that often try and cram as many seats as they can. The seats also have power supplies with universal sockets and USB ports, along with a holder for tablets and phones.

What blew us away however were the business class seats.
ZIPAIR's Super Cheap Business Class 'Lie Flat' Seats: ZIP Full-Flat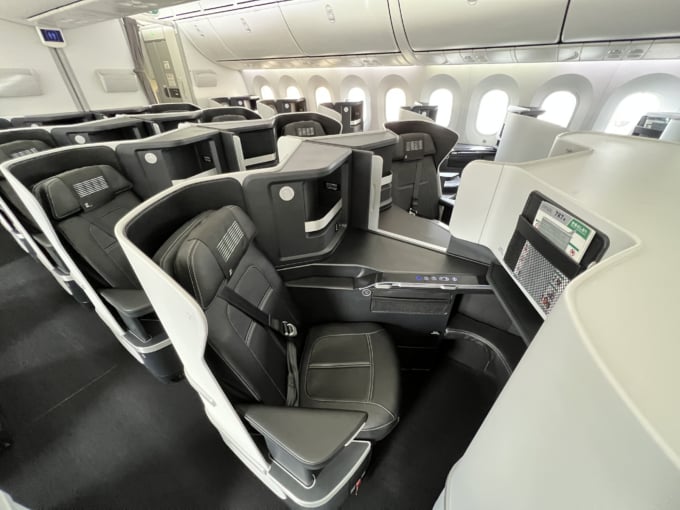 For a fraction of the price you'd pay for first class or business class seats in other airlines such as ANA or JAL, ZIPAIR offers luxury travel with their gorgeous lie flat seats. ZIPAIR's premium Full-Flat seats allow you to recline the seat to allow passengers to lie down completely and the ample seat space even makes it comfortable for those on the taller side.

While fares depend on seat availability you can get these business class seats for as little as 33,660 yen on their Tokyo to Seoul route. Considering most other airlines will usually cost double or triple the price for a similar seat, ZIPAIR's Full-Flat is an incredible deal. We'd highly recommend the upgrade especially for longer flights such as to Los Angeles or Honolulu, there's nothing better than being able to lie down and relax on a 12 hour journey.
Inflight Entertainment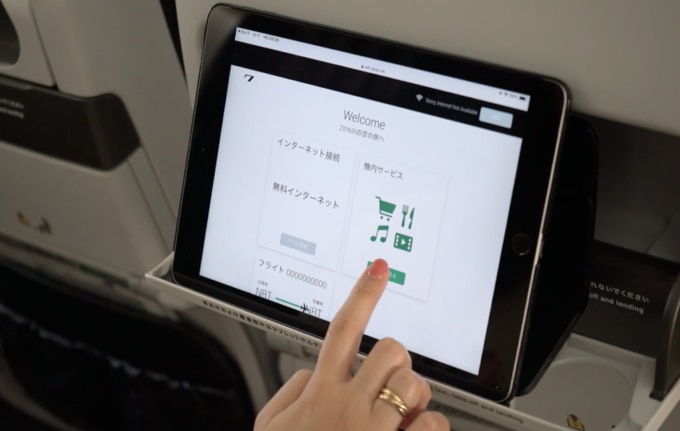 One thing you might notice that's missing once you step onboard is the lack of TV screens. Even the Full-Flat seats don't come with screens which might seem a little disappointing, but we soon realized there's actually little need. With free WiFi on the flight, you can just use your phone to watch movies or other inflight entertainment. Passengers can connect to the online inflight entertainment system which provides the usual films, music and more that we've all come to expect with international flights.

Best of all, while most extras come at a price with ZIPAIR, the entertainment system is free of charge.

Making inflight monitors as robust as possible to protect from even the most unruly of passengers often comes with noticeable drawbacks. Have you ever been on a flight where the tiny, seemingly-ancient screen gets almost impossible to see clearly, no matter how you angle it? Or even worse, the touch screen doesn't even work and there are no other seats to switch to. Well we've been there and it can be pretty frustrating, especially on longer flights.

There's also the added bonus that you won't keep feeling someone hit your seat behind you in economy class as they try to navigate the unresponsive touch screen. It's safe to say we were quickly converted on the screen-less experience after seeing the benefits.
Onboard with ZIPAIR: The Food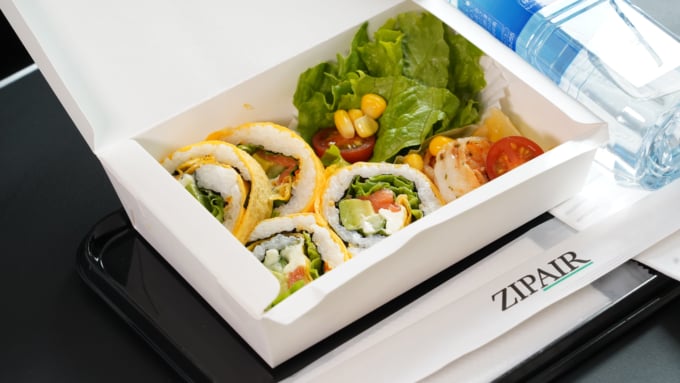 Airplane dining often has a pretty bad reputation, but JAL have usually been pretty decent with their inflight food offerings, even collaborating with local restaurants such as MOS Burger. Their subsidiary ZIPAIR doesn't disappoint either, the inflight menu offers a number of popular Japanese dishes at a relatively inexpensive price.

From gyudon for 1,100 yen to more luxury offerings like Wagyu beef curry rice and eel rice bowl (unagi) for 2,500 yen, there is plenty of choice onboard. They also offer some pasta dishes and sandwiches if you're not up for trying Japanese food. While it comes at an additional price, the extensive inflight food offerings are a world ahead of the lackluster 'chicken or beef' option you'll often get with some full service carriers. You can see the full inflight menu here on their website.
Easy Inflight Mobile Ordering
Something else we were impressed with was the inflight ordering. With ZIPAIR's online entertainment system, you can also use it for shopping on their online store. Apart from various ZIPAIR merchandise and duty-free items you can also use the inflight shopping app to order food and beverages.

It's much smoother than having to awkwardly hail down a flight attendant when you want something and fumbling around for your wallet to pay for items at your seat. The one drawback is that you can't use cash to pay, although with the world constantly moving towards being cashless, it's something we think will become more and more common with most airlines.

If you're looking forward to trying a particular meal make sure to order in advance, at least 72 hours before the flight time to be sure it'll be served. The airline provides a limited amount of food for each flight in order to cut down on waste, so while it's possible to order on board, there's a strong possibility some items won't be available.
ZIPAIR Amenities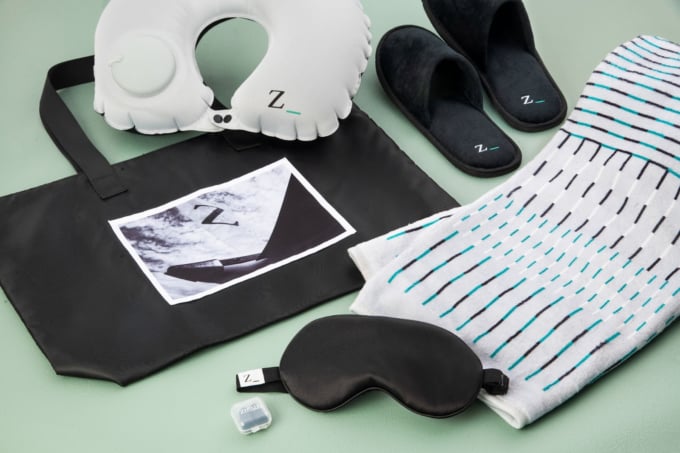 Amenities such as blankets, slippers and earplugs aren't provided for free but can be bought if needed. ZIPAIR currently offers two sets, A-set and B-set. For 2,500 yen, A-set comes with a blanket, earplugs, eye mask, neck pillow and slippers, all of which we found were quite high quality for what is a relatively low price for all the items. For 500 yen more you can opt for B-set that provides a stylish tote-bag, the bag also has a little handy strap that fits perfectly over a suitcase handle. The blanket is also quite large, we've often found inflight blankets to be just that little bit too small to completely cover, so ZIPAIR's blanket was a relief when trying it out.

Again like the inflight food, the amenities can be purchased onboard during the flight, but there's a chance they may not be available so it's always best to preorder. The deadline for ordering online is 24 hours prior if within Japan or 48 hours for flights departing outside of Japan.
Inflight Service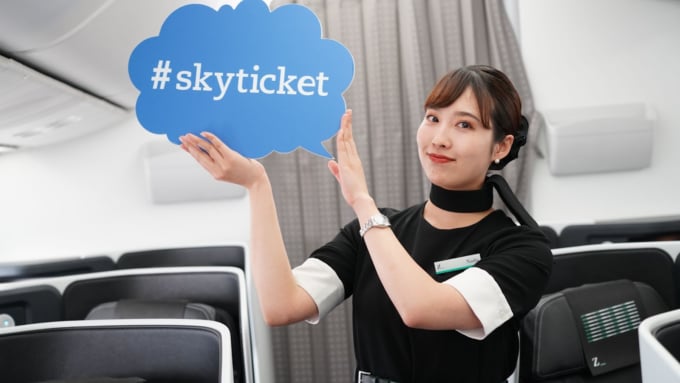 Due to the fact that we didn't actually leave the ground this time, it's a little hard for us to judge the inflight service of ZIPAIR. However despite the brief, toned-down experience we had, the flight attendants we spoke with were polite and patient with all our questions and we can see that relating to a pleasant flight experience.
ZIPAIR's Ontime Arrival Rate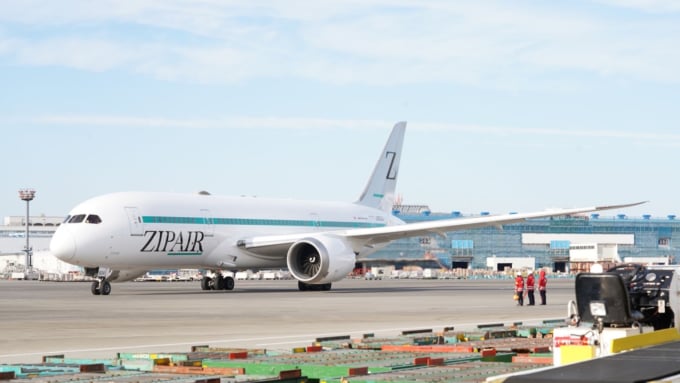 Adding a few hours to an already long international flight can be frustrating and ruin travel plans, which is often a bad stigma associated with budget airlines. However ZIPAIR proudly proclaimed their on time arrival rate of 93.85% for last year, an impressive feat for a budget airline. It's early to say how things will continue in the future, but ZIPAIR seem to be committed to arriving on time which is something we can clearly get onboard with.
Paid Lounge Access
Narita TraveLounge is available for all ZIPAIR passengers to use for 1,600 yen after passport control located near to Gate 26. The lounge offers coffee and soft drinks included in the ticket price and alcoholic drinks can be purchased as an extra.
ZIPAIR Current Flight Routes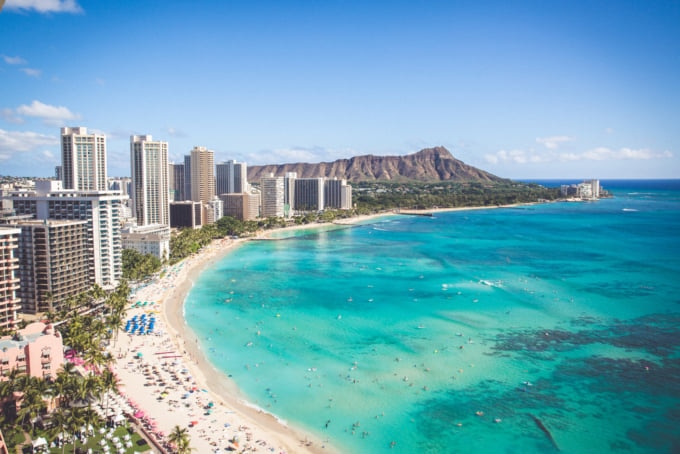 ZIPAIR currently offers flights to five different cities from their hub at Narita International Airport, Seoul, Bangkok, Singapore, Honolulu (Hawaii) and Los Angeles. With no other budget airlines flying from Tokyo to Los Angeles or Hawaii, ZIPAIR offers some particularly tempting tickets for those cities especially. With the airline being fairly new, we can expect to see them expand to some new destinations in the new future, ZIPAIR have mentioned they are planning to offer flights from Tokyo to the Taiwanese capital, Taipei sometime soon.
Conclusion of Our First Look at ZIPAIR
From all their on-board offerings, it's easy to tell ZIPAIR has carefully planned their inflight experience looking into the cons and pros of various other airlines. The budget carrier offers much more than just low cost flights, for those willing to pay a little extra for the upgrades, you can get a very comfortable flight experience.

It's early days with the airline, we're sure that there will be new routes and other offerings from ZIPAIR in the future. However so far we've been pretty impressed with everything ZIPAIR brings, the airline does well to stand apart from the regular offerings of budget airlines and full service carriers and comes in a class of its own.

Disclaimer: while we feel like we reviewed ZIPAIR's on board experience as well as possible, we haven't actually flown with the airline on any of their routes yet. Instead just getting a feel for everything the airline offers while grounded at Narita Airport. We plan to check out how the ZIPAIR experience is in reality in the near future and will make sure to update any differences at that time.
To compare the latest flight prices and book tickets with ZIPAIR and other airlines, make sure to head to our home page. Check for cheap flight prices at skyticket here.
Check out our video of inside the aircraft below. (In Japanese with English subtitles).