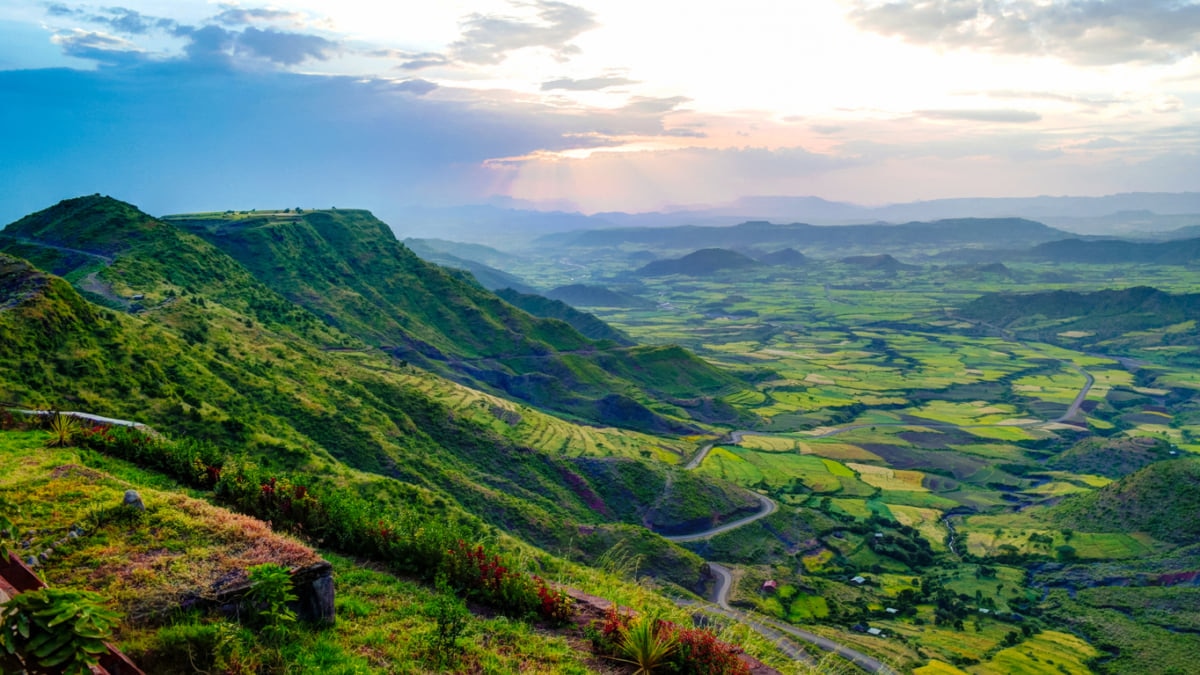 Ethiopia: A Beautiful Country with Fascinating Wildlife and Lush Terrains
Unlike most other countries in Africa, Ethiopia never really underwent colonization through western powers, allowing it to keep its unique culture fully intact and largely un-influenced by outsiders. You'll notice a number of major cultural differences such as the fact the country has thirteen months in a year along with its unique looking writing script. There are plenty of fascinating places and things to do in Ethiopia, make sure to head to these beautiful destinations first.
table of contents
[x] close
Ethiopia: A Beautiful Country with Fascinating Wildlife and Lush Terrains
1. Rock-Hewn Churches of Lalibela (Lalibela)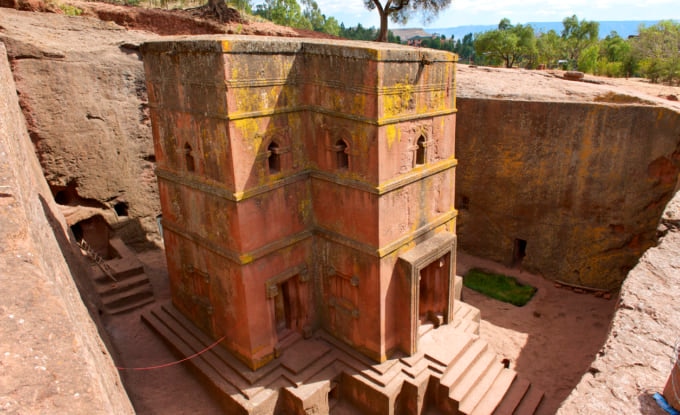 At the heart of Ethiopia you'll find the incredible rock-hewn churches of Lalibela, a group of eleven different medieval religious buildings cut into the rock below ground during the country's Zagwe Dynasty. The sight of these unique churches is really something to behold and one of the most fascinating historic sites in Africa. Make sure to check out the most famous of the rock-hewn churches, the Church of St. George, an architectural marvel standing out under the ground around Lalibela.
Name:Rock-Hewn Churches of Lalibela
Address:Lalibela 1000, Ethiopia
2. Simien Mountains National Park (Gonder)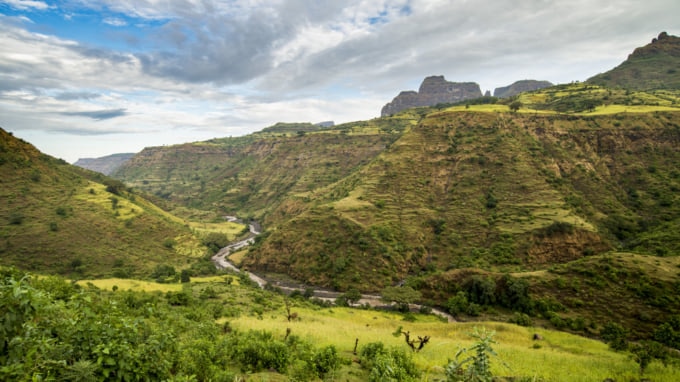 Photo by Eva Mencnerova/shutterstock
To the north of the country, the beautiful Simien Mountains National Park offers some of the most incredible scenery on the whole continent, with its dramatic, rugged peaks, deep valleys and huge variety of wildlife. If you're looking for a place to escape to nature in Ethiopia, this national park is a beautiful spot to visit.
Name:Simien Mountains National Park
Address:Gonder 0125, Ethiopia
Related Site:https://simienpark.org/
4. Lake Tana (Bahar Dar)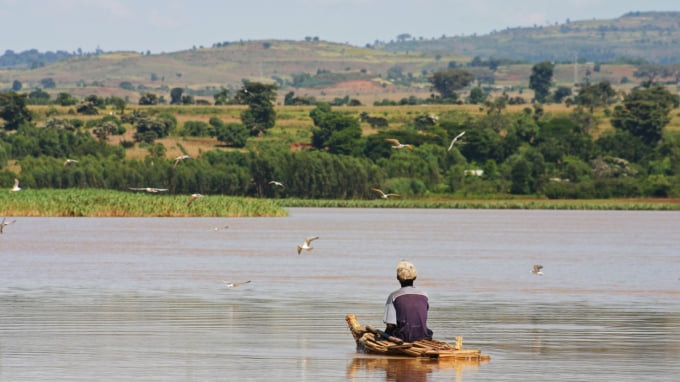 Another of Ethiopia's incredible natural wonders, Lake Tana is the largest lake in the country and full of both picturesque sights and a plethora of exotic wildlife. Take a boat ride across the lake and visit some of the unique monastery huts with their beautiful paintings and murals located around the area.
Name: Lake Tana
Address: Bahar Dar 1338, Ethiopia
Related Site: http://www.laketana-biosphere.com/
5. Debre Berhan Selassie Church (Gonder)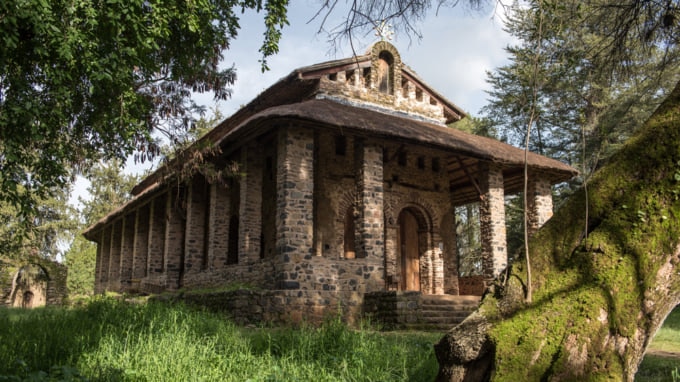 Photo by Luisa Puccini/shutterstock
Debre Berhan Selassie Church is one of the most visited sightseeing in Ethiopia and is located on the heart of Ethiopia. What you will notice in Debre Berhan Selassie Church from the first sight, is the painting on its ceiling. This Orthodox Church has an impressive exterior. The entrance door is double-arched and the interior décor is based on paintings, covering the ceiling and the walls of this attraction.
Name:Debre Berhan Selassie Church
Address:Gondar, Ethiopia, Gonder, Ethiopia
6. Holy Trinity Cathedral (Addis Ababa)
Photo by Kenneth Dedeu/shutterstock
One of the most impressive buildings in the country, the Holy Trinity Cathedral is an Ethiopian Orthodox church located in the capital, Addis Ababa. This historical and religious piece of traditional heritage is surrounded by monasteries, historical monuments and churches that all help make the site so visually stunning. The cathedral often holds religious events, everyday prayers, economical meetings, national ceremonies, as well as special kinds of services of ceremonies.
Name:Holy Trinity Cathedral
Address:Aratkilo area | Addis, Addis Ababa 123, Ethiopia
7. Entoto Hill (Addis Ababa)
Entoto Hill is the highest peak of Addis Ababa, Estonia. This breathtaking sightseeing is preferable for those, who like climbing, nature and a bit of extreme. There is a forest and an Orthodox Church, named Maryam Ethiopian Church very close to this attraction. This sightseeing is so clean and comfortable, that you can even climb the hill on barefoot. By the way, you can admire the whole overview of the city if you climb on top of this hill.
Name:Entoto Hill
Address:Addis Ababa, Ethiopia
8. Ethnological Museum (Addis Ababa)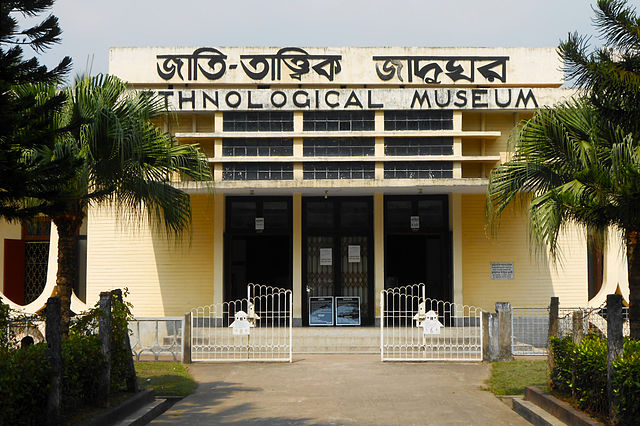 Photo by commons.wikimedia.org
An important site for anyone interested learning more about the culture and history of Ethiopia, the Ethnological Museum in Addis Ababa details the different cultural groups found in the country. Located in the palace of Ethiopia's last emperor, along with learning about their traditions and history, you'll find a large range of items from 80 different ethnic groups around Ethiopia.
Name:Ethnological Museum
Address:Algeria St Piazza Haile, Addis Ababa, Ethiopia
Related Site:http://www.smb.museum/en/museums-institutions/ethnologisches-museum/home.html
9. National Museum of Ethiopia (Addis Ababa)
If the Ethnological Museum doesn't quite fill up your hunger to learn about this fascinating country, make sure to pay a visit to the National Museum of Ethiopia. The museum holds one of the most important collections in sub-Saharan African along with the fossilized remains of the oldest discovered hominid, estimated to date back to around 3.3 million years ago.

Name:National Museum of Ethiopia
Address:King George VI Street, Addis Ababa, Ethiopia
10. Fasil Ghebbi (Gonder)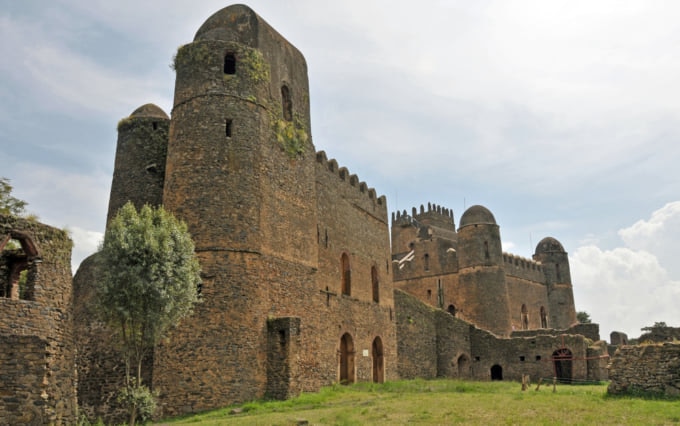 Photo by Bluerain/shutterstock
Fasil Ghebbi is a fortress-city located in Gondar, Ethiopia. This attractive sightseeing was home for the Ethiopian emperors and built during the 17th and 18th centuries. A castle, a palace, a hall, a library and three churches are included in the grounds along with a wall 900 meters in length that surrounds it, one of the most impressive buildings in Ethiopia. For its incredible beauty and importance in history, Fasil Ghebbi is included in the UNESCO World Heritage list.
Name:Fasil Ghebbi
Address:Gondar region, Gonder, Ethiopia
Conclusion of Things to Do in Ethiopia
Ethiopia is a popular tourist attraction and the sightseeing of this country is visited a lot not only by tourists, but also by the locals. As you noticed, most of the sightseeing in Ethiopia had a relation with religion and cultural values. So this will not only be a tour to attractive spots, but also a source to get informative knowledge on history.