Ethiopia:A Beautiful Country with a Bountiful Wildlife and Lush Terrains~
[x] close
Ethiopia:A Beautiful Country with a Bountiful Wildlife and Lush Terrains~:table of contents
Ethiopia, which is officially known as Federal Democratic Republic of Ethiopia, is a country in the Horn of Africa, with a population of 102 million people. The capital city of Ethiopia is Addis Ababa. Ethiopia is a country worth visiting. The best time for your visit to Ethiopia depends on the plans you have for the country. Actually there is always number of things to do in Ethiopia in every season. The means of transportation that you will need to use for getting to Ethiopia is by plane, by train, by car, a taxi or a bus. That would be a great choice to spend your holidays in Ethiopia and to make your tour more exciting, we offer you top ten sightseeing in Ethiopia below.
1. Rock-Hewn Churches of Lalibela (Lalibela)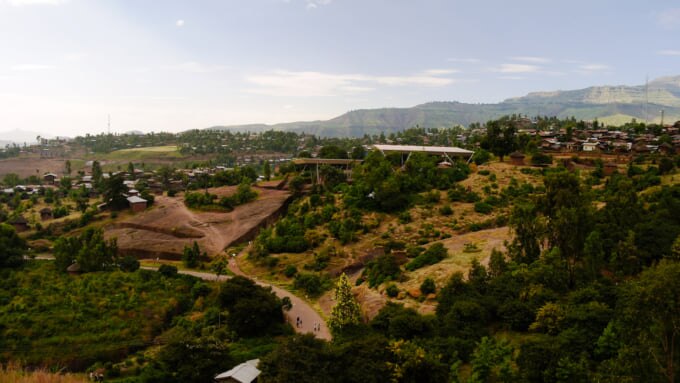 Rock-Hewn Churches of Lalibela, which is situated in the heart of Ethiopia, is sightseeing known as a spot of pilgrimage and devotion. This sightseeing is located in a mountainous part, in Ethiopia, with two main groups of churches. Rock-Hewn Churches of Lalibela is a must see attraction, especially if you are fond of unique kinds of architecture. Visiting this spectacular sight you will definitely be impressed by its beauty, but will also gain an awesome experience from your tour to Ethiopia.
Name:Rock-Hewn Churches of Lalibela
Address:Lalibela 1000, Ethiopia
2. Simien Mountains National Park (Gonder)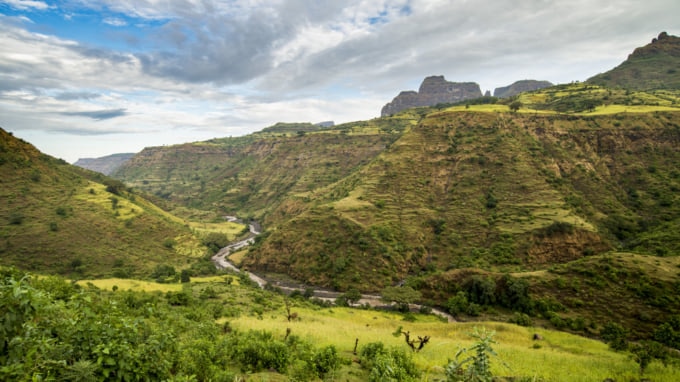 Phoyo by Eva Mencnerova/shutterstock
Simien Mountains National Park is a famous sightseeing located in the Northern part of Ethiopia. You will like the wildlife and the amazing scenery of natural beauties of this attraction. If you are someone who likes spending his vacation in nature, Simien Mountains National Park is perfect solution for you. The mountain peaks, precipices and deep valleys give more astonishing views to this miracle sightseeing. Enjoy your day in this awesome spot of Ethiopia, and admire the whole beauty of nature.
Name:Simien Mountains National Park
Address:Gonder 0125, Ethiopia
Related Site:https://simienpark.org/
3. Church of St. George (Lalibela)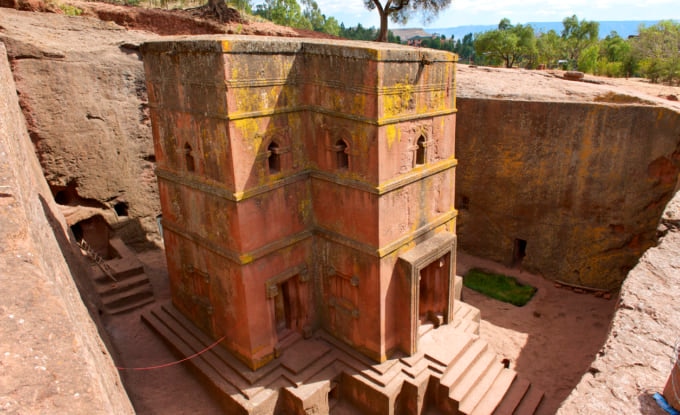 Church of St. George is a rock-hewn church, located in Ethiopia. This is a historical and religious sightseeing and is very popular among tourists and locals. The best time to go to Church of St. George is early in the morning, when you can see how the people of Ethiopia relate to a church. You need to respect all the customs referring to your clothes, before entering this church. You can also just have a walk around this sightseeing and admire the whole beauty of this gorgeous site.
Name:Church of St. George
Address:Lalibela, Ethiopia
Related Site:http://www.stgeorgefamily.org/HomePage.htm
4. Lake Tana (Bahar Dar)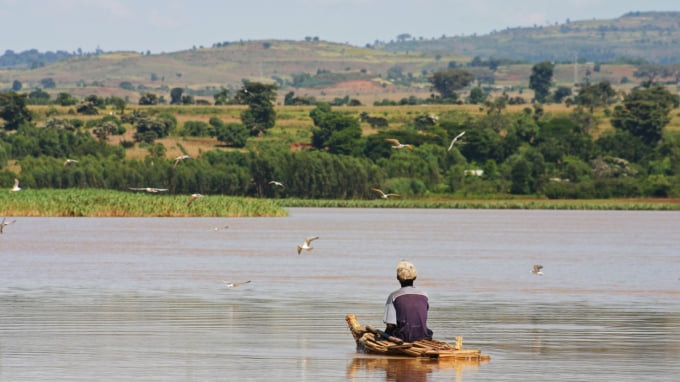 Lake Tana is the largest lake in Ethiopia and an incredible sightseeing for both locals and tourists. If you travel to Ethiopia, you should definitely see this spot. There is so much to do here. You can visit the monastery; you can boat travel on the lake, enjoy the breathtaking scenery of the monasteries, the paintings and old buildings and, finally get introduced with the history of all that buildings of Ethiopia.
Name:Lake Tana
Address:Ground floor from Blue Nile Hotel, Bahar Dar 1338, Ethiopia
Related Site:http://www.laketana-biosphere.com/
5. Debre Berhan Selassie Church (Gonder)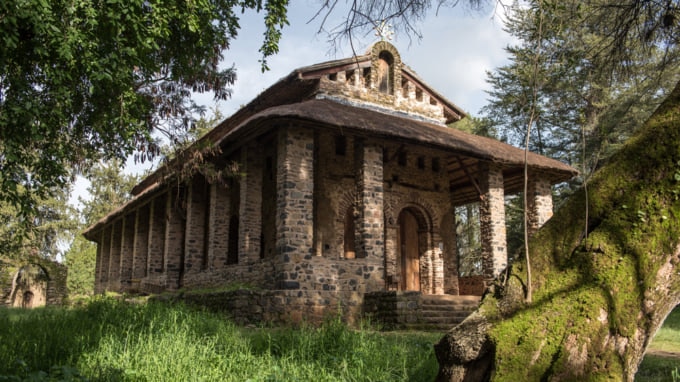 Phoyo by Luisa Puccini/shutterstock
Debre Berhan Selassie Church is one of the most visited sightseeing in Ethiopia and is located on the heart of Ethiopia. What you will notice in Debre Berhan Selassie Church from the first sight, is the painting on its ceiling. This Orthodox Church has an impressive exterior. The entrance door is double-arched and the interior décor is based on paintings, covering the ceiling and the walls of this attraction.
Name:Debre Berhan Selassie Church
Address:Gondar, Ethiopia, Gonder, Ethiopia
6. Holy Trinity Cathedral (Addis Ababa)
Phoyo by Kenneth Dedeu/shutterstock
Holy Trinity Cathedral is an Orthodox Church, located in Addis Abeba, Ethiopia. This historical and religious and traditional heritage is surrounded by monasteries, historical monuments and churches. All these make this sightseeing more impressive and a worth visiting spot of Ethiopia. Holy Trinity Cathedral always holds religious events, everyday prayers, economical meetings, national ceremonies, as well as special kinds of services of ceremonies.
Name:Holy Trinity Cathedral
Address:Aratkilo area | Addis, Addis Ababa 123, Ethiopia
7. Entoto Hill (Addis Ababa)
Entoto Hill is the highest peak of Addis Ababa, Estonia. This breathtaking sightseeing is preferable for those, who like climbing, nature and a bit of extreme. There is a forest and an Orthodox Church, named Maryam Ethiopian Church very close to this attraction. This sightseeing is so clean and comfortable, that you can even climb the hill on barefoot. By the way, you can admire the whole overview of the city if you climb on top of this hill.
Name:Entoto Hill
Address:Addis Ababa, Ethiopia
8. Ethnological Museum (Addis Ababa)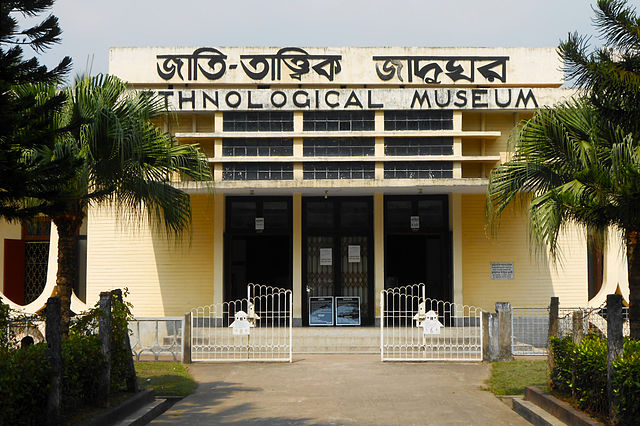 Phoyo by commons.wikimedia.org
Ethnological Museum is very important site of Ethiopia. If you make a tour to Ethiopia and visit to Ethnological Museum, you will feel that one time is really not enough to manage to see everything there, and, besides, you will like to return there again and again. First of all this museum is home for the library and the offices of University of Addis Ababa. On your entering to Ethnological Museum, you will be introduced to the history related to this sightseeing and you will have a chance to also see the photographs of contemporary times.
Name:Ethnological Museum
Address:Algeria St Piazza Haile, Addis Ababa, Ethiopia
Related Site:http://www.smb.museum/en/museums-institutions/ethnologisches-museum/home.html
9. National Museum of Ethiopia (Addis Ababa)
National Museum of Ethiopia is a must-see sightseeing, located in Addis Ababa, Ethiopia. If you want to get acquainted with the art, political and natural histories of Ethiopia, be sure to make a visit to this incredible attraction. You can also engage a guide from this museum to your tour. Their service is free of charge and, at the same time, their tips and histories may make your trip more educational and informative. Try to find the prices for the admissions in advance. The open hours to this spot are 8a.m. – 5p.m., on daily bases.
Name:National Museum of Ethiopia
Address:King George VI Street, Addis Ababa, Ethiopia
10. Fasil Ghebbi (Gonder)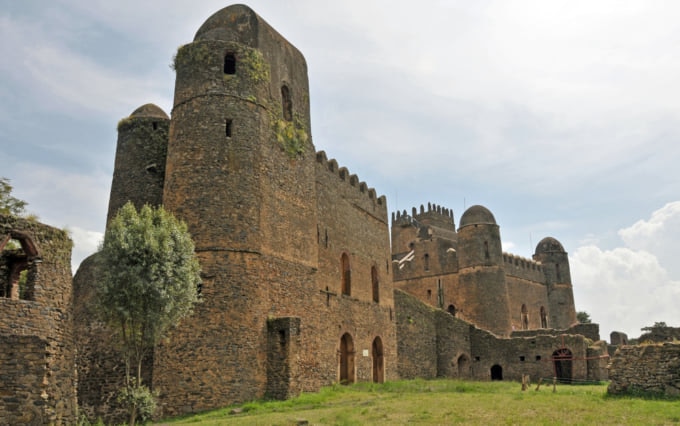 Phoyo by Bluerain/shutterstock
Fasil Ghebbi is a fortress-city located in Gondar, Ethiopia. This attractive sightseeing was a home for the Ethiopian emperors and was built in 17-18th centuries. A castle, a palace, a hall, a library and three churches are included in this attraction and a wall with 900meters length surrounds it. For its awesome beauty and importance, Fasil Ghebbi is included in UNESCO World Heritage list. This place is surely one of the most impressive spots in Ethiopia, so making a tour to Ethiopia, be sure to include Fasil Ghebbi on your must-visit list.
Name:Fasil Ghebbi
Address:Gondar region, Gonder, Ethiopia
◎ Closing
Ethiopia is a popular tourist attraction and the sightseeing of this country is visited a lot not only by tourists, but also by the locals. As you noticed, most of the sightseeing in Ethiopia had a relation with religion and cultural values. So this will not only be a tour to attractive spots, but also a source to get informative knowledge on history.