Romania:A Country of Historical Churches and Monasteries Dotting Serene Mountains and Hills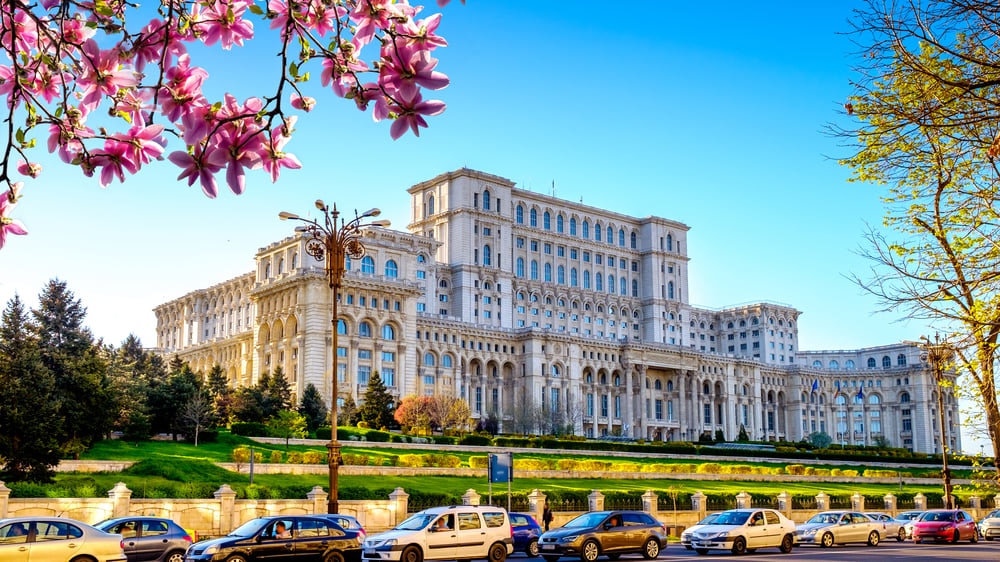 Photo by Augustin Lazaroiu/shutterstock
[x] close
Romania:A Country of Historical Churches and Monasteries Dotting Serene Mountains and Hills:table of contents
Romania is a European country on the southeastern side. Romania is rich in sightseeing tourist attractions. It is also renown for the forest region of Transylvania. Romania has a number of fortified castle and churches which are good for sightseeing. It also has amazing mountain scenery and a beautiful coastline.
1. Peles Castle (Sinaia)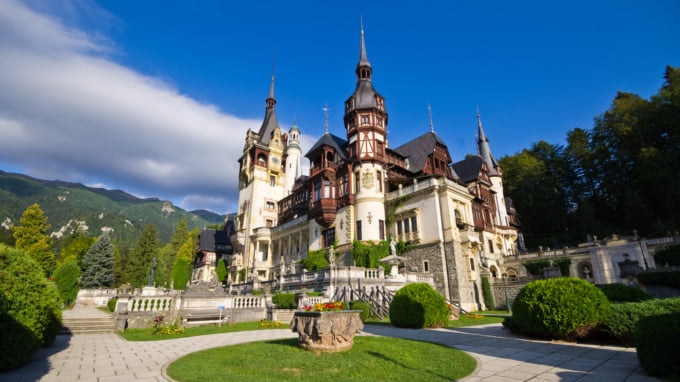 Peles Castle is a remarkable place for sightseeing and it ​is​ ​one​ ​of​ ​the​ ​most​ ​outstanding​ ​castles in​ ​Europe.​ ​This​ ​sightseeing​ ​Palace​ ​is​ ​mostly​ ​called​ ​a​ ​castle.​ ​There​ ​is​ ​a​ ​lot​ ​of​ ​sightseeing
architectural​ ​work​ ​done​ ​on​ ​Peles​ ​Castle​ ​which​ ​is​ ​romantically​ ​inspired​ ​blend​ ​Neo-Renaissance
and​ ​Gothic​ ​Revival.​ ​This​ ​castle​ ​is​ ​a​ ​sightseeing​ ​beauty. The castle holds nearly 2000 painting collections. Peles Castle has a towering statue of King I made by Raffaello overlooking the main entrance. Peles Castle gardens have stairways, marble paths, decorative pieces, fountains, etc. One is free to go Peles Castle sightseeing anytime.

Name:Peles Castle
Address:Aleea Peleșului 2, Sinaia 106100 Romania
Related Site:http://peles.ro/
2. Transfagarasan Highway (Pitesti)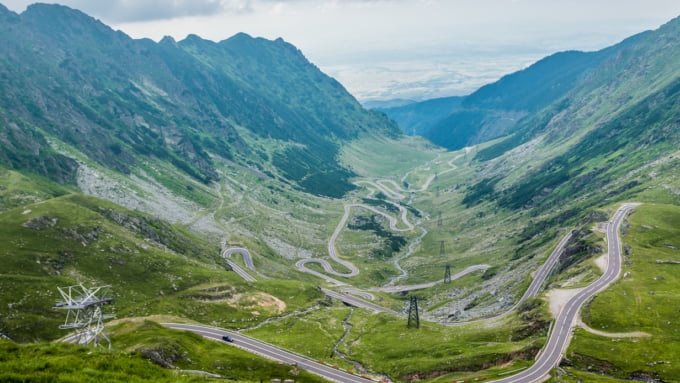 This amazing sightseeing Transfagarasan Highway is Romania's most attractive road. Transfagansan highway is also known as the road to the sky or clouds.Transfagarasan Highway cannot miss in the list of the best roads on the face of the earth. This highway has also been labeled as the best driving road. The highway cuts through Carpathian mountains which is rich in wildlife and sports like hiking and cycling trails which are good for sightseeing. The best time to visit Romania for sightseeing is during spring or early summer, March to June or late summer and fall, September to October. The weather is favorable at these seasons and travel costs are low.

Name:Transfagarasan
Address:Romania
Related Site:http://www.transfagarasan.net/
3. Herastrau Park (Bucharest)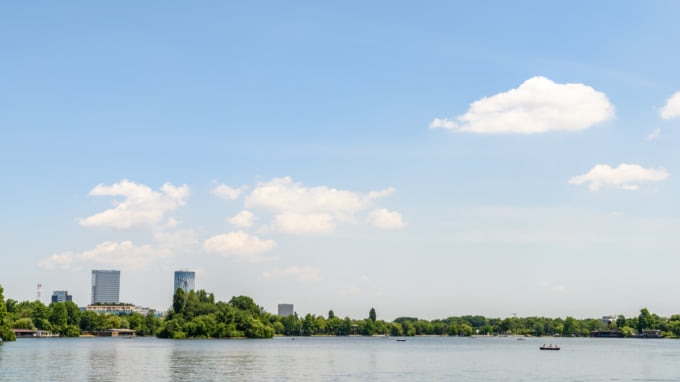 The sightseeing Herastrau park is located on the northern side of Bucharest. It is spread around Lake Herastrau. It occupies an area of 187 hectares. Herastrau Park is the largest public park in Bucharest. Herastrau Park is only a walk distance from Aviatorilor Metro Station.The many trees in the park provide shade for the sightseeing tourists and the locals. In this sightseeing Herastrau Park, food and drinks are available from the many cafes set up in the park. Boats for hire also available. The weather is hot in Summer season and so this is the best time to visit Herastrau Park.

Name:Herastrau Park
Address:Buchurest, Romania
Related Site:http://www.herastrauparc.ro/
4. Stavropoleos Church (Bucharest)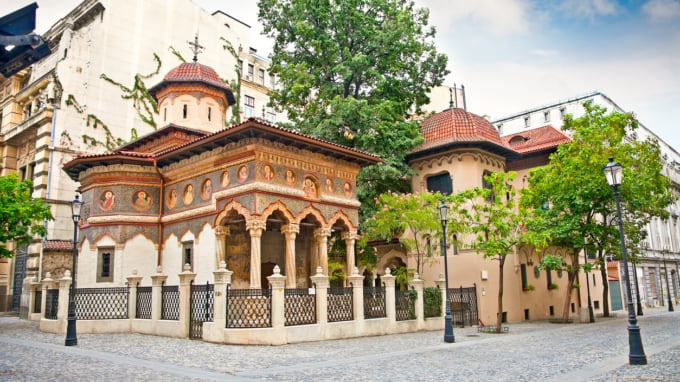 Stavropoleos Church is a magnificent sightseeing building. This church was founded by Archimandrite Ioanichie Stratonikeas in 1724. Stavropoleos Church was dedicated to St. Archangels Michael and Gabriel. Stavropoleos Church was formerly and still is, known as Stavropoleos Monastery. It is a monastery for nuns. Decorations and paintings all over make the church an amazing sightseeing for tourists. Apart from sightseeing, one can also visit the church library and read books. The library has about 8000 books on theology, music, history, art, etc. The courtyard is quiet and full of tombstones and a good place for sightseeing. One can visit this church on Sundays.

Name:Stavropoleos Church
Address:Strada Stavropoleos 4, Buchurest
Related Site:http://www.stavropoleos.ro/
5. Unirii Square (Cluj-Napoca)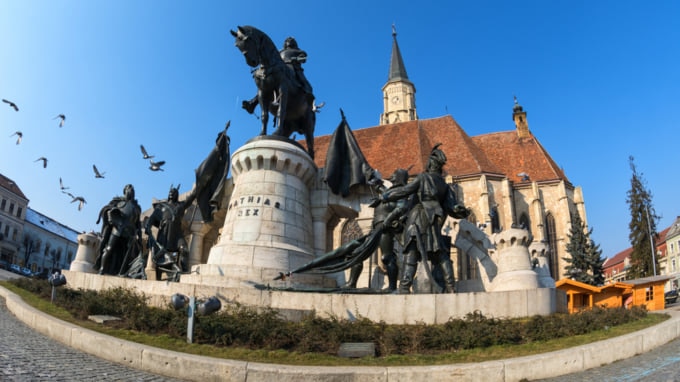 Photo by Catalin Grigoriu/shutterstock
Unirii Square is one of the sightseeing spots in the city of Cluj-Napoca in Romania.Unirii Square is also ranked among the largest squares in central Bucharest. The Square was at first called Nagy Piac in Hungarian which is translated as Big Market Square. Unirii Square is a sightseeing place and also a transport hub harboring Piata Unirii Metro Station. This sightseeing Square is also an important interchange for RATV buses. On the east side of Unirii Square, there is the Unirea shopping center, a large tax rank, and the Cocor department store. Summer season is the best for visiting Unirii Square.

Name: Unirii Square
Address:Piața Unirii, Cluj-Napoca, Romania
6. Voronet Monastery (Suceava)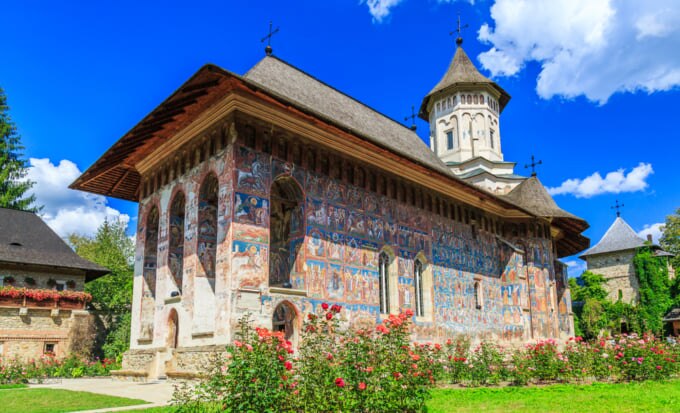 Photo by emperorcosar/shutterstock
Voronet Monastery is situated in the south of Gura Humorului in Suceava County. It is in the valley of Voronet River. Voronet Monastery is a major sightseeing which is significant for its paintings. The Voronet Monastery was built by Stephen the Great in 1488. Tourists often go to Voronet Monastery for sightseeing, especially in summer time. Voronet Monastery is a famous church in Romania. Its interior decorations are detailed and complicated in design. The age of this beautiful sightseeing Voronet Monastery is still not known.

Name:Voronet Monastery
Address:Strada Voroneț 166, Voroneț 725301 Romania
Related Site:https://www.manastireavoronet.ro/
7. Clock Tower (Sighisoara)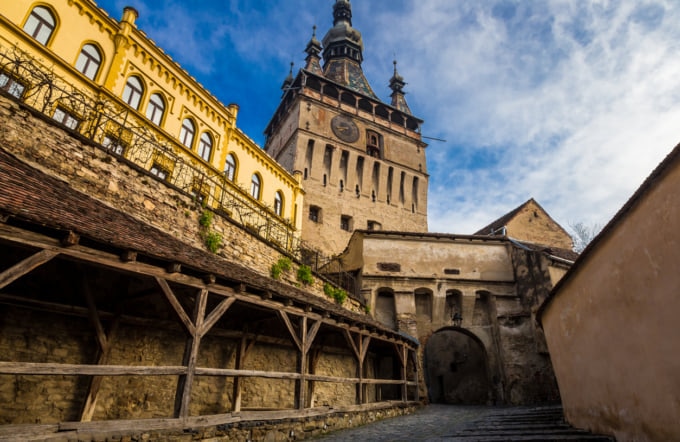 Clock Tower is a clear landmark that played important role in the ages when there were no watches. A clock tower can be defined as any tower built with more than one faces, normally four faces. The Clock Tower of Romania was built in the 14th century. The Clock Tower is a good sightseeing and was built with only two floors. In the 16th century, the roof was demolished and two floors plus a balcony was added. The sightseeing Tower is used as a public administration and also serves as a museum in Sighisoara. One can see Clock Tower anytime but summer is always the best.


Name:Clock Tower
Address:Strada Turnului, Sighișoara 545400 Romania
8. Sighisoara Historic Center (Sighișoara)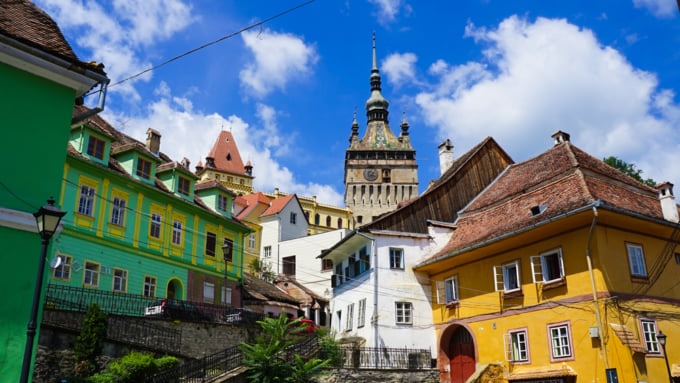 Photo by Jordan Adkins/shutterstock
This hidden gem in central Transylvania is definitely worth a detour.
It has a lot of things to see including authentic restaurants, historic buildings and nice and enigmatic squares and alleys.
This beautiful place is better enjoyed wandering the streets and trying to discover the place as it is rather small.
The center of attraction is the Clock Tower.It is hard to miss it as you can spot it from every corner of the city.It is a good place to get an aerial view of the city.
The restaurants offer a more authentic experience hence can be more expensive compared to outside of the citadel.

Name:Sighisoara Historic Center
Address:Sighișoara 545400, Romania
9. Large Square (Sibiu)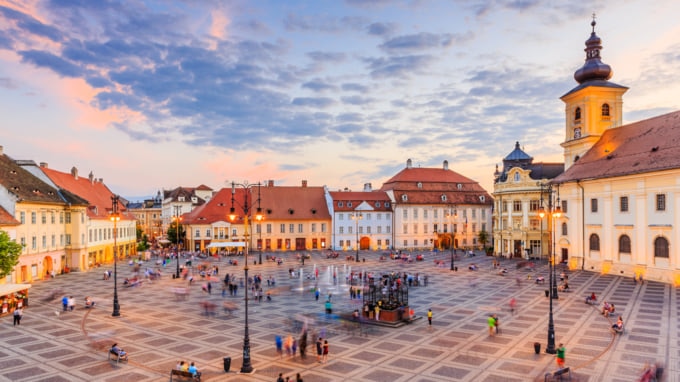 Photo by emperorcosar/shutterstock
Large Square, also known as Piata Mare is located in Sibiu. It is currently Sibiu's most famous site. It has a council tower which is its most dominating feature, the tower is also the symbol of the city. Visitors are allowed to climb up the council tower to admire both the view of Sibiu from the top, as well as the inner workings of the tower's clock on the way back down. The tower is open to visitors from 10 am to 8 pm. Other historic buildings and monuments include; statue of Gheorghe Lazar, baroque Catholic church, and Brukenthal Museum. The Large Square also offers a variety of cafes and restaurants. The weather in Sibiu can get really hot especially during the summer making January the most favorable month.

Name:Large Square
Address:Piața Mare, Sibiu, Romania
Related Site:http://patrimoniu.sibiu.ro/en
◎ Closing
Romania, in general, offers a medieval feel due to its preservation of old houses that date back to colonial eras.Sampling some authentic foods should also be part of your to-do list in Romania as they are rich in flavor and you can do this as you enjoy the beautiful views. Romania is indeed a beautiful place to visit when in Europe.